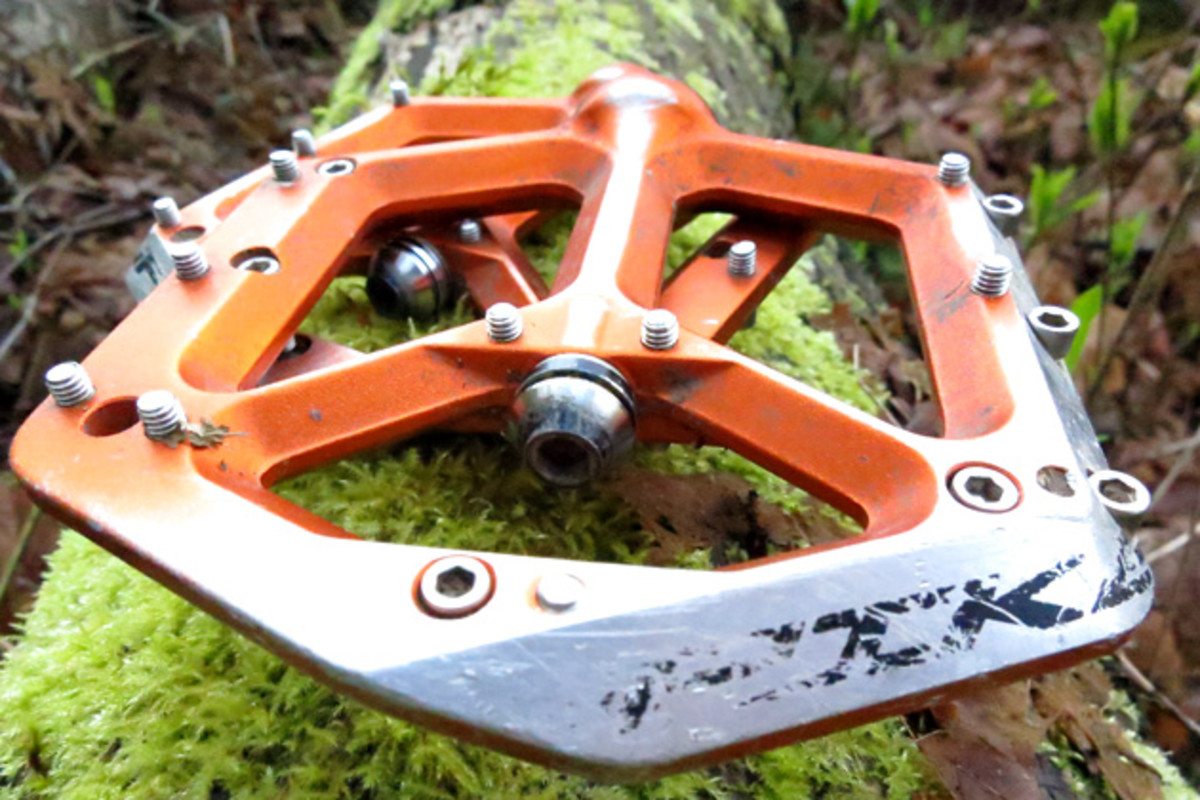 By Vernon Felton
Long-Term Review: Spank Spike Flat Pedals
Price: $125
As you can probably tell from the photos, I've been beating on Spank's Spike pedals for a couple of seasons now. Before I launch into the full wear-and-tear report, here's a bit of background.
SKINNY, YET STRONG
There was a time when flat pedals were the low-tech, mouth-breathing members of the mountain biking component family. That time, however, is long past; the Spike illustrates this fact well.
With the Spike, Spank was aiming to create a lightweight (420 grams for our set) platform pedal that could still withstand the kind of abuse meted out in a gravity-fed world. To that end, they opted to cold forge the pedal body (rather than extrude it), which helped them achieve a tighter and more consistent grain in their alloy platform. This should help the pedal "take" a good hit without getting knocked out of commission. Of course, since it's always smarter to avoid being hit in the first place, the Spike pedal also features chamfered side and leading edges, which improve pedal clearance.
In an attempt to find that balance between "strong" and "light", Spank paired a massive inboard industrial bearing with an outboard IGUS bushing. As for traction control, you're looking at 10 pins per side, eight of which are burly hex-head screws and two of which are grub screws).
ON THE TRAIL
The first thing you realize when mounting the Spikes is that you really, really need to run some pedal washers with these things. Sure, you should do that with all your pedals, but the Spikes mount up flush to your crankarms (low q-factor geeks will be stoked…if there are any of those types out there in the flat-pedal fraternity), which means you need those washers in place if you want the pedals to spin freely.
Speaking of spinning, the Spikes don't spin as freely as some other pedals. Spank touts this trait as a bit of a bonus and states that their inboard friction seal reduces "unwanted spin". If you are into jumping, you'll probably dig that aspect of the pedals. For general trail riding, I actually like my pedals to rotate more freely, but then again, after almost two years of running these things, the bearings' performance never actually degraded, which is nothing shy of amazing. Spank truly outdid themselves in the sealing department. Nicely played.
Traction is solid. If I were giving the Spike's grip a rating of 1 to 10, I'd probably score it a 7, with the understanding that I favor a ton of traction in my flat pedals. I like my pedals sticky—that's my personal bias. I ran all 10 pins per side at al times (riders who like less grip will want to pull out the grub screws in the center of the pedal). I would have had a bit more luck with the grip but the bulge in the pedal body that accommodates the oversize inboard bearing had a tendency to lift the ball of my foot off the pedal ever so slightly, which reduced contact with the two, innermost traction pins. If you look closely at the first picture of the pedals within this article, you can see that a good portion of the anodization is actually worn off the bulge–there's the rub. Given the pedal's design, there's no way around that problem. If Spank could somehow remedy that one aspect of the design, the Spike would be hard to beat (particularly at their price).
The Spike platform is just a hair wider than 12 millimeters thick. Even in the world of skinny pedals, these things are damn thin–a trait that helps reduce pedal flip and strikes. Nevertheless, I still managed to shear off two or three pins over the course of the past couple of seasons. Thankfully, the large hex-head traction pins are easy to extract and replace. On a side note, I found that those pins had a tendency to back out over time, so applying a bit of Loctite to `em is a good idea.
Overall durability is excellent, the seals are outstanding and the Spike truly takes a beating. Not a fan of orange? The Spikes are also available in black, grey, red and blue.