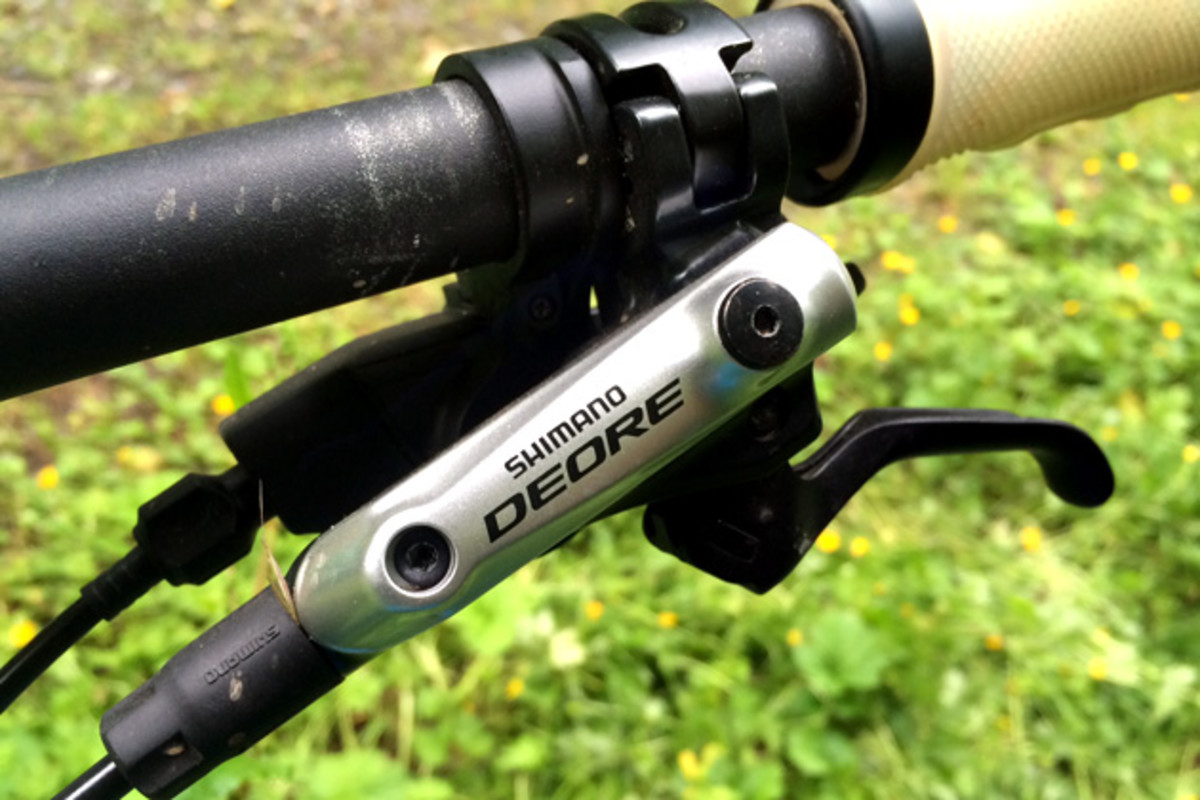 By Vernon Felton
Tested: Shimano Deore (M615) Brakes
Price: $113 (front) & $119 (rear)
It's easy to dismiss glowing reviews of expensive products. Anything that costs an arm and a leg better damn well blow your mind, cook you breakfast and transform your $99 Wal-Mart Magna into a super fortress of awesomeness. Expensive should, in short, equal rad.
It's more newsworthy, on the other hand, when budget-priced products actually exceed expectations. Consider Shimano's latest Deore brakeset. It is not particularly light. It does not feature a ton of adjusters. Wait, it doesn't feature any tools-free adjusters at all. And if you were to rate the brakes' bling factor, on a scale that stretched on one extreme from an Amish goat cart to, on the other extreme, Jay-Z's gold Hummer stretch limo, the Deore stoppers definitely rub shoulders with Hezekiah's goat cart.
And, still, these brakes are awesome. Here's why. They work right out of the box. And then they keep on working. And working. And working. When it comes to consistency and reliability, there are precious few hydraulic disc brakes at this price point that come close.
THE FEATURES
As I noted earlier, the Deore brakes are devoid of any overt bells and whistles. You can adjust the reach (that is, bring the lever closer to the bar) with an allen key and, well, that's that for adjustability. I'd love to see Shimano equip this and other Shimano disc brakes with a tools-free lever stroke adjuster that truly changed how much lever pull you had to play with before the pads squeezed the rotor, but that's never been Shimano's focus and, to be fair, not a feature you'll find on any brake in this price range.
Shimano equipped the Deore with their Servo Wave lever, which ramps up braking power (or leverage) as you progress through the lever pull. That feature gives the brakes a noticeable bite. I'm not a huge fan of Servo Wave (I kind of like a more linear power band), but a lot of people love this feature and will appreciate it on the Deore model. I can say this, the Deore brakes boast enough power to allow for single-finger braking in all conditions—and I'm saying that after using the brakes with only the resin pads and a 180/160 rotor combination. You could ramp up the power by dropping in some metal brake pads and bumping up the rotor size.
Of course, power isn't everything; control matters more. The Deores offer a good balance of power and control. There are plenty of brakes that do a better job of juggling those two traits, but most of my favorites cost twice as much. Again, at this price, the Deores are crazy good.
I haven't had the chance to take the Deore's down any massive descents—nothing longer than 2,000 feet at a time. How would these fare on something like the Downieville downhill? I dunno. The good news is you can swap the stock resin pads for Shimano's Ice-Tech radiator-finned rotors (and again, go metallic instead of resin) for better performance on sustained downhill runs.
Finally, a lot of my favorite brakes run on DOT fluid and while that stuff works like a champ, it is nasty, corrosive and undoubtedly responsible for mutating a scary load of my chromosomes. The mineral oil used by Shimano, on the other hand, is fairly benign and, added bonus, it doesn't soak up moisture like DOT, which is a plus for anyone living in soggy corners of the world.
So, there you have it: what Shimano's latest generation of Deore brakes lack in outright sex appeal, they more than make up for in reliability, power and consistency. Oh, and you can probably buy a set without having to sell a pint of your blood; that's always a plus.