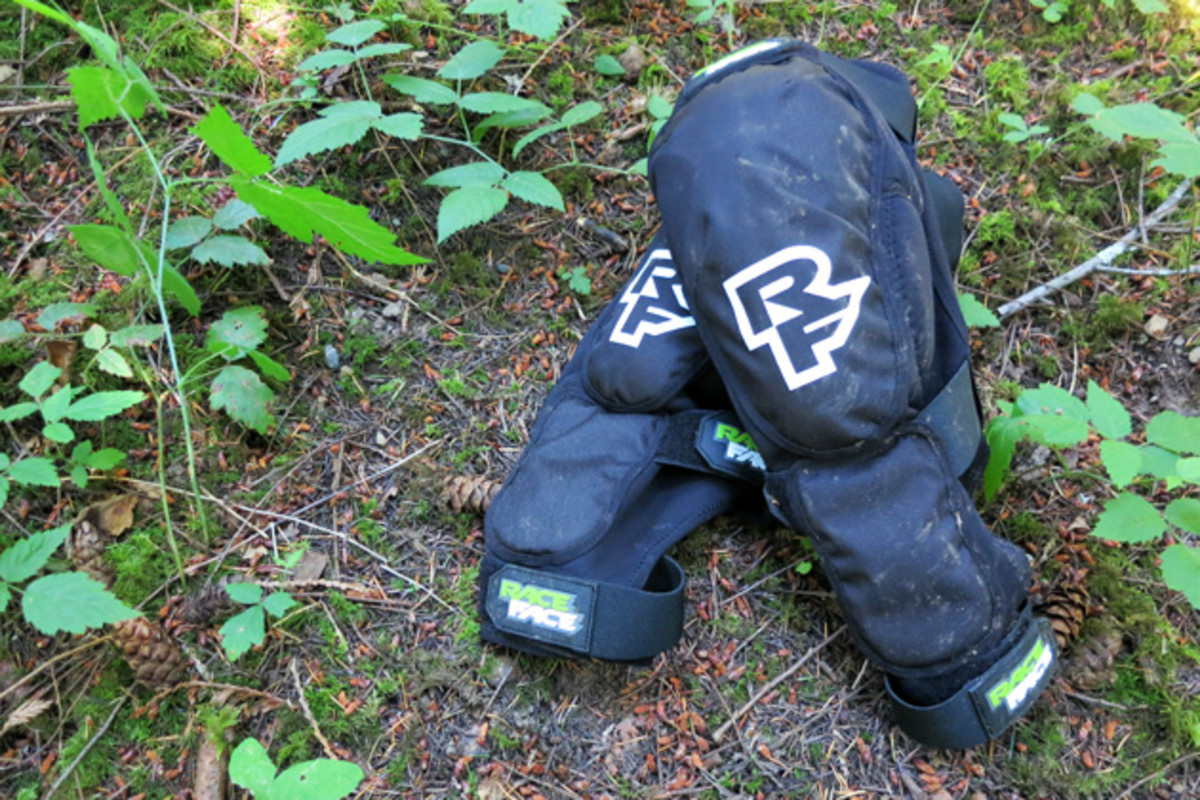 Tested: Race Face Flank Leg Guards
Price: $116
By Vernon Felton
There's a reason knee pads took off in a big way–full leg armor is uncomfortable as hell. Well, it usually is, anyway. Pedaling for miles in Storm Trooper fancy dress is never going to be a picnic. Unless, of course, your idea of a picnic includes lots of sweat, heat, chafing and irritation. In which case, you're probably not doing picnics right.
So there's that. But there also comes a time when knee pads alone aren't going to cut it. Usually that time involves chairlifts and dual crown forks and thousands of feet of descending, but the Race Face Flanks make the case for a more comfortable and versatile version of full coverage leg armor.
The Flank is basically the popular Ambush knee guard with an additional six inches of padding that covers most of your shins. As with the Ambush pads, the Flanks eschew hard plastic in favor of D30z-which is is nice and soft when you're pedaling, but then grows firm when you smack something hard. It's also rate sensitive; the harder you smack it, the more it resists said smacking.
The Flanks feature two large D30 pads (one over the knee cap and the other over the shin). There's also plenty of conventional foam padding on both sides of the knee caps. Kudos to Race Face, as well, on the soft terry cloth lining, which also makes a day in these things feel surprisingly bearable.
How effective is D30? I've gone down plenty of times on the stuff and while I felt the impact more concretely than when I've gone done wearing hardshell guards, I have walked away unscathed every time. What's more, since the stuff is a hell of a lot more comfortable to ride in, I'm more likely to wear it. And as everyone knows, a pad is only worth buying if you're actually using it.
Now, let me be clear, it's not as if you are going to strap on the Flanks and find yourself transported to a place of bliss in which you forget that you are wearing these things for the entire ride. There's no escaping the fact that you are wearing full leg guards. On a hot day, you'll feel these things for sure. The Flanks are, however, the most comfortable full-leg pads that I've worn to date. And there are hours at a time during each ride when I do, indeed, forget I'm wearing them. I can't say that's ever been the case with hardshell leg guards.
Finally, Race Face has done solid work on the straps, which offer a wide range of adjustment and then hold surprisingly fast. Added bonus—you don't have to take your shoes off to shimmy in and out of these things.
In short, the Flanks offer solid protection and far greater comfort than you'd expect in a full coverage pad.