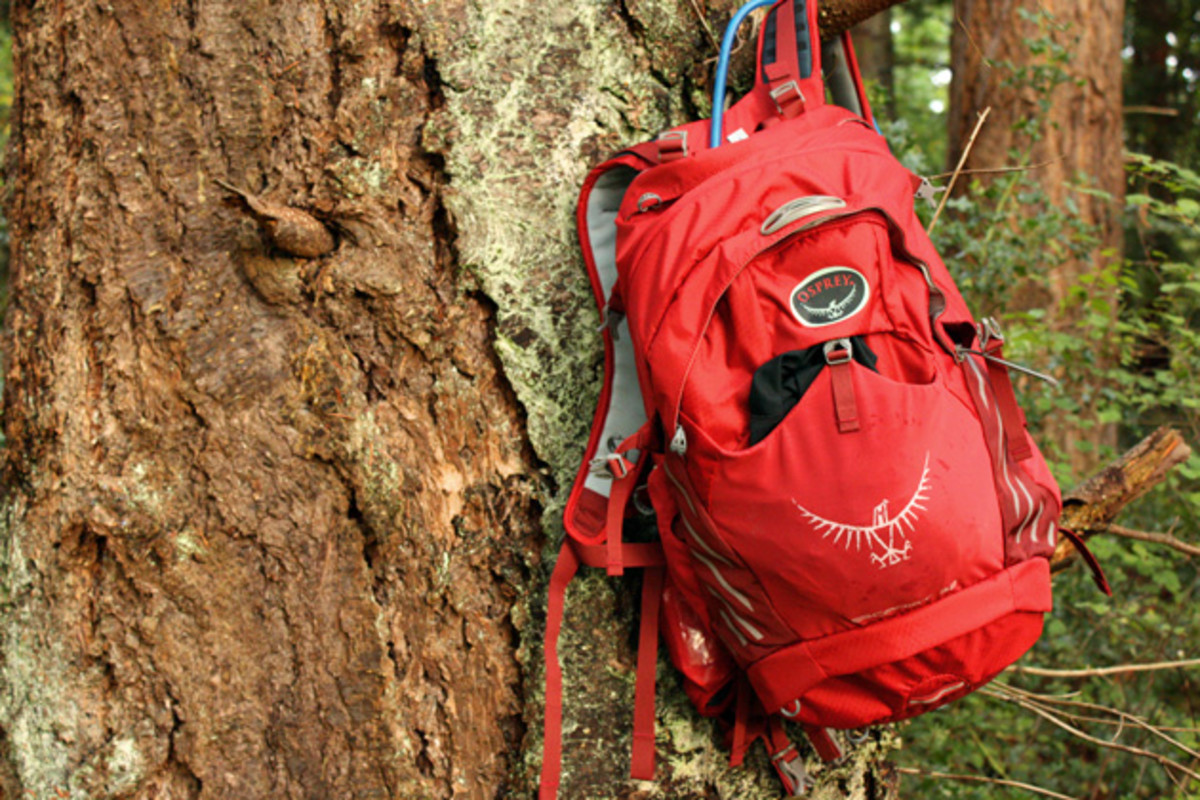 OSPREY ESCAPIST 32 | $130 | OSPREY
The average mountain bike ride starts, finishes and winds up at a brew pub in under five hours. Most of us are in and out—a quick and dirty foray into the wilds. But it doesn't have to be that way. We could stay all day. And night. Provided we had the gear to do so.
Bikepacking might be the trendiest of things these days (the Great Enduro Craze of 2014 finally losing its bit of steam), but as far as bike-industry trends go, bikepacking is pretty damn cool. Extending our time in the outdoors so that we move beyond the impersonal rip through the countryside? I'm all for that. The gear that'd let you extend your stay, however, has been lacking. That's where the Osprey Escapist series comes in. There are three models in the line, with the 32 (shown here) being the largest of the bunch. And large it is: this thing is, really, more of a daypack with hydration capability than the other way around. The Escapist 32 offers up 32 liters (that's 2,000 cubic inches for everyone who still thinks of engine displacement as either "289" or "302"). Or, to put a finer point on it, you can hump between 15 and 30 pounds worth of crap in this thing. Try that with your garden-variety hydration pack.
So, yes, you can carry the kitchen sink within this pack. Osprey, however, also went and made that storage smart. To wit, there is a whole hell of a lot of pouches, zippered pockets, and storage dividers within the Escapist 32, so you don't have to spend frustrating minutes pawing through the giant pack in search of your headlamp, lighter or bear-repellant. Sweet. On the flipside, if you really don't want all those individual compartments, you can just unzip the interior divider and—presto—now you're looking at one giant, gaping maw of a compartment. With the Escapist 32, you can change the storage options to suit the ride.
Of course, the obvious question is this: Can you actually ride with this thing strapped to your back without feeling like some horribly top-heavy, bike-mounted abomination? Well, if you squeeze 30 pounds of gear in this thing, there's no getting around it, much suckage will result. That said, I've hauled a tent, a lightweight bag, stove and pot…and still enjoyed the ride.
Osprey has always gone to almost ludicrous ends to make their packs comfortable. In the past, I've used about half of their buckles and straps to settle the pack just right on my back. I always thought Osprey was kind of indulging in adjustability overkill. However, the Escapist's sliding sternum straps, side and lower compression straps and adjustable back harness are exactly what you need to evenly and comfortably distribute a serious load. All those widgets aren't just there for show—they make what could have been a really bad idea, something that works pretty damn well.
So that's the story. Sure, the Escapist is loaded with a bunch of other bells and whistles (an integrated rain cover, Osprey's LidLock helmet attachment, a storage compartment with a heat-embossed nylon liner that won't scratch sunglass lenses or cell phone screens, etc.), but Osprey's real contribution to the market is that it proves you can make a big, rugged pack that you'd actually want to wear on a multi-day mountain bike trip. That's plenty.
Related: