Words & Photos by Keith Carlsen
Mavic Fury | MAVIC.US | $325
Let's be honest here, my first choice for a mountain bike shoe is not one dubbed as a "pure race shoe." My bike is a Giant Reign with 6.7 inches of travel and I live for the downhill, so I'll take any help I can get to counter the squish on climbs. With hopes that the energy transfer of a stiff shoe could move me uphill faster, I stepped into the Mavic Fury.
The second I slipped on the flashy yellows my worry – that hard plastic parts would dent my feet until I screamed Uncle! – was put to rest. They actually felt… comfortable.
Securing the cushiony "overlapping tongue" design is a highly engineered strap-and-ratchet system. On the top, the "Ergo Straps," made of Kevlar cables and alloy outlets, tighten the shoe without actually feeling hotspots of the individual straps like many basic Velcro straps. The low-profile ratchet system pulls the ankle into place with mirco adjustability and a mechanism that prevents accidental opening.
On the first few pedal strokes, I knew I liked the shoe. Yeah, it's stiff as a board, but it doesn't feel that way. And for $325, I'd expect just that. Some futuristic magic juju love.
The entire heel piece is made from full carbon for excellent hold and structure, "precisely above the calcaneous bone." The stiffness back there did translate to a digging-in feeling on the sides of my ankle, but will hopefully fade as the shoe breaks in.
Now for the wah-wah moment. Walking, hiking, climbing, running, trotting, skipping or any other upright vertical human movement in a stiff race shoe will never feel right. That said, I only experienced minor heel-slip trudging through mucky winter conditions. And the tread on these dogs is respectable for even an all-mountain shoe, complete with optional toe-spikes.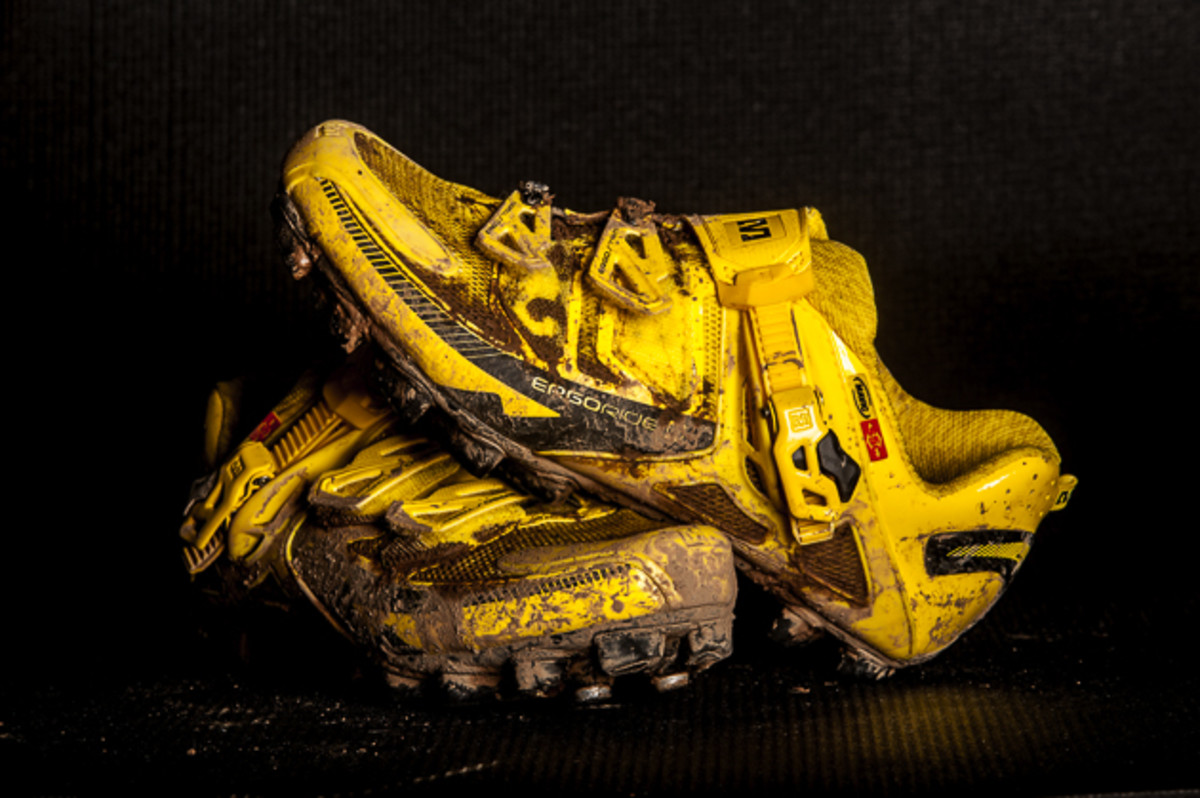 But that leads to my only major complaint with this shoe. The combination of mud and silt completely seized the ratchet system on one shoe. I was forced to yank the thing off, flirting with a blown Achilles disaster because the shoe really is locked on the foot. (I resorted to running it under water to get the ratchet to release).
That said, this baby is not going out with the bath water. The Fury performed up, down and sideways and blew me away that a hardcore XC race shoe could feel like such a slipper. The only questions remains: do I have the balls to show up to a group ride and drop the yellow gauntlet?