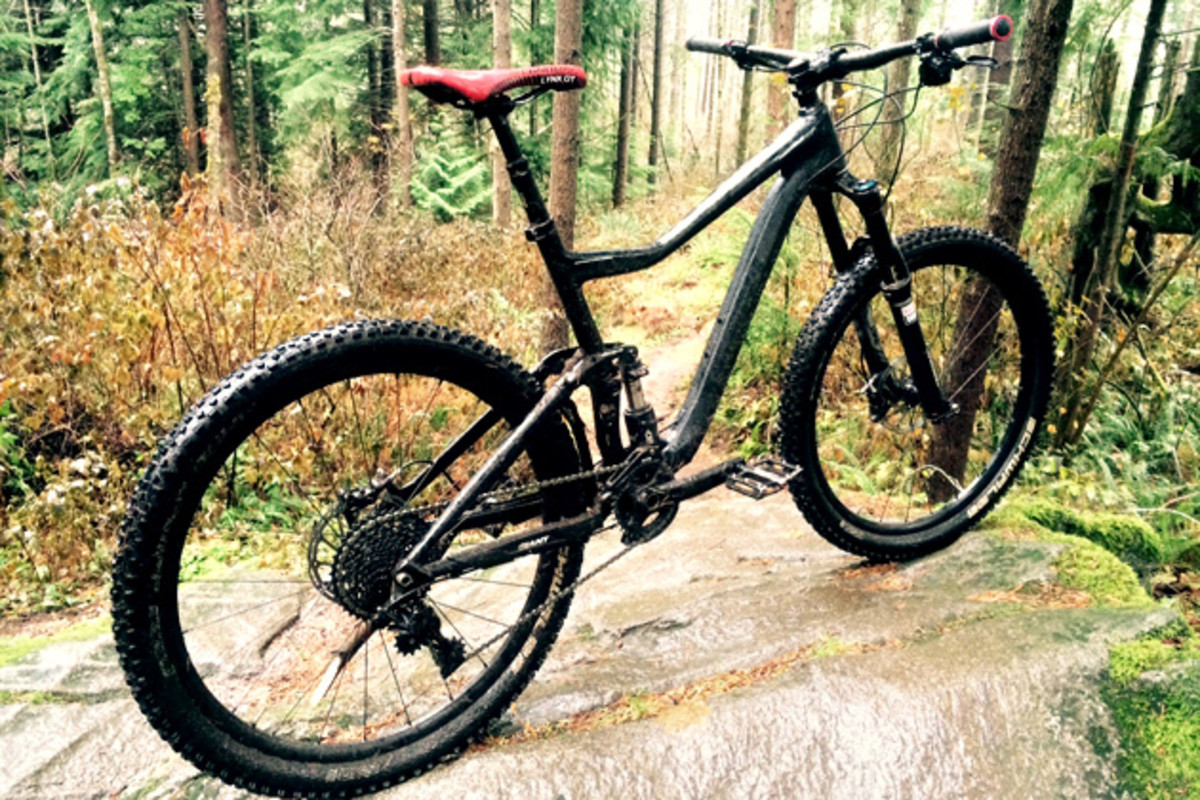 By Vernon Felton
What's your favorite bike?
I get asked that question all the time. As one of the lucky few media hacks who's professionally obligated to sample the latest and greatest, I get to ride a dizzying array of bikes each season and write it off as "part of the job". So, which ones stood out for me this year? Man, there were a lot of good bikes and I'm not soft-shoeing this review to spare anyone's feelings. The market is absolutely rife with great bikes these days.
Specialized's Enduro 29er and Kona's Process 153 both stole my heart this year, and I'm still a sucker for Santa Cruz's Tallboy LTc. If the day's ride is going to go long and rocky, that long-travel Tallboy is still my weapon of choice. This year, however, I spent had to hold its own on the downhills and since shuttling isn't my thing, it also needed to climb nearly as well as it descended. Giant's pimped-out, Trance Advanced SX fit the bill.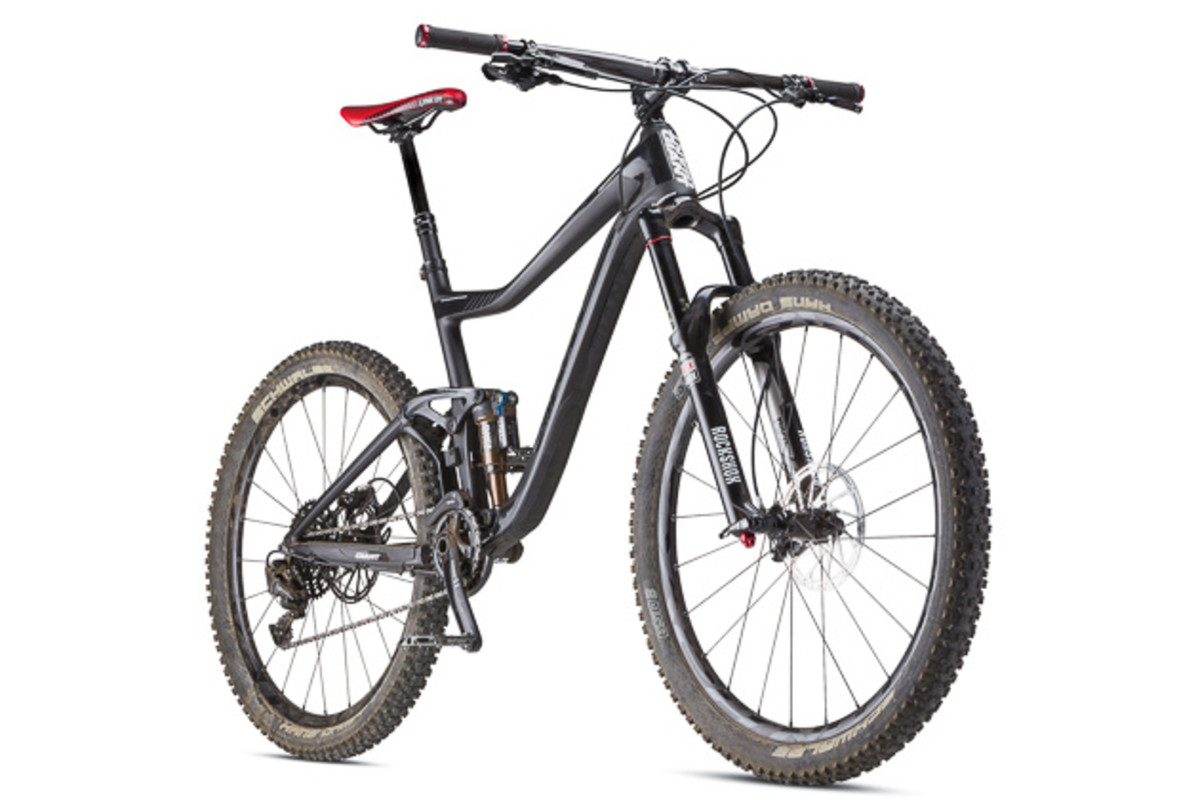 The Trance Advanced SX is essentially the hopped-up "works" model in their 2014 line up—it sports the same carbon front triangle and aluminum rear end of the regular Trance Advanced trail bike, but gains a 6.3-inch travel fork and the Darth Vader treatment. It's basically a cross between a Trance and the fresh-off-the-press 2015 Reign model: lightweight and nimble, yet über capable in the rough. During our Bible of Bike Tests in Sedona, I fell in love with the Giant's slack angles and lightweight chassis, but I also had a few tweaks in mind….
The Trance Advanced SX came equipped with a Fox 34. I opted to bolt on RockShox's Pike instead. The Pike is crazy light, nearly as stout as a Lyrik or Fox 36, and simply stunning on repeat hits. It's also stone reliable. I made a deviation here, however, opting for a 6-inch travel fork instead of the stock 6.3-inches of front travel. While going for less travel never sounds particularly bitchin', all of my rides require a good hour or more of climbing tight singletrack and I appreciated the extra bit of maneuverability granted by a slightly steeper head angle. And by "slightly steeper" I mean 66.5 degrees, which is still plenty slack on the descents. Damn, did that just read as nerdy as it felt when I typed it? Sorry about that. On to the more concrete details…
Next, I added my favorite dropper post, the RockShox Reverb. I can't abide by three-position posts: the bottom setting is too low and the "middle" setting never manages to feel just right. That kind of technology made sense about five years ago, but that was then and this is now. Infinite height adjust is a must. Since I live in a constantly muddy environment, I steer clear of cable-actuated posts, which tend to get gritty at the trigger when slathered for months with mud. That leaves me in the Reverb camp. Yeah, I do have to bleed my Reverbs once or twice a season, but I can live with that annoyance since the Reverb flat out kicks ass the other 363 days of the year.
For wheels, I chose Easton's aluminum Havens. I'd like to see Easton crank out a much wider version of the Haven. Their 21-millimeter internal width raised eyebrows five years ago, but the market is now awash in much wider hoops that allow you to run even lower pressures with even less squirm. That said, I ride like a caveman, so I need a wheel that I can flog and forget. Ever since Easton corrected their early M1 hub-bearing gaff, the Havens have fit that description. The Havens stay true and are absolutely painless to run tubeless. There are lighter and swanker wheels out there, but I can afford these and they keep working. That counts for a lot in my book.
Shimano makes outstanding drivetrain—even the entry-level Deore stuff is surprisingly solid. During the past two seasons, however, I've been pounding on SRAM's single-ring drivetrain systems and have experienced nothing but lightning quick, accurate shifts. For this build, I opted to go with the "base-level" X1 group, which offers nearly the same performance as SRAM's premier XX1 group, but costs about $500 less. Sure, the X1 group weighs half a pound more than the top-shelf version, but if weight actually mattered that much to me, I'd just stop drinking beer.
Though SRAM's Guide RSC brakes are too new to have proven themselves over the long haul, I love their lever feel and outstanding power. It's like a Shimano XTR brake and an Avid Elixir got drunk at the office Christmas party and nine months later, out popped this illicit love child. We'll see how the Guides hold up to the elements. It's still too early to say whether the Avid reliability issues of the past have been completely sorted out, but so far these brakes are absolutely blowing my mind. Modulation is simply unreal. True, the reach adjusters on the Guide RSC brakes feel a tad janky when you're dialing things in and I still manage to squeeze out the random Avid "turkey warble" during rainy-day rides, but I can live with these very minor shortcomings. The Guide RSC is the real deal.
Finally, I topped off the Giant Trance Advanced SX build with MRP's minimalist AM guide. Thanks to the SRAM X1 build kit, I don't really need the upper guide to prevent my chain from belly-flopping onto my frame, but the MRP guide's integrated taco bash guard keeps me from mangling that expensive chainring every time I bungle a log-over or just hit something I never saw coming. Sweet.
My version of the Trance Advanced SX is a good bit burlier than the 26.5-pound stock machine. Hell, I added nearly ¾ of a pound in rolling weight when I decided to run the Hans Dampf Super Duty tires, but with the Fox Float X rear shock set in "Trail" mode, the Giant is no slouch when it comes to scaling hills. The Maestro rear suspension is less efficient than, say, Santa Cruz's VPP, but, on the flipside, the Giant dishes out unreal levels of traction on technical climbs and is nothing shy of a holy terror on descents. The Trance Advanced SX feels like a magic carpet in rock gardens, begs to be popped off of little lips and coaxes motorcycle sounds out of me in the corners. This bike is the devil on my shoulder, telling me to go bigger, be braver and to risk that visit to the ER. That's why I love it.
Is this the perfect bike? For me, it's damn close. But, let's be honest, "perfect" is one of those dastardly unattainable adjectives…and that's okay. In fact, that's the beauty of the technological arms race that keeps birthing armies of ever-improving bikes. To that end, I'd love to see Giant improve the standover clearance on this bike and the 17.3-inch chainstays could be a tad shorter (they achieved that feat with the 2015 Reign models). Those two small changes would make an already-amazing bike even better. As it stands, this is my pick for favorite bike of 2014. The Giant Trance Advanced SX has proven bullet proof and crazy-capable on a very wide range of trails.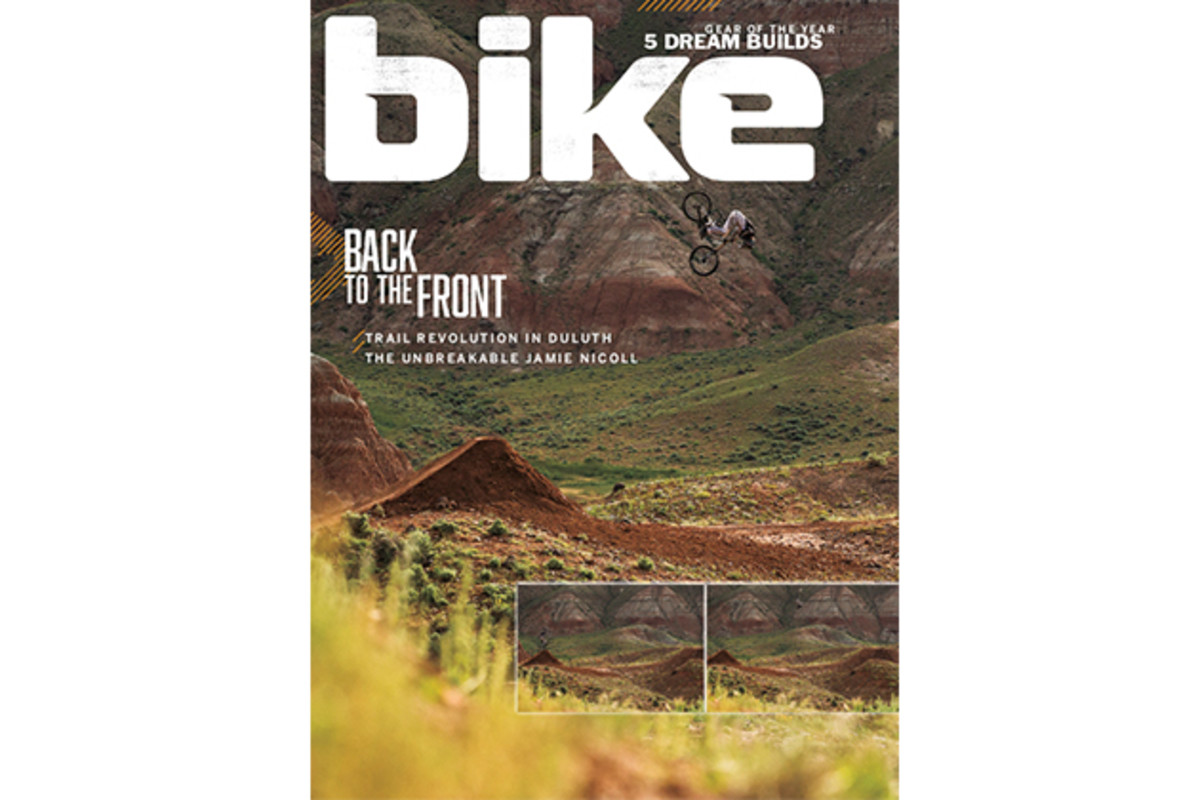 But, hey, this is just my take on what constitutes the best bike of 2014. There are four other editors at Bike with very different tastes than mine. What did they pick? How did they build up their own bikes? Check out the December 2014 issue of Bike magazine—it just hit newsstands and it includes all five editors' "Dream Builds" plus some truly great feature stories, rants, reviews and images. Give it a read.