You might have seen these shorts in the latest issue of Bike Magazine. If so, you may be wondering why the name and price are different here—that's because I screwed the pooch on those two facts in the print mag. So let me set the record straight: these are Fox's latest Demo Freeride shorts and they sell for $130.
Now here's an extended review of the things.
FOX DEMO FREERIDE SHORTS | $130 | FOXHEAD.COM
Fox's Demo Freeride shorts have a similar cut as their popular Demo DH shorts, but use a 4-way stretch material (a polyester/spandex blend) that's better suited to days when there's no chairlift in sight. Fox makes a big deal about the Demo's "freedom of movement" and there's truth in advertising here–the shell has a very light feel and a nice degree of give to it. The Demo Freerides, however, are not fragile by any stretch of the imagination. Despite their airy disposition, the shorts have held up to plenty of riding and the odd crash or three. When you slide these things on, you might not expect them to withstand abuse, but they do that and then some.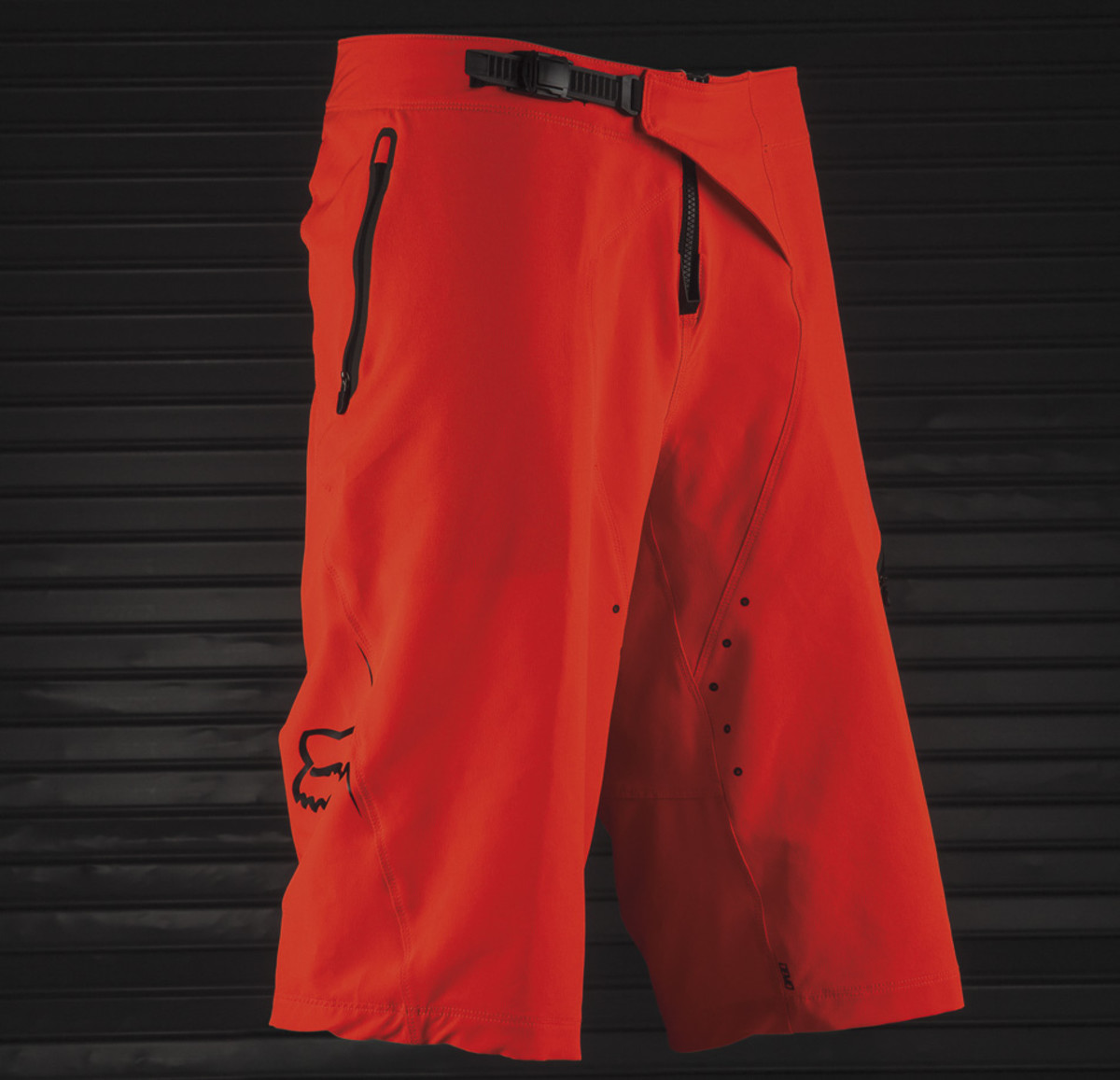 The Demos sport a fairly long inseam; a plus for anyone who runs kneepads and doesn't want to sport the dreaded gorby gap. When it comes to tweaking their fit, the Demo relies primarily on a front ratcheting closure, which while very secure, doesn't offer quite as much adjustment as some of the Velcro waist adjusters you'll find on other shorts. Don't get me wrong, if you're in the right general ballpark with your waist size, that ratcheting buckle will suit you just fine. On the other hand, if you suddenly get all CrossFit crazy and drop 20 pounds of gut blubber, you might wish these shorts were also equipped with belt loops to help take up the slack.
Other useful features include welded zipper pockets and an audio cord port that tidies things up if you're the sort who likes to ride while rocking out. About the only thing the Demo Freeride doesn't come with is a pair of chamois. That's not a huge loss for me since the chamois inserts that come packaged with most shorts often suck, but it's something to be aware of since plenty of shorts in this price range are packing a padded brief. If the chamois thing is a deal breaker for you, you should check out Fox's Attack Q4 model, which sells for $120 and sports Fox's EVO Race insert.
So, what kind of rider would dig the Demo Freeride? Just about anyone, actually, who isn't lining up to race hardtails alongside Julien Absalon. Some people might assume that a product with the word "Freeride" attached to it is only going to be well suited to the gravity types, but the Demo Freerides are ideal for anyone who hankers for all-day pedals in the backcountry, but prefers a short with a bit of extra coverage. Looking for something more affordable? Fox's Indicator shorts sell for about $75.