It's been a few months now since I laced up the new Five Ten Freerider Contact shoes. I've worn them daily since. It's time for a review. But before we get into the highs and lows, a quick refresher:
FIVE TEN FREERIDER CONTACT | $120 | FIVETEN.COM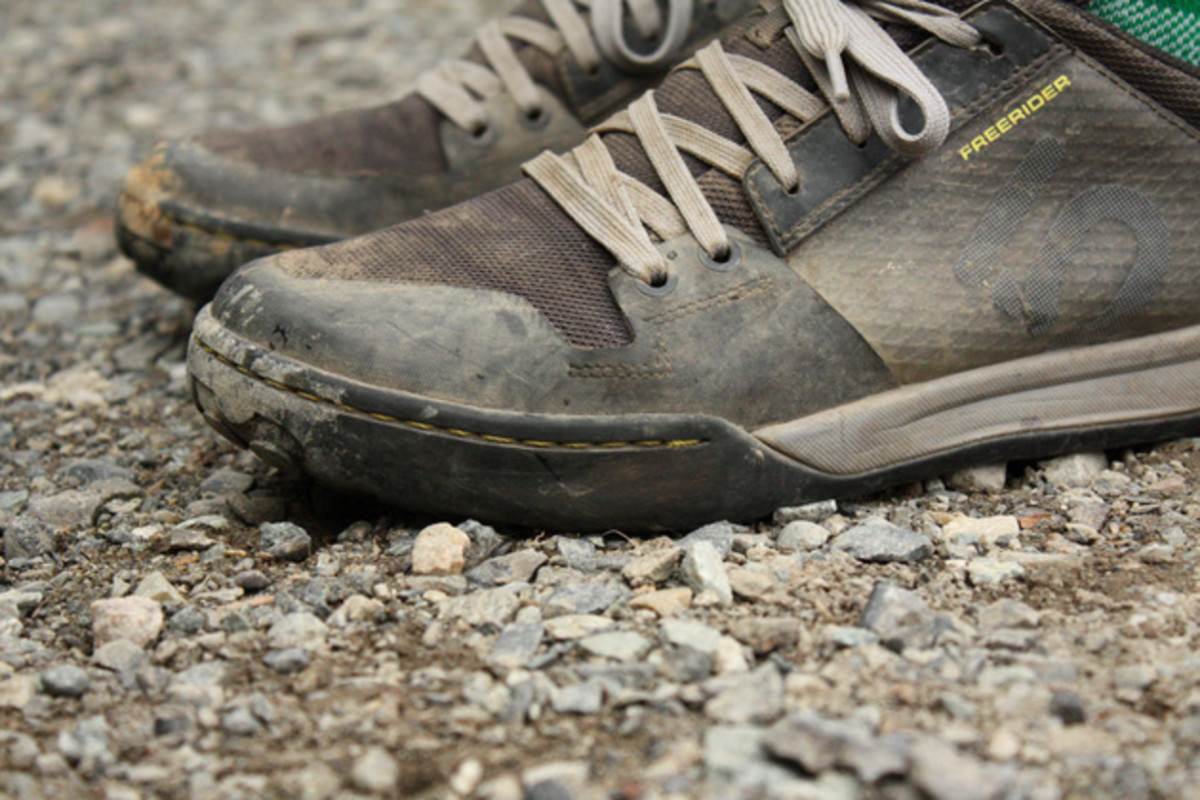 The Freerider Contact is an update on the Freerider VXi model. If that means nothing to you, think of it this way: it's a flat-pedal shoe that seeks to offer what Five Ten is famous for (outstanding grip), but in a sleeker, lighter package.
I never actually weighed my old Five Ten Impact High shoes because I think I'd shoot myself if I became that guy who actually goes around weighing his shoes, but if you do care about that particular kind of rotating weight, the new Freeride Contact shoes weigh in at 390 grams and I have to admit, it's a noticeable difference.
There are two types of people in this world—those who think Five Ten shoes are awesome because they have such grippy soles and those who complain that they have to pull traction pins out of their pedals because Five Tens are just too damn grippy. I came to flats from clipless pedals, so I personally am all about the traction. The Freerider Contact, however, aims to appeal to riders who want a less sticky union with their pedal. To that end, the soles feature a big old bald spot right where they spend face time with your pedals.
The "pre-worn" sole design is actually something that debuted on the Contact's predecessor (the Freerider VXi). Normally, I'd scoff at this sort of thing, but Five Ten's MI6 rubber is so tacky that the Freeride Contacts still offer as much (and more) pedal grip as plenty of shoes with full treads. If you struggle with repositioning your foot on other Five Ten flat shoes, the Freerider Contacts are your ponies. I'm not bothered by the bald spot, but I'd love this shoe if it boasted the full, textured sole. I didn't slip pedals often, but I did wind up slipping and sliding during wet-weather hike-a-bikes.
The most noticeable difference between the Freerider Contact and the Freerider VXi model is that the Contact boasts synthetic uppers that don't soak up as much water as before. That's what the advertising copy states and, it turns out, that's also how things panned out this winter. My shoes are normally swampy, stinky, never-drying vehicles for athlete's foot from October through May. That wasn't true this season. The Freerider Contact isn't waterproof, mind you, but it dries out very, very quickly. If you live somewhere dusty and dry, you probably don't give a damn about that, but if you ride in the wet, it's a pretty big asset. Despite its lack of heft, the Freerider Contact held up incredibly well. I'm hard on apparel and these things held up like champs.
There you have it: light, durable and just flat out…good. If you're worried about slipping a pedal and constantly shredding your shins, don't. These things still offer great grip. If, on the other hand, you're going to spend much time pushing your bike uphill in the mud, you'll want a different shoe—one with dots or ridges or some kind of squiggly bits running from heel to toe.