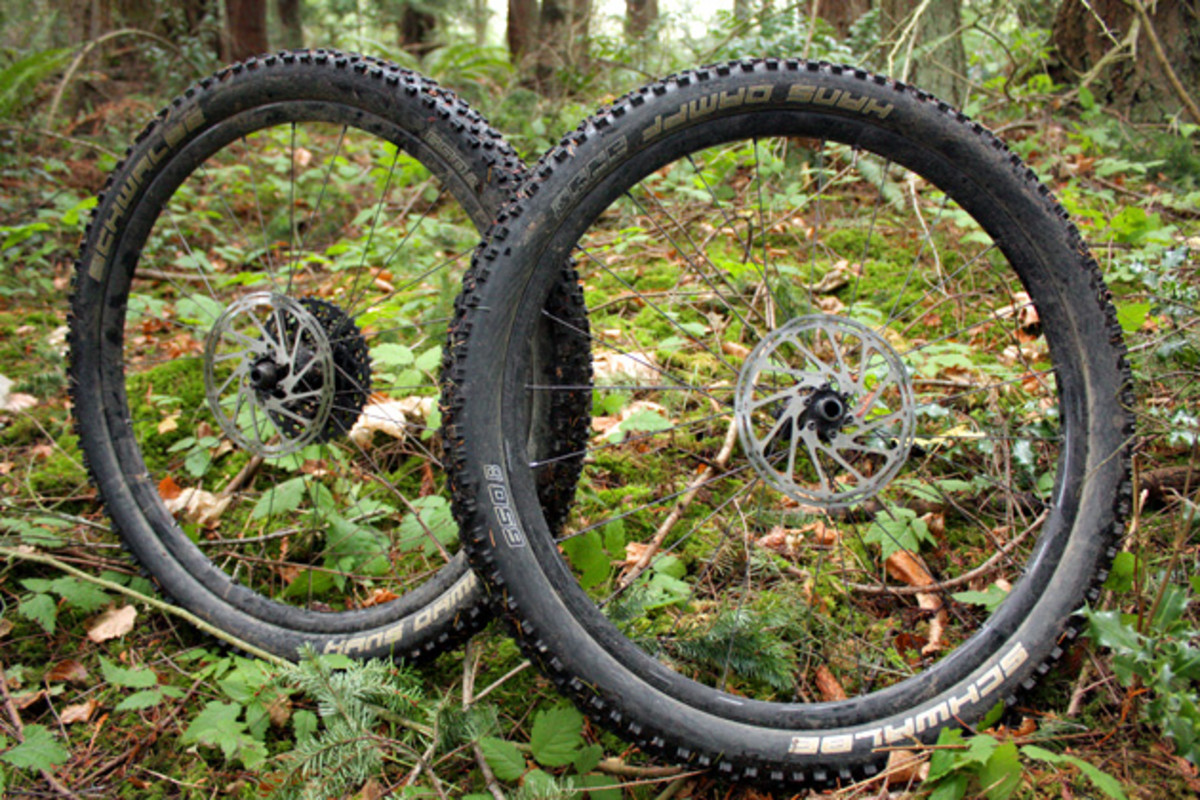 Tested: Easton Haven 27.5 Wheelset || $1,000
By Vernon Felton
It's all about the nipples. Really. That's what made the Haven a revolutionary wheelset when it hit the market in late 2010. The Haven features a proprietary spoke nipple that's threaded internally (like a standard nipple) and externally. Those external threads mate with a threaded rivet on the rim. The end result? Easton was able to get away with a lighter aluminum rim without any loss in strength. The unique design also allowed for a true UST tubeless set up. No rim strips to futz with at all. Nice.
The other big deal at the time was the Haven's size. To wit, the Haven features a 21-millimeter internal width, which seemed absolutely cavernous four years ago. Indeed, a lot of the competition was still at 18 and 19 millimeters back then and while it sounds ridiculous to suggest that two or three extra millimeters between the bead hooks could matter at all, those few millimeters allowed you to pair the Havens with bigger (i.e., up to 2.5-inch) tires with a lot less squirm during hard cornering.
But, you might say, that was then and this is now. A hell of a lot can happen in four years. How does the Haven stack up against the competition now?
Well, let's start with their width—the Haven is no longer the widest all-mountain wheelset on the block. Not by a long shot. Yes, the Haven still makes sweet love to bigger tires, but you get better sidewall support from wider models. Syntace kind of blew the doors off the wider-is-better market in 2012 with their W35 and W40 models—wheelsets that offered XC weight out of a rim that looked like it belonged on a DH bike. Since then, Specialized, Ibis and many other companies have jumped in the wide end of that swimming pool.
So, if you're looking for a really wide rim the Haven is outclassed these days by a raft of wheelsets that boast nearly 30 millimeters of internal width. The Haven is "wide enough" for most people's tastes, sure, but if you want to turn that particular knob to 11, there are better options. Personally, I have my fingers crossed in the hopes that Easton will soon debut a wider Haven because everything else about this wheelset is still solid as all hell.
The first generation Haven wheel also sported the first generation M1 hub, which had a tendency to loosen up and then get shitty. Easton has long since corrected that problem. The M1 is now a very solid hub that requires little to no attention at all. The original M1 hub was also a bit of a downer when it came time to try and mix and match the wheels with different frames and forks—convertible axles wasn't a strongpoint on the original hub. Easton, however, has improved the hub on that score as well. You can run these with either 15 or 20-millimeter through-axles up front and either old school QR or 142×12 out back. If you want to go with a SRAM 1X system, the Havens play nice there as well: Easton offers an XD driver body for the Haven.
Despite a couple decades of riding mountain bikes, I lack finesse in a very big and unfortunate way. This means I can bung up a wheel in no time at all. The Haven, however, holds a true remarkably well. I have never had to correct a wobble on mine. Ever. Crazy, but true. That said, my riding style is squarely in the middle of the Trail/All-Mountain section of the bell curve. If you are an uber-aggressive rider, you might need to reach for a spoke wrench more often than I do. When you do, you won't have to call up five different bike shops looking for a proprietary spoke wrench. Though the Haven nipples are unique, they mate to regular straight-pull spokes and take a garden-variety Park SW-2. Nothing fancy…and that's always a good thing.
These are the 27.5-inch (650b) flavored Haven wheels. They also make 'em in 29-inch trim and if you feel like blowing a lot more money on a set of hoops (some people get off on that kind of thing), you can score the much lighter (220 grams) carbon versions. True, 200 grams is a considerable weight savings, but at 1,720 grams these things aren't dogs by a long shot (particularly when you consider you don't have to add rim strips or spooge to them).
There are lighter wheels on the market and a few that are lighter and less expensive, but I haven't found any of them to be as durable as the Easton Haven. That's why I continue to run these things, even though I'd love to see them grow wider in the future. I'm not one of those guys who gets off on tearing components apart and turning wrenches—the Haven let's me get away with both ham-fisted riding and a nearly non-existent maintenance regimen. That counts for a lot in my book.
More wheel reviews:
Palmer's Picks: Reynolds Blacklabel 27.5 AM Wheels
Tested: Stan's NoTubes ZTR Valor carbon wheels