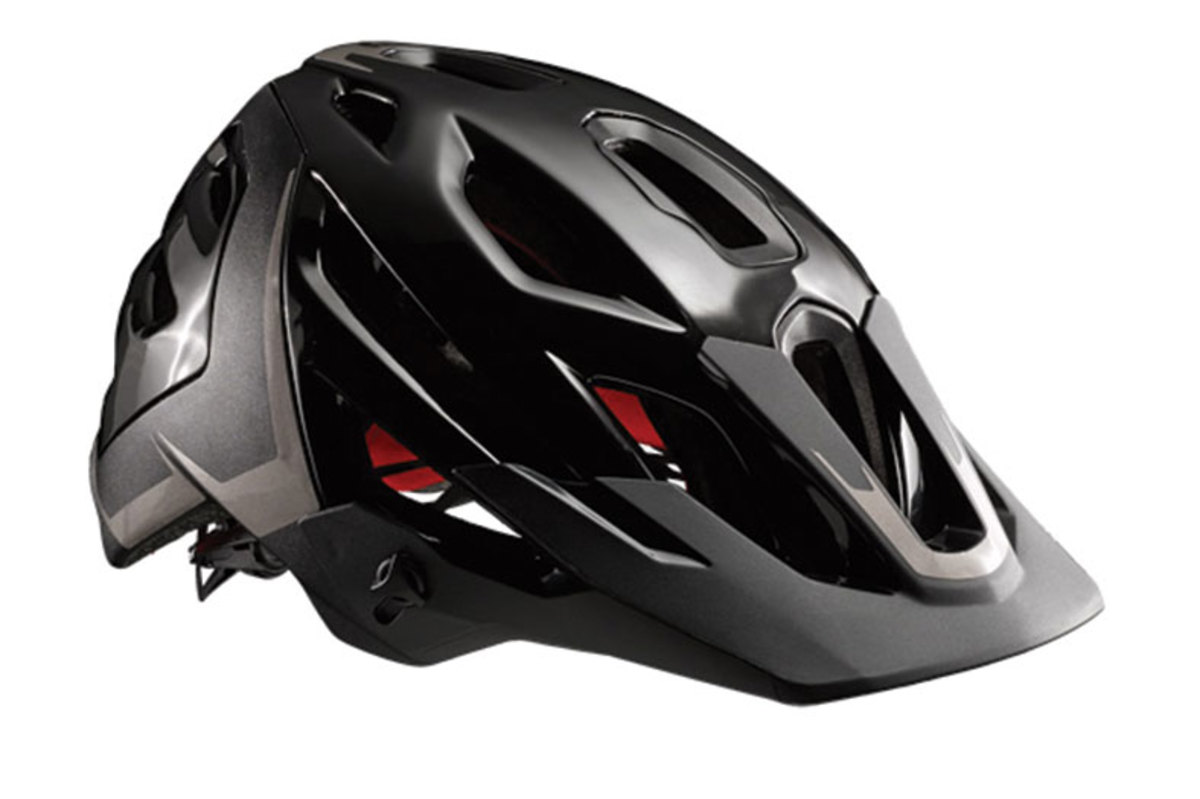 The Lithos has been kicking around the helmet world for a while now, but this latest model differs greatly from past versions. For starters, the Lithos now sports quite a bit of rear coverage, putting it squarely in the same class of brain buckets as the POC Trabec, Bell Super and Troy Lee Designs A1–helmets that stride the middle ground between full-face downhill helmet and pin-cushioned cross-country lid. And there's this: the latest Lithos is also fifty bucks more expensive that its predecessor. Does it merit the price tag?
BONTRAGER LITHOS HELMET | $150 | BONTRAGER.COM
Weighing in at 430 grams, the Lithos is not as light as some of the top helmets in this class, but it is loaded with features and the excellent ventilation makes it more comfortable than the grams alone might suggest. The Lithos is also lined with Bontrager's "NoSweat," channeled helmet padding, which does a good job of keeping sweat from cascading into your eyes.
Smart Details
Since the visor tilts up and out of the way, the Lithos is a good choice for lovers of goggles who need a place to stow their eyewear during climbs. Another nice feature is Bontrager's integrated 'Blendr' video camera/light mount. The mount makes attaching a GoPro or one of Bontrager's Ion lights clean and quick. Blendr is the slickest of all the helmet mounting options that I've seen to date.
Adjusting the Lithos' fit is a fairly straightforward affair; you accomplish the bulk of it by twisting the "HeadMaster" dial at the helmet's rear. Single-handed, on-the-fly adjustments are a breeze. I was less thrilled, however, by the Lithos' FlatLock strap dividers, which are non-adjustable. The FlatLock dividers managed to fall perfectly below my ears, so I had no complaints. You'll want to try the Lithos on yourself before buying to make sure that the same is true for you. I'd personally like to see the helmet's chin straps equipped with snap closures in the future–I'm always a fan of options that allow for the greatest adjustability.
Bottom Line
The Lithos faces steep competition: There are plenty of great all-mountain style helmets out there right now. With its sticker price of $150, the Bontrager is also no longer the most affordable option out there and if you lose sleep over extra grams, there are certainly lighter helmets out there. That said, the Lithos is well executed, plenty comfortable and brimming with thoughtful details. Bontrager might not be the first name that pops to mind when you think of helmets, but their latest generation of lids suggests that someone at Trek is taking the headgear game very seriously.