You don't expect a whole hell of a lot from a light that fits into a tube the size of a lipstick case, but Bontrager's Ion 700 packs a punch despite its diminutive size. As the name implies, the Ion boasts 700 lumens in its brightest setting. There are actually five modes-700 lumens, 450 lumens, 250 lumens, 50 lumens with extra bright flash and disco-party-commuter strobe.
BONTRAGER ION 700 R USB | $120 | BONTRAGER.COM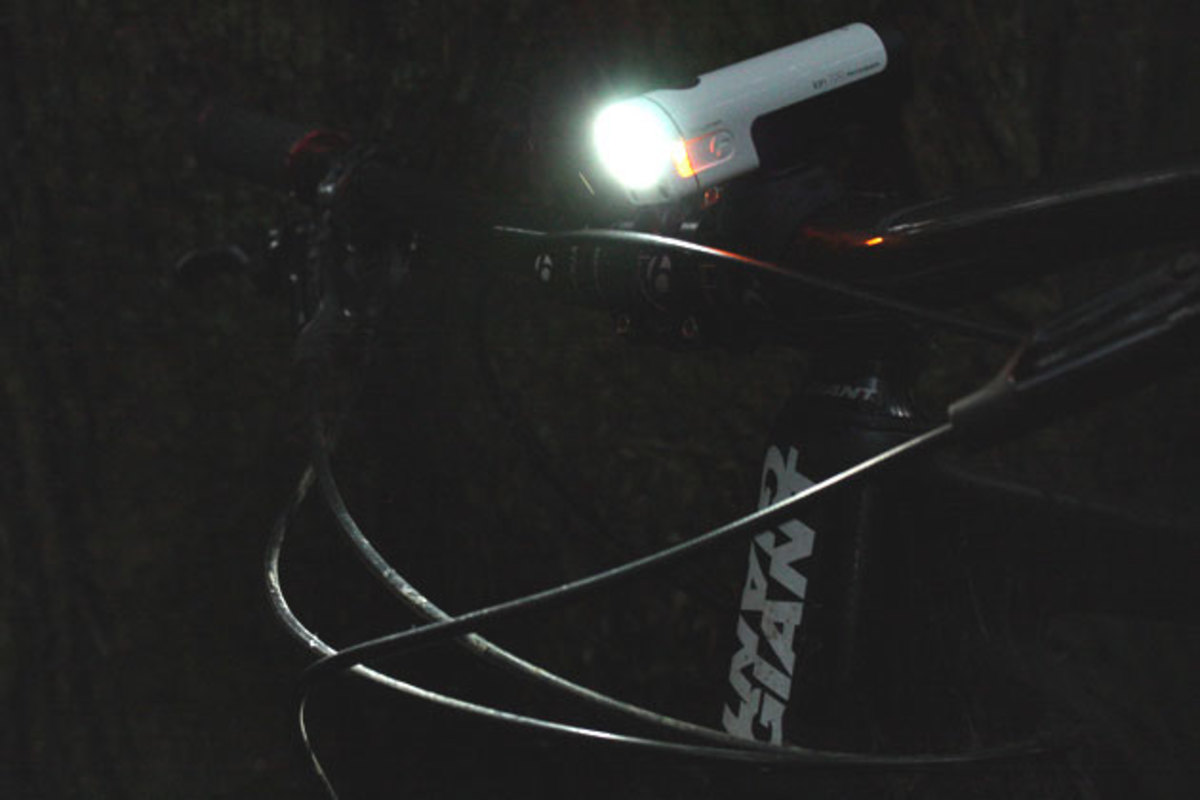 Burn, Baby, Burn
One of the weaknesses of small, all-in-one lights is that they tend to give up the ghost in quick order. Their burn times suck. The Ion 700, however, offers pretty impressive battery life. You're looking at one and three-quarter hours in the Ion's brightest mode (fine for short, after-work rides or bike commuting) and nearly seven hours in the 200-lumen mode.
When it comes time to recharge the lithium-ion battery, the deed is done via the supplied USB cord (there's a sealed Micro USB port on the underside of the light). It takes about five hours to bring the light back to a full charge and there's a low battery indicator as well, which lets you know when it's time to panic.
Easy to Use
The Ion comes packaged with a tools-free, hook-strap style handlebar mount. These stretchy mounts often have a way of wriggling loose when you start bucking down the trail in earnest, but Bontrager's version held steadier than most. There's a bit more waving of the light beam than you experience with a bolt-on style clamp, but not enough to actually be distracting. This thing works quite well and mounts to any diameter of handlebar. You can also adjust the angle of the light to the left or right-the center of the mount ratchets from side to side. Very cool. Bonus: the Ion is also compatible with Bontrager's Blendr helmet mount, which means that if you own the latest Bontrager Lithos helmet, this light snaps neatly to the top of the brain bucket with an intergrated GoPro-esque mount. Very slick.
Operating the light is similarly painless. The Ion has a memory of sorts: when you turn it on, it continues to operate on the lighting mode you were using last. It's not as if it's a chore to click through the five modes, but it's nice to not actually be forced to do so every time you turn the light back on.
As for sheer firepower, well, the Ion is never going to offer the midnight-sun experience of, say, a 3600-lumen Niterider model, but the Ion's 700-lumen beam definitely gets the job done for short mountain bike rides. For a light that easily fits in your hip pocket, recharges pretty damn quick and doesn't cost a ton of money (it's actually less expensive than most of the lights in this category), the Ion is a hell of a buy.
Let's be blunt: Bontrager is new to the lighting game-you wouldn't expect them to bring something to market right out of the gate that rivals the old guard of the lighting world, but that's what they've done here. The Ion 700 R is a lot of light in a tiny package.
More reviews:
Tested: Scott Genius LT Plus vs. Genius LT
Review: Dakine Hot Laps Fanny Pack