Words and Photo by: Kevin Tan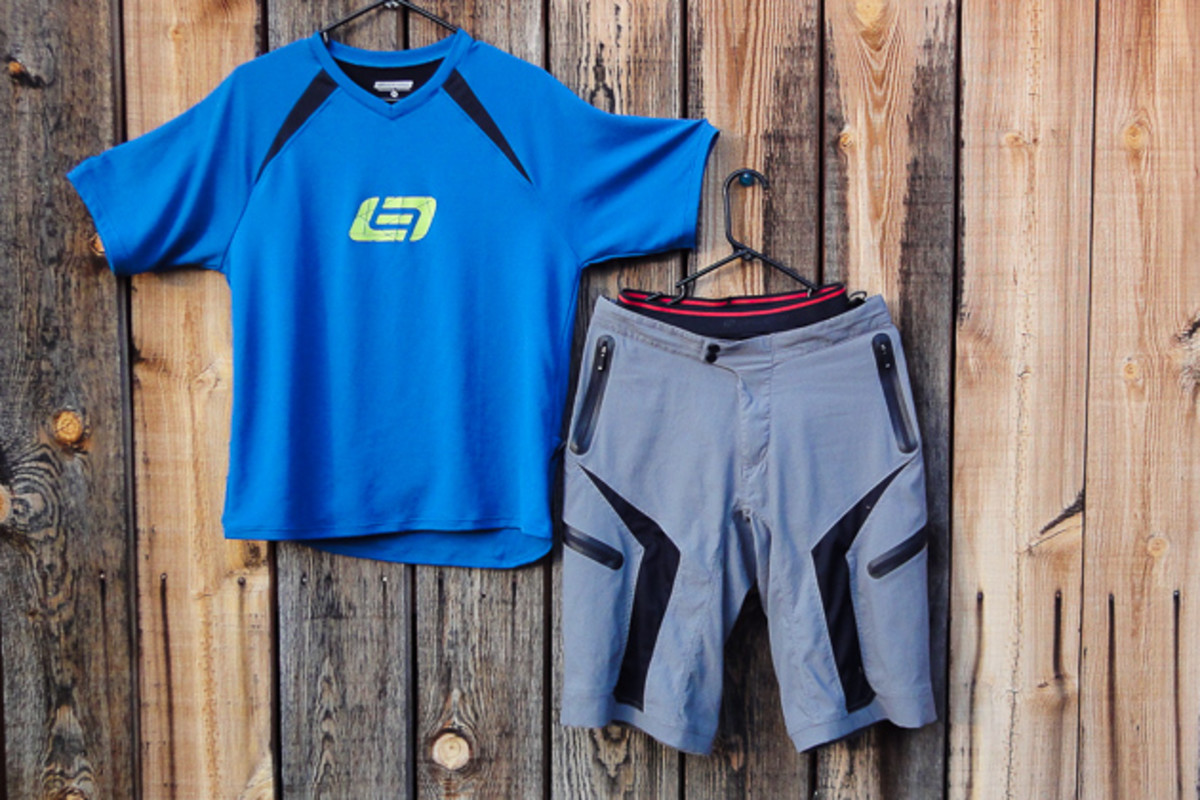 Bellwether Apex Jersey ($50) and Nemesis Short ($120) | bellwetherclothing.com
When I think of Bellwether, what comes to mind is tight fitting, high performance clothing geared towards road types. However, they also offer a handful of loose fitting designs aimed at the mountain bike crowd. Bellwether offers two casual jerseys, the short-sleeve Apex and the ¾ sleeve Assault. For casual riding, there are three shorts offerings, with the Nemesis at the top, followed by the Implant and the Ultralight Baggy shorts.
The Apex jersey is constructed from Bellwether's Nanostat fabric, which was chosen for its durability and moisture control. Vents located on the front and back of the jersey provide additional breathe-ability. The only pocket on the jersey is a 4-inch zippered pouch on the bottom left side. Additionally, Bellwether provides a UPF (Ultraviolet Protection Rating) rating of 30+ for the top. The cut is loose fitting but not excessively, and also a bit longer in the back to accommodate a forward riding position.
The Nemesis shorts are constructed from a lightweight, 4-way stretch material Bellwether calls Exo-Flex and also feature mesh vents on the front and back for extra breathability. Unlike some other casual shorts, these use a gusseted pattern to keep seams out of the seating area. There are two zippered hand pockets as well as two zippered cargo pockets. The waistband is adjustable via two Velcro tabs on the back.
Impressions
I was a bit wary at first, due to prior experience with some team-issue shorts many years ago. Let's just say that even tiny stitches in the just the wrong location can have a pretty major impact.
But that's in the past.
I got used to the Bellwether kit really quickly. The shorts are a good balance between a casual, loose fit while not being excessively baggy. The chamois is comfortable and does a good job at staying put. In my opinion, the gusseted design is a good thing and along with the stretchable fabric seems to keep the shorts from feeling restrictive or getting hung up on the saddle. Casual shorts can get hot, but these do a good job at keeping things relatively cool. Believe it or not, the cargo pocket (lower pocket) is actually quite accessible even when riding, which was handy at times. These have quickly become my go-to riding shorts.
My experience with the Apex jersey is similarly positive. The Nanostat fabric has a soft feel and is surprisingly comfy, especially for a 'technical' fabric. The styling is right on, looking good without looking like you just fell off the team bus. The pocket works just fine for holding an electronic gadget, lip stuff, a snack, a few bucks, or most anything you might need for short ride.
Overall, I really liked both the Apex jersey and Nemesis shorts. Both strike a sweet spot between casual design and performance.