SPECIALIZED RHYME EXPERT 650B | $5,900 | SPECIALIZED.COM

Studio photos: Anthony Smith
Action images: Paris Gore

It's about time. That was my first thought when I heard about the new Rhyme, a 6-inch-travel women's trail bike that uses the same frame design as the venerable Stumpjumper (the Stumpjumper itself has overgone a pretty significant overhaul). Specialized released their 120-mil Rumor Evo last year, but had yet to address the market for a longer travel women's bike, instead directing its resources in recent years toward the XC crowd with the Fate and the Era. A capable tool aimed at women who strive to tackle bigger, more aggressive terrain was noticeably missing in its line-up. Perhaps, though, I only noticed it because I knew when Specialized did come out with this bike, it would be well worth the wait and frankly, I was getting antsy.
The women's version of the Stumpy sports a carbon frame with an alloy rear triangle, a different paint job and saddle, shorter cranks, narrower handlebars and lighter-tuned rear suspension, but the geometry is identical to the 650b men's bike. This is an interesting move for Specialized, which has long touted the benefits of women's-specific geometry, and until now, has manufactured mountain bikes with a frame designed to fit smaller, lighter riders. Why it didn't in this case could be come down to several reasons–cost savings, pressure from competition or simply the fact that the Stumpjumper is so rad that they figured ladies should get a version too.
Specialized claims that for aggressive trail riding, the females it polled preferred the control and confidence delivered by Specialized's existing trail geometry.
"We look to the rider for the specific bike experience to decide if there is a unique rider need for a women's specific frame," said Katie Sue Gruener, global PR manager for Specialized. "We still believe and understand the anatomical differences between male and female riders and will utilize women's specific frame geometries when there is unique anatomical, motivational or experiential rider need that we can address with the platform."
It probably doesn't hurt that a competitor like Santa Cruz Bicycles-owned Juliana Bicycles has built an entire brand by rebadging Santa Cruz bikes with a more feminine name, different colors and a few female-specific parts. In general it seems like companies are finally realizing that the geometry attributes that make a bike fun to ride like longer toptubes, shorter stays and a low bottom bracket don't discriminate between genders.
Of course, none of this matters the moment you get on the Rhyme. It's predictably awesome. I was able to squeeze in two rides on the Rhyme in the weeks before its release, and I enjoyed every minute of my time on it, even the climbs. Promise. The geometry strikes a nice, balanced feel with a 67-degree headtube angle, snappy 16.5-inch chainstays and a low 13.2-inch bottom bracket height, all of which creates a bike that boosts confidence when the bike is pointed downhill, but still feels stable and planted when you're traveling in the opposite direction. The stable feel of the Rhyme, particularly when descending and cornering, is helped by Specialized's wise choice to outfit the bike with its wide, 29-millimeter Roval Traverse 650b alloy rims paired with the tubeless-ready 2.3-inch Butcher Control in the front and the 2.3 Purgatory in the rear. For even more traction and control, the Rhyme is also compatible with 27+, 3-inch tires due to the 148-millimeter rear hub spacing.
The Rhyme's 150 millimeters of travel is delivered through the solid RockShox Pike RC fork up front and the custom-tuned Fox Float CTD shock with Autosag, Specialized's proprietary automatic sag and air pressure-setting system. Autosag is helpful, although personally I find that when the percentage guides are printed on the shock, it's just as useful and takes less time to set-up. With Autosag, the process involves pumping up the shock to 300 PSI, then sitting on the bike and releasing the valve until sag sets for your weight. After going through the process twice, the shock was settling at about 10 percent, so I manually released more air. The Rhyme shock also received a special tune, dubbed Women's RX trail, which was developed by Specialized's in-house suspension team in response to analysis that showed that female riders often don't utilize the full suspension stroke, Gruener said. The result is a shock tuned with a larger volume to make it easier for lighter riders to maximize its full travel.
The rest of the bike is outfitted with a near-perfect selection of parts, including SRAM's X1 1×11 drivetrain with a 10×42 cassette and a 30-tooth chainring so you'll rarely, if ever, miss a second chainring up front (and I guarantee you'll never miss shifting a clunky front derailleur), Shimano XT brakes, Specialized alloy handlebars in a respectable 720-millimeter width and Specialized's new 100-millimeter (in size medium) Command Post, which has been updated with micro-adjustable height in addition to the three distinct positions from the previous version. It's actuated by the remote SRL lever, which takes the place of the front shifter on the handlebar, and is ingeniously shaped identically to a shifter.
Specialized also uses the Rhyme to showcase the latest addition to its SWAT technology, which provides options on the bike to store the water, tools and food that you'd normally carry in a pack. The SWAT door opens into the carbon-fiber downtube, where you can store a pump and tube in felt wraps to avoid rattling, as well as any other essentials you want to stuff in there. It was pretty liberating to ride pack-free with the security that everything I needed for a mechanical was in my bike.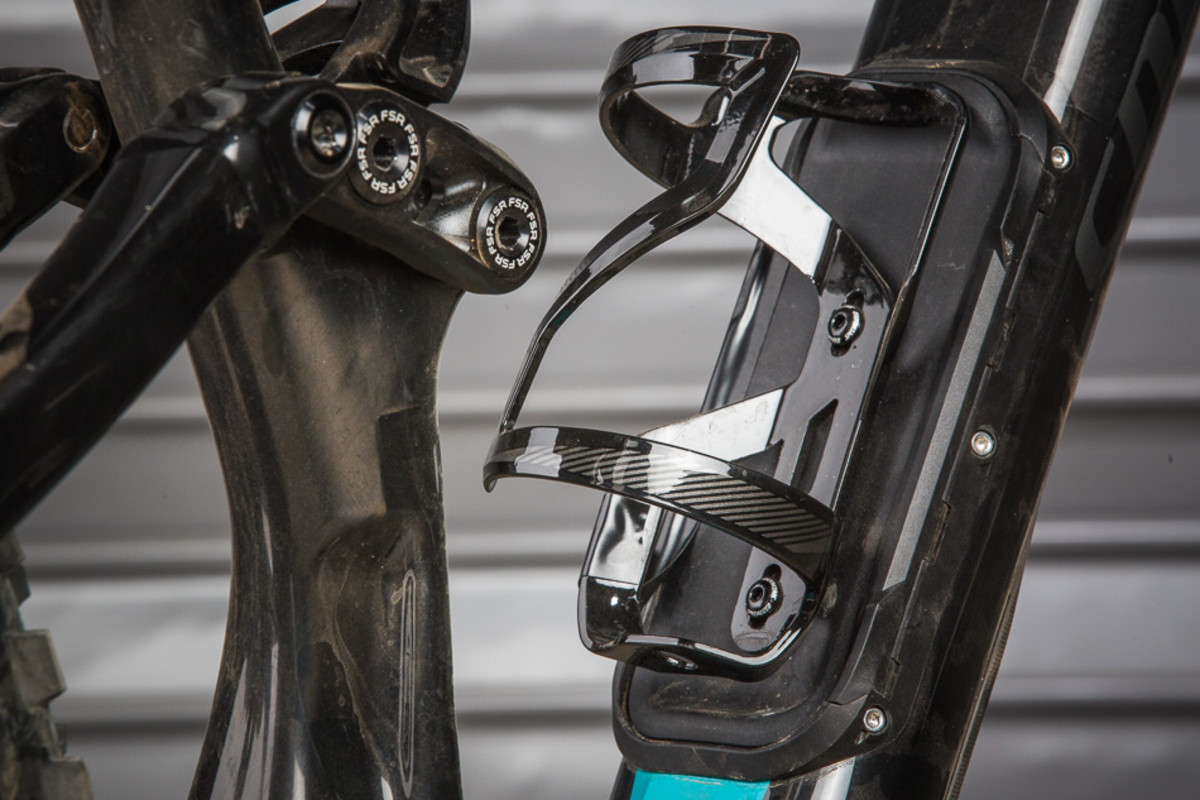 In my brief time riding the Rhyme, the bike triggered something that hasn't happened in recent memory–it inspired me to stray beyond my comfort zone and explore new lines on familiar trails instead of defaulting to the safe, known route. While climbing one of my backyard trails, a short, steep bruiser with a few technical, ledgy sections, for the first time ever, I opted for the more technical line, which required a front wheel lift to to power up and over the chunky rocks. In took two attempts to clean it, but afterward, I realized I had never even noticed the line until I was on a bike that emboldened me to look around at the possibilities surrounding me instead of being laser-focused on merely surviving the climb. It's a feeling, and a bike, that I could certainly get used to.
I rode the highest-end Expert version of the Rhyme. Specialized also offers the Comp Carbon for $3,800–which is an excellent deal for a full-suspension carbon-fiber frame with a solid parts selection–and the Comp alloy frame model for $2,900.