SCOTT GENIUS 900 TUNED | $9,000 | SCOTT-SPORTS.COM
The Genius is Scott's answer to the do-it-all trail bike, which is why it's equipped with TwinLoc. In full-travel mode, the bike boasts 130 millimeters of travel. Clicking the handlebar-mounted Twin Loc switch into 'Traction Control' mode steepens the geometry and reduces rear travel to 90 millimeters. Click it again into 'Climb' and the bike's suspension (front and rear) locks out.
The Genius 900 Tuned is the pinnacle of the line: Its carbon frame is decked out in SRAM XX1 drivetrain, Shimano XTR brakes, carbon Syncros/DT wheels, a Reverb Stealth dropper post, a Fox 32 fork and a custom Fox Nude rear shock. All that carbon and bling carries a steep price tag. Scott, however, offers a Genius 910 model that sports many of the same features (albeit with an alloy swingarm and Shimano XT kit) for $5,000.
The Genius had a few of our testers scratching their heads. The 23.8-pound 29er gains elevation with ease, but testers were divided on whether TwinLoc was truly an asset. The locked-out mode is certainly a boon on smooth fire-road ascents, but on our loose and rocky singletrack climb, most testers opted to ride the bike in 'Traction Control' mode. Some riders were content with that short-travel setting, but a few didn't feel it offered the ideal balance of efficiency and traction. As one tester put it, "It's impressive technology, but I'd love to climb with this bike in full-travel mode, with a simple 'lock out' setting." All testers, however, agreed that Scott got the fundamentals right: The parts spec is faultless and, thanks to its smart geometry, this is one very nimble 29er.
When compared alongside the other trail bikes in this issue, the Genius 900 Tuned didn't prove to be a particularly fearless descender; it's better described as a very capable cross-country rig. The longer-legged Genius LT is a better pick for enduro/all-mountain riders.
But as an all-rounder–a bike that can help you tear the legs off your frenemies in an XC race and that also excels at grueling, all-day grinders–this Genius is a smart choice.
– Vernon Felton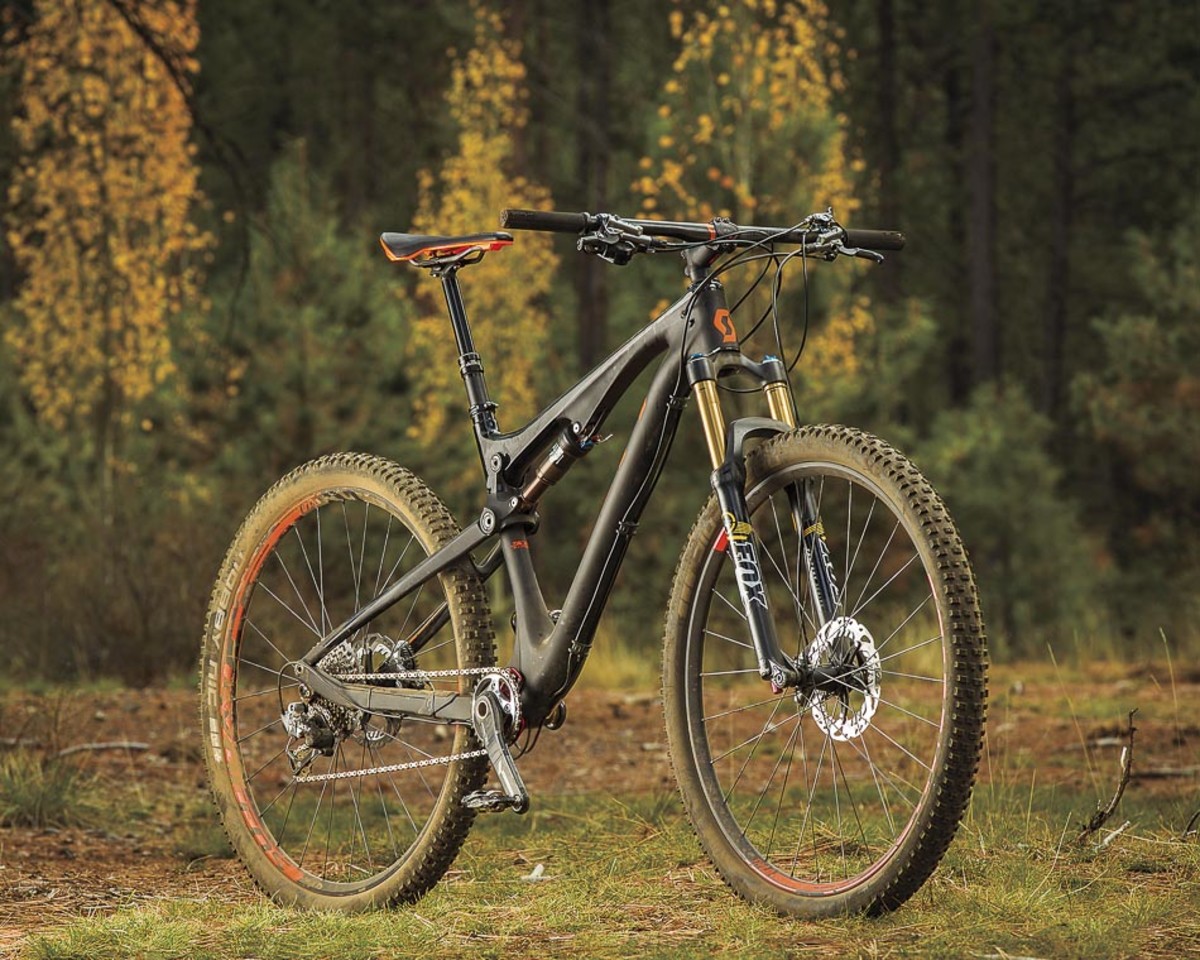 Q & A with Zack Vestal, U.S. bike marketing manager – Scott
We had questions about the new bikes before we even got our test rigs, so we sent out a few queries—the kind of things we thought you might be asking yourself when you're looking at this bike. Then we sent out another round of asks if any major questions or issues came up during testing. Here's the feedback we received from Scott's U.S. bike marketing manager, Zack Vestal.
Consider this a bonus feature—just a little something extra to chew on if you're still hungry for information after you've watched our video reviews and flipped through the Bible of Bike Tests.
—Vernon Felton, Bible of Bike Tests Moderator
VERNON FELTON: Who's the ideal rider (or the ideal type of trail) for the Genius?
ZACK VESTAL: Honestly, among us at Scott, we talk about the Genius series bikes (both wheel sizes) as if they're the perfect bike for 80 percent of the riders on the trail. They're not built for the elite 5-10 percent of enduro racers that need more travel and burlier builds. And they're not for the elite 5-10 percent of XC racers who are more concerned about weight at all costs. The Genius bike is for people who want to do a bit of everything.
The Genius is light enough that you could legitimately race XC or marathon-distance races a few times a year. The Twinloc remote lockout keeps them efficient enough for long pedaling sections. And they have enough travel for the occasional "enduro," if an aspiring trail rider wants to give it a go. If I want to shuttle Monarch Crest and do a 5-hour adventure, Genius. Then if I want to jump in the Winter Park 50-mile marathon, Genius. And if someone says, 'Hey, let's go do Trans Savoie.', Genius will get the job done. Naturally if you're super serious about your enduro racing, you'll go Genius LT, with 170 millimeters of travel and slacker geometry. By the same token, if you're serious about getting on the podium in XC or marathon events, you'll go Spark or Scale, with less travel and lighter weight. But for the rest of us just trail riding, doing a bit of this and a bit of that, Genius is a highly versatile platform for everyday dirt sessions.
VF: Riders will be asking themselves, "Should I go with the 650b Genius or the 29er Genius?" How would you answer that? In other words, what kind of rider is best suited to the 650b version and what kind of rider is better served going with the 29er Genius?
ZV: Yes, that's the question. Part of it we answer by consideration of body size. Larger riders on big wheels, smaller riders on small wheels. Kind of scaling the wheel size to fit the bike size, you know. The other part of that question, we answer by saying, pick what your preference is. Personally this season, I'm to be trying to get better about ripping corners, boosting small jumps, wheelie-dropping ledges, and generally throwing more style into my ride. So I am stoked on the Genius 700 tuned (27.5). For me, smaller wheels suit that kind of thing. On the other hand, if people want to roll longer rides with more pedaling, if they like how 29ers behave in corners, or maybe they just enjoy the rollover characteristics of big wheels, then the 900 series (29er) is the way to go.
VF: TwinLoc—our testers were mixed on the feature: some liked it and others were wishing the Genius simply came equipped with a "standard" Fox or RockShox shock, which would simplify the cockpit. Would Scott ever consider selling a Genius that doesn't sport the TwinLoc feature?
ZV: I don't see Scott Sports migrating away from the TwinLoc remote lockout lever. Our engineers are working more closely than ever with FOX Racing Shox to evolve and refine the design. And we feel that it offers many benefits across the overall bike design.
For those that don't know, it's a 3-mode remote lockout lever, with Climb, Traction Control, and Descend modes. Front and rear suspension are controlled simultaneously, without taking your hands off the bar. The specific damping and travel characteristics in each mode vary by frame platform and shock spec, but essentially Descend is wide open/full travel, Traction Control adds compression damping and reduces travel, and Climb is fully locked out.
The rider is fully able to choose, on the fly, how they want the bike to behave. They can adjust to changing trail conditions, quick climbs, or long climbs, pretty much in an instant. We find that once riders have experienced TwinLoc, they don't want to go back and they wind up using the TwinLoc lever as frequently as the shift lever.
Bike path to the trailhead? Climb (lockout) mode. Chunky climb for the first 2 miles? Traction Control. Ripper descent to the next section? Descend mode. Gravel road grind to the next trail? Climb mode. Using TwinLoc becomes second nature just like changing gears or dropping the saddle.
More trail bike reviews from our 2015 Bible of Bike Tests: