SRAM recently announced that model year 2017 shocks would be the first to implement a new metric shock sizing standard, which, along with its suspension brand, RockShox, would be adopted by DVO, X-Fusion, Manitou, Cane Creek and SR Suntour. While Fox was notably absent from the announcement, the brand has said that it will also be building metric-size shocks. Currently, suspension manufacturers are designing shock internals to function across a vast range of sizing. SRAM says that the switch to metric will simplify sizing, hardware and fitment, while also improving shock performance by giving manufacturers more room to work with in frame design. The focus of today's announcement is two new shocks–the Deluxe and Super Deluxe–but first, some background on this whole metric thing.
The switch to metric will bring a new set of rear-shock lengths agreed upon by suspension and frame manufacturers. Traditionally, shocks have been measured eyelet to eyelet with imperial units (8.5" x 2.5", etc.), and although many bicycle manufacturers use the same length shocks, the complex needs of individual companies have led to the proliferation of bushing and bearing sizes, not to mention proprietary mounting systems. SRAM feels this has led to complicated design overlaps and performance compromises, and that these can be reduced by switching to metric sizing.
What will the switch to a metric standard mean?
No new manufacturing standard is implemented overnight, and in the interim, suspension brands will have to produce additional sizes while still providing options in the nine common 'legacy' imperial shock lengths. The overarching goal of metric sizing may be to simplify the number of shock sizes, streamline hardware options and improve frame suspension design and shock performance, but things are going to get more complex before they get simpler–especially for manufacturers and service centers.
A New Mounting Option
RockShox's new trunnion mount is a solution for frames with a vertical shock orientation. The trunnion mount reduces the shock's eye-to-eye by 25 millimeters, opening up space for lower standover heights and smaller frames. Similar to the Fox DRCV shock mount found on Trek's bikes a few years back, the trunnion shocks will mount on the sides of the air can.
Shock-mount bearings
The switch to metric is also allowing RockShox to integrate bearings into the shock-mount pivots, a potential source of friction and reduced small-bump compliance. Horizontally oriented Super Deluxe and Deluxe shocks can utilize new shock-body eyelet bearings, while a shaft-end bearing mount is recommended for Super Deluxe and Deluxe trunnion-mount shocks.
Charts:
Legacy hardware sizing vs. metric hardware sizing
Legacy mount dimensions vs. metric dimensions
RockShox Super Deluxe
The air-sprung Super Deluxe is positioned as a trail or all-mountain shock, and will be offered in two models, both of which come with RockShox's high-volume DebonAir air can. The Super Deluxe RC3 has three externally adjustable compression settings (open, pedal and locked out) and rebound damping. The Super Deluxe R is the same as the RC3, but doesn't get the three-position compression adjust.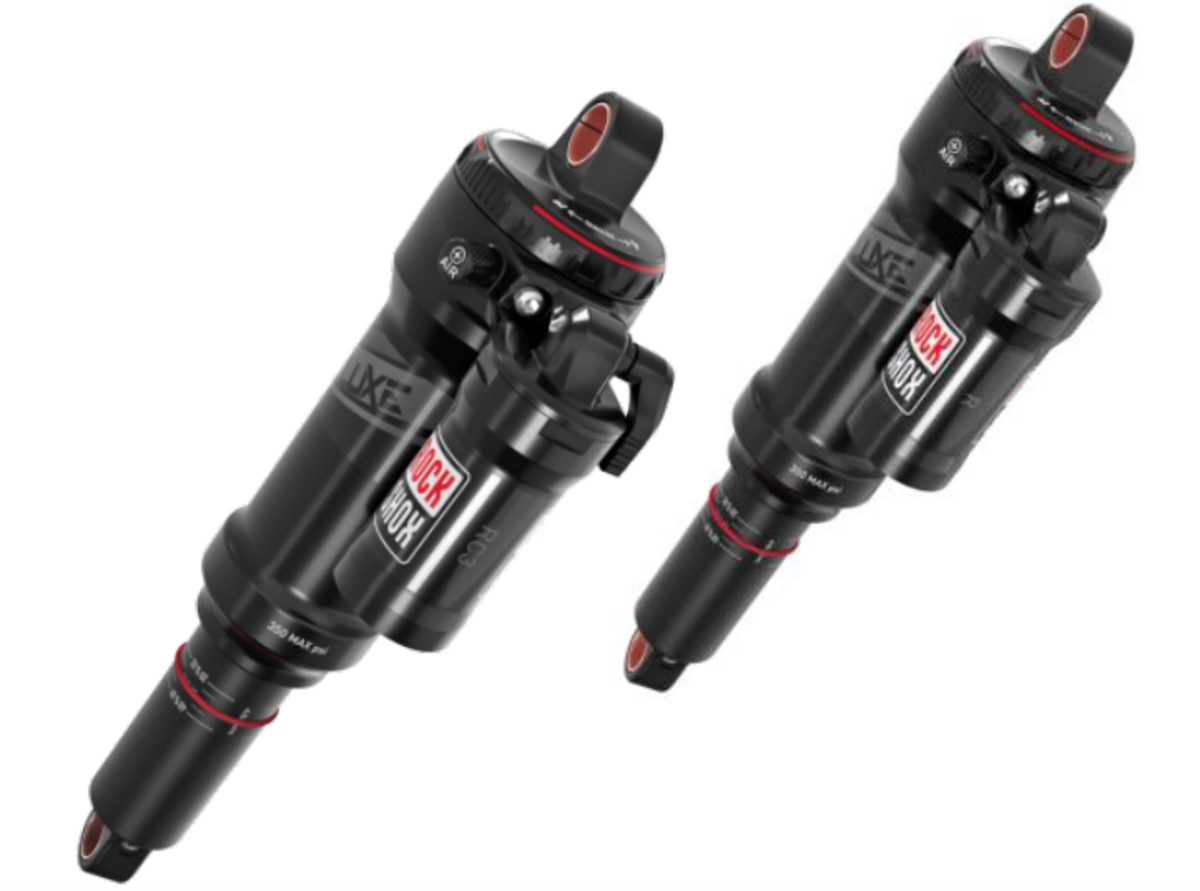 Stiction and the lack of small-bump sensitivity has long been the enemy of air-sprung suspension. RockShox says that, thanks to improvements made possible by the switch to metric sizing, the Super Deluxe is the lowest-friction air shock it has ever produced. This was accomplished by incorporating lower-friction bushings and increasing the bushing overlap on the shock shaft. Alongside the bushings, a new scraper dust seal is credited with improving durability and cold-weather performance, while increasing the length of time between regular shock service. RockShox also made room for its Counter Measure spring. Originally seen on its Vivid and Vivid Air gravity shocks, the Counter Measure spring opposes the pressures created by the IFP (internal floating piston), decreasing initial breakaway force.
RockShox Deluxe
Designed for cross-country and trail-riding duties, the Deluxe takes RockShox's Monarch damper technology, sans piggyback reservoir, and incorporates it into the new metric shock chassis described previously. Based on riding style or intended use, aftermarket customers can select from four Deluxe air shocks with different combinations of external compression settings.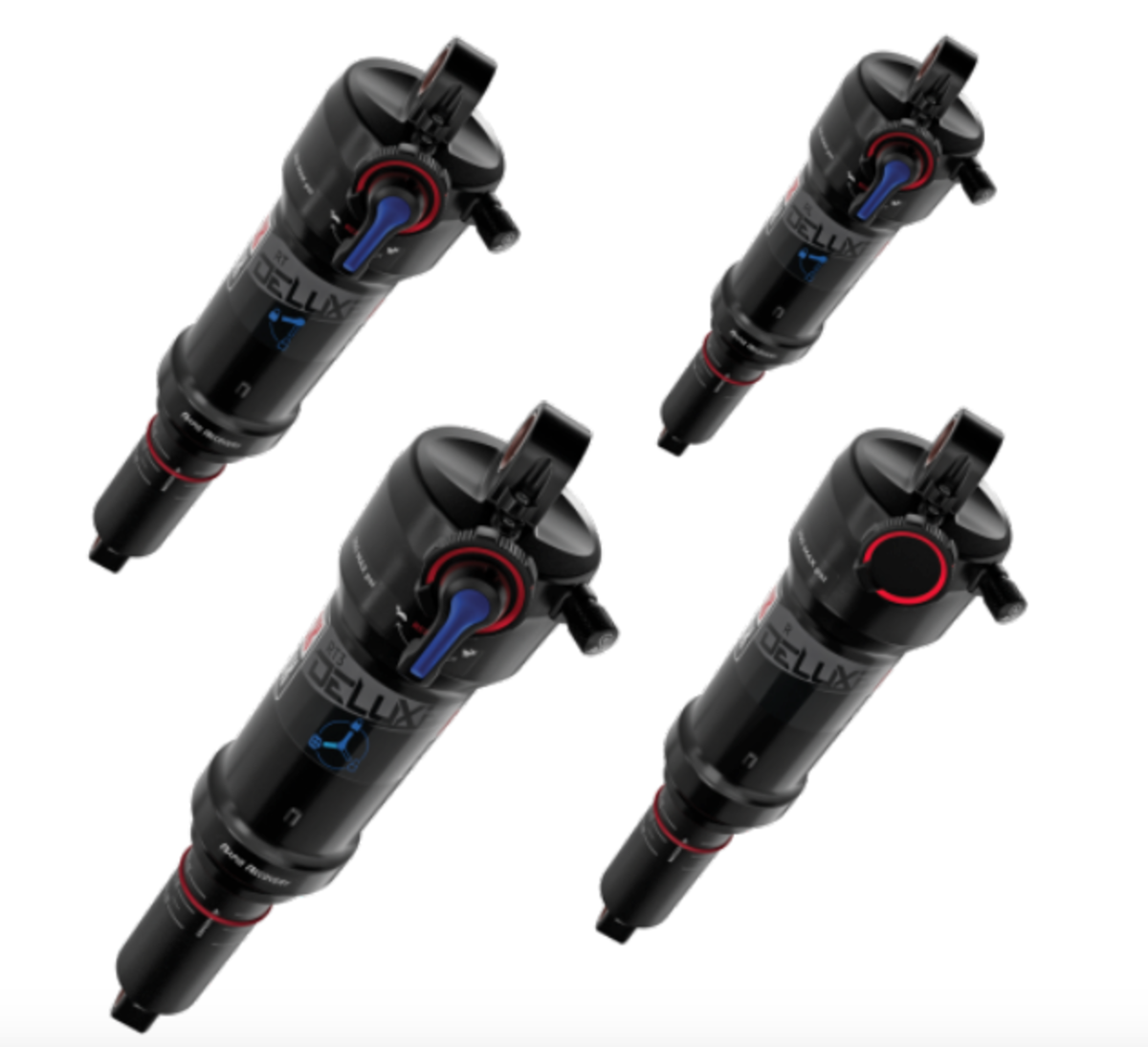 Across the board, the Deluxe shares many of the Super Deluxe's new features, such as the new shock-mounting options, redesigned scraper seal and overlapping bushings. Both shocks also feature RockShox's Rapid Recovery system designed to help the shock recover faster in between consecutive high-speed hits. This helps maintain traction and control, because the rear wheel will track better when cornering and braking on unpredictable terrain. Additionally, both Deluxe shocks employ RockShox's simple, lightweight and proven Solo Air air-spring assembly. As with the Super Deluxe, the Deluxe is available with the new trunnion and horizontal mount options, along with the internal tuning capabilities via space-reducing tokens.
The new shocks are slated to start as OEM spec sometime this summer.