Salsa Cycles' enthusiasm for niche categories has earned it a legion of fans, and not just within the fatbike market. Surly, Salsa's QBP sibling brand, pioneered plus-size with the Instigator, and Salsa's Pony Rustler was one of the first production full-suspension plus bikes. Salsa's Woodsmoke hardtail, while not the first bike to ship with plus-size 29er wheels, is still one of very few to do so. The Minnesota brand now joins the even smaller vanguard of those brave enough to market a full-suspension 29+ model.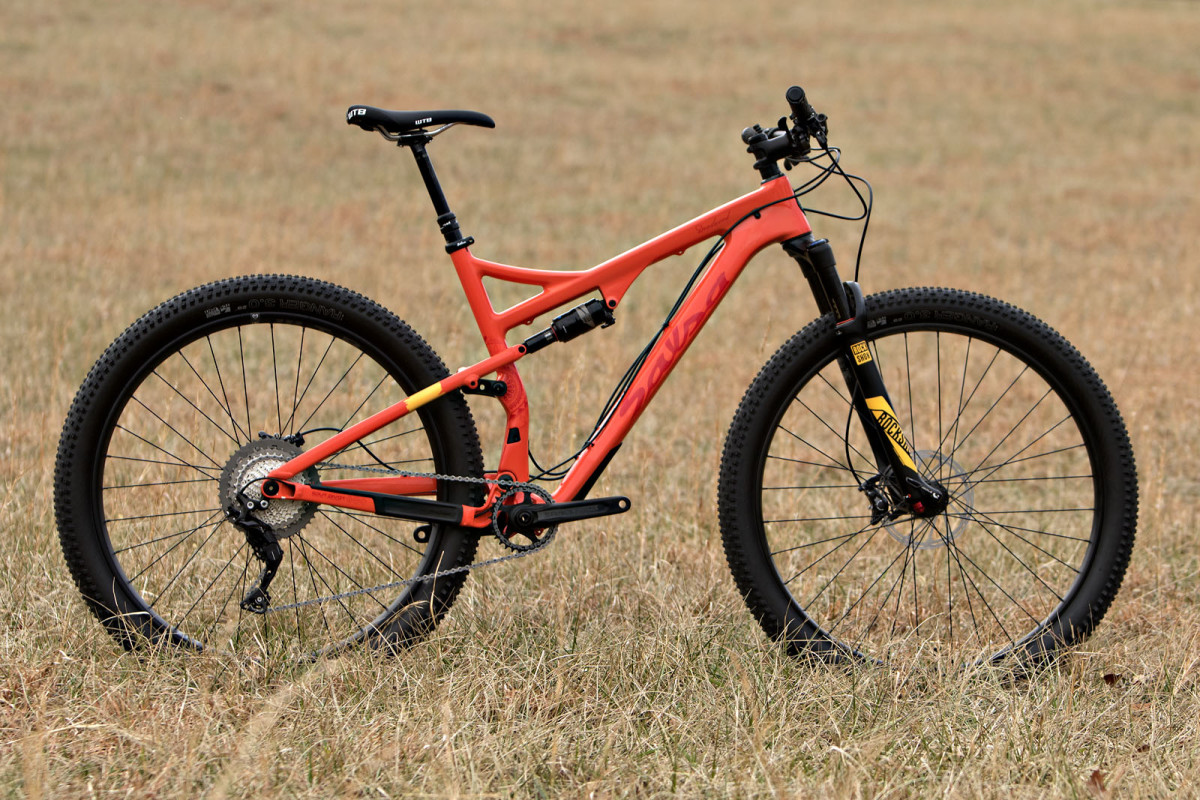 "From Deadwood comes new life"
This was the introduction delivered by Salsa's Marketing Manager, Mike Reimer, acknowledging that the new Deadwood bears a name recycled from a 29+ drop-bar bike that was made redundant when the Fargo gained plus-size wagon-wheel compatibility. Beyond wheel size, however, this Deadwood bears little resemblance to the original.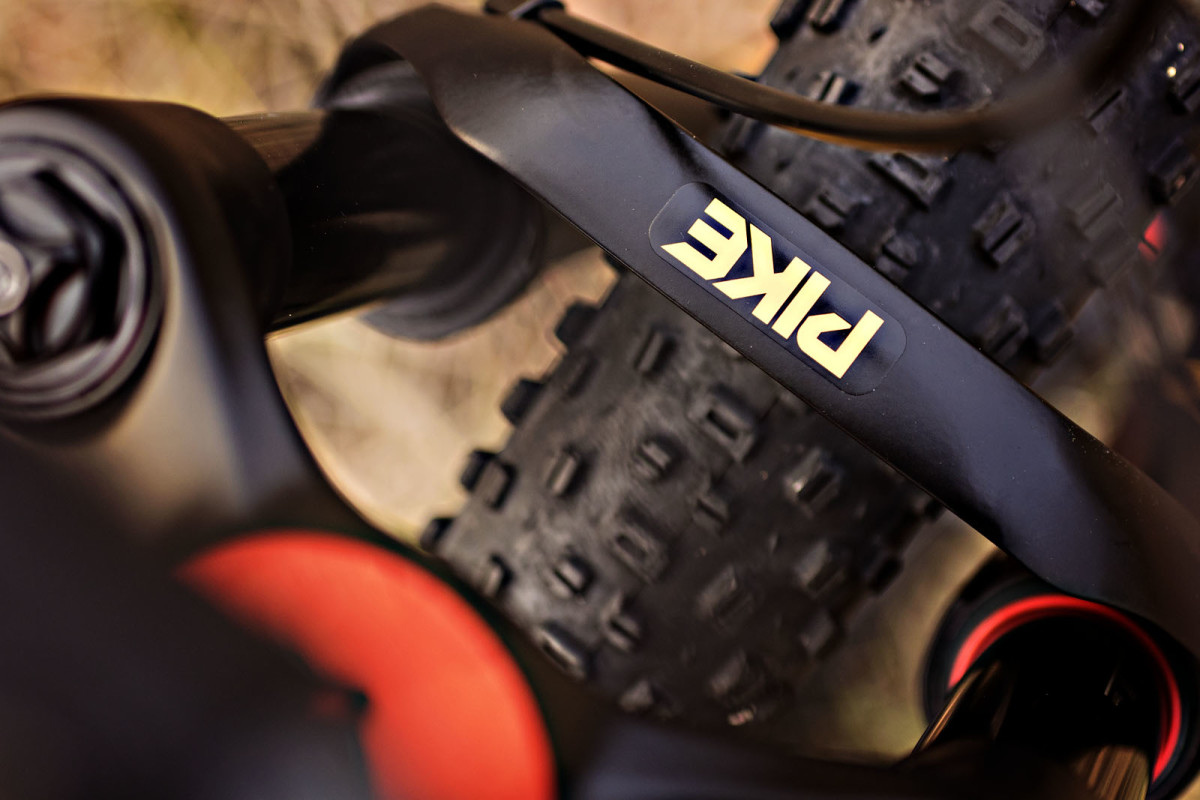 Big Wheels, Short Travel
Salsa's idea was to mate 29+ wheels with minimal travel, using its XC/endurance Spearfish platform as a blueprint for an efficient yet trail-capable chassis. The Deadwood's carbon front triangle, taken directly from the Horsethief and Pony Rustler, connects to an aluminum rear end via a Split Pivot linkage that yields 91 millimeters of travel. An OEM, 100-millimeter-travel RockShox Pike or Yari with an extended 521-millimeter axle-to-crown is stock.
One look at the geometry chart will dissipate any shroud of mystery regarding how Salsa's engineers managed to work 29+ hoops into a full-suspension frame: They didn't fret over chainstay length, resulting in a lengthy 449-millimeter rear end. This roomy rear can accommodate 29-inch tires ranging from 2.3 to 3 inches wide, though plus-size rubber is certainly the primary intention here.
Notable is the frame's ability to fit a large water bottle inside the front triangle, as well as its acceptance of front derailleurs with up to a 34/24 double crankset (though all of the stock builds are single-ring). The maximum one-by chainring size is 32 tooth.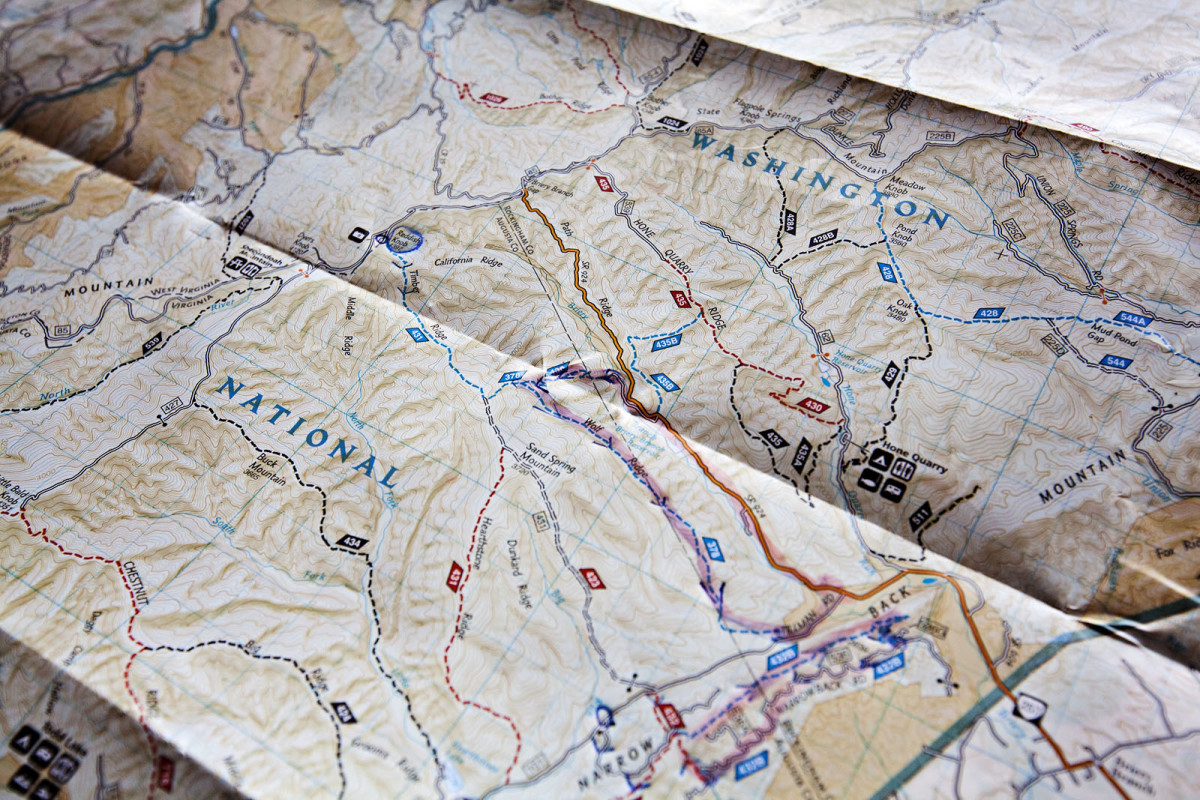 Welcome to Stokesville
Our small contingent of Salsa personalities and media hacks spent two days exhausting our legs and icing our lungs while testing the Deadwood on the trails surrounding Stokesville Lodge. To my surprise, this is not a mythical place where mountain bike bros go to shred on eternally, but rather a very real, budding singletrack utopia nestled against Virginia's George Washington National Forest, at the glacial trough of the first of many ridgelines that roll eastward from the state's northwestern border. The plentiful terrain would have proven ideal for testing just about any trail bike, but its variety seemed especially suited to the Deadwood.
Unrelenting, intermittently technical climbs disappeared into descents that transitioned from swooping, loose, sometimes leaf-filled turns, to rocky chunk with natural square- and hatchet-edge rocks, to groomed flow with rollers, tables, and manmade flag-stone gardens that asked to be hit with plenty of speed and an extra order of aggression, please and thank you.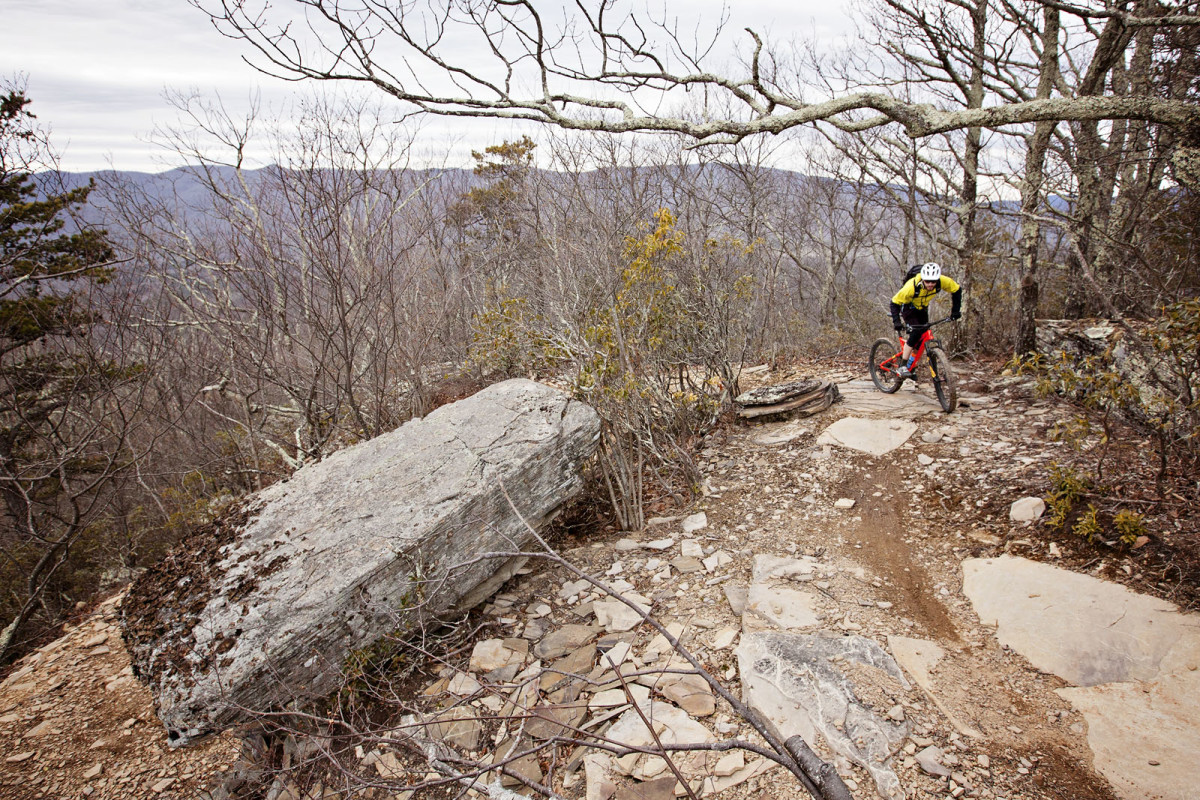 Climbing
It's possible that my immune system was busy fighting the contagion of three travel days through international airports in the space of a week, or maybe I've just stooped to a new low of winter fitness. Either way, I was having considerable difficulty keeping myself moving uphill. As in, my-thighs-are-cramping-with-every-pedal-stroke, I'm-just-gonna-curl-up-right-here type difficulty. I consumed state-of-the-art science food. I drank more than I wanted to drink. Nothing worked.
These are not the physical circumstances under which I would choose to test a bike with 1,200-gram 29-plus tires, and yet I came away with a very positive impression of the Deadwood's climbing chops. The 91-millimeter stroke is supportive under pedaling input, aided by what Salsa says is a plus-size tune. This sacrifices some suppleness off the top, delegating chattery, small-bump duty to the voluminous tires. I never felt the need to try out the three-position low-speed compression adjust on the RockShox Monarch RT3 shock, totally content with its performance in the "Open" setting.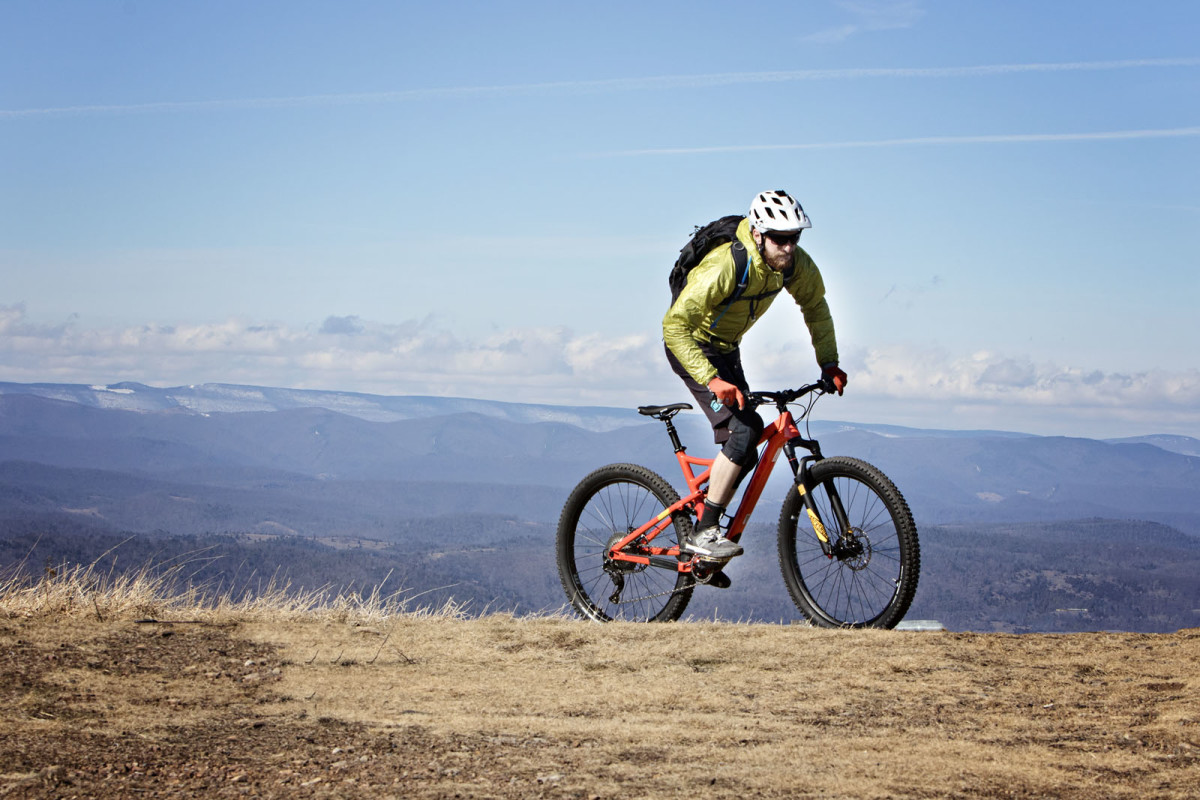 There was no dearth of traction on technical pitches, thanks to the tires' large contact patch. The long rear end is a potentially limiting factor on tight switchbacks and apex moves requiring directional changes, both of which were pretty much the only features absent from the trails we rode. On the flip side, the lengthy rear end increases downwards leverage on the front, helping to keep it under control.
Descending
What the Deadwood lacks in travel is somewhat made up for with a trifecta of progressiveness, big tires, and a long, stabilizing rear end. Salsa intelligently tunes the suspension at both ends of the bike for progressivity, estimating that these bikes will be ridden fast on chunky trails. The stock Pike ships with four volume spacers installed, making for a more pressure-sensitive air spring than most riders are accustomed to. I struggled to achieve the usual small-bump sensitivity that the fork is capable of, but I didn't find any harsh bottom-outs at the end of the stroke, either. Aggressive riders looking to get the most out of the Deadwood will need to be willing to meticulously experiment with tire and suspension pressures up front.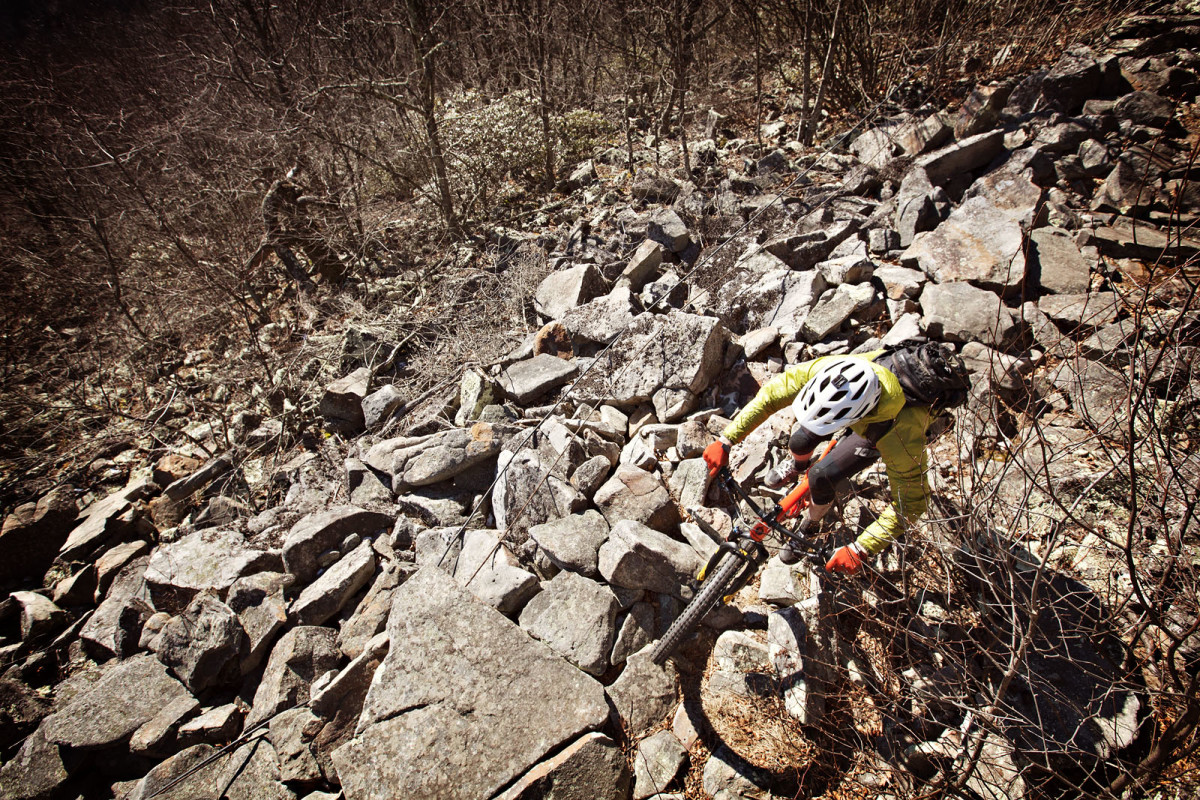 It's noteworthy that our entire group was running an additional 20-30% tire pressure to manage the risk of flats on what were some quite long and rocky days. I was running around 17 in the rear and 15 in the front, which, though workable, was higher than ideal. Lower pressures would nurse additional suppleness and traction from both ends of the bike.
The rear was more blow-and-go, with 30 percent sag giving me more than I expected from the Deadwood's paltry 91 millimeters. The stiff top-end tune that supports efficient pedaling on climbs isn't noticeable when the speeds and impacts ramp up, especially combined with the cushion provided by the tire. None of the bottom outs evinced by the O-ring's position were detectable. This is no substitute for a 160-millimeter-travel bike, but the Deadwood was composed at speeds that I'd imagine hitting on a 130-millimeter-travel 29er, or a smaller-wheeled 140 bike. It is certainly the most capable bike I've ridden in its travel segment.
When cornering, the combination of 29+ and such a long rear end encourages the rider to lean and counter steer aggressively. Find your faith in the tires (and a wide enough corner) and the Deadwood will lope through twists with remarkable momentum. Some would argue that tighter corners just require more commitment, but there's a point at which the brakes need to be tapped to allow more time for the Deadwood to make a full directional change. Similarly, popping off small undulations and hopping downed trees requires a convincing pull on the bars–and some patience–while the rear wheel lags behind, clinging earthbound.
If I had to put the Deadwood a box, it'd have to be a pretty big one–both physically and categorically. Like so many modern bikes, the Deadwood is adequately capable and outrageously fun to ride on the vast majority of trails. Riders who err on the poppy and playful side will be better served elsewhere, while others will appreciate Salsa's latest niche creation for what it is: a stable, impressively efficient ride that favors speed and rewards a trusting pilot. Call it a trail bike. Call it a regular ripper that, after a wheel swap, doubles as an XC bike. Call it a long-distance singletrack adventure machine. Call it a bikepacking rig.
Whatever you do, just don't call it ordinary. At least not yet.
More specs at salsacycles.com
Related
Review: Salsa Pony Rustler – 2016 Bible of Bike Tests
Dual Tester: Trek Stache 9 29+