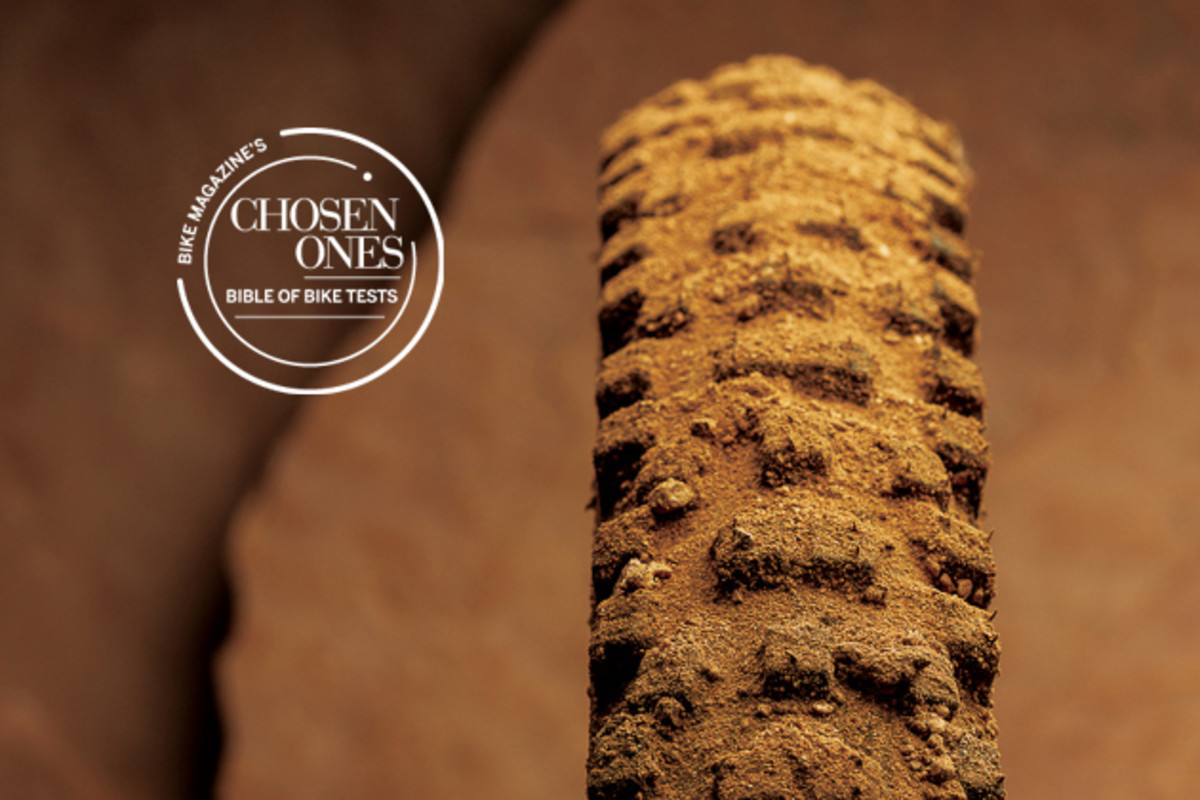 BONTRAGER SE4 TEAM ISSUE
Price: $65-$75 each
Contact: bontrager.com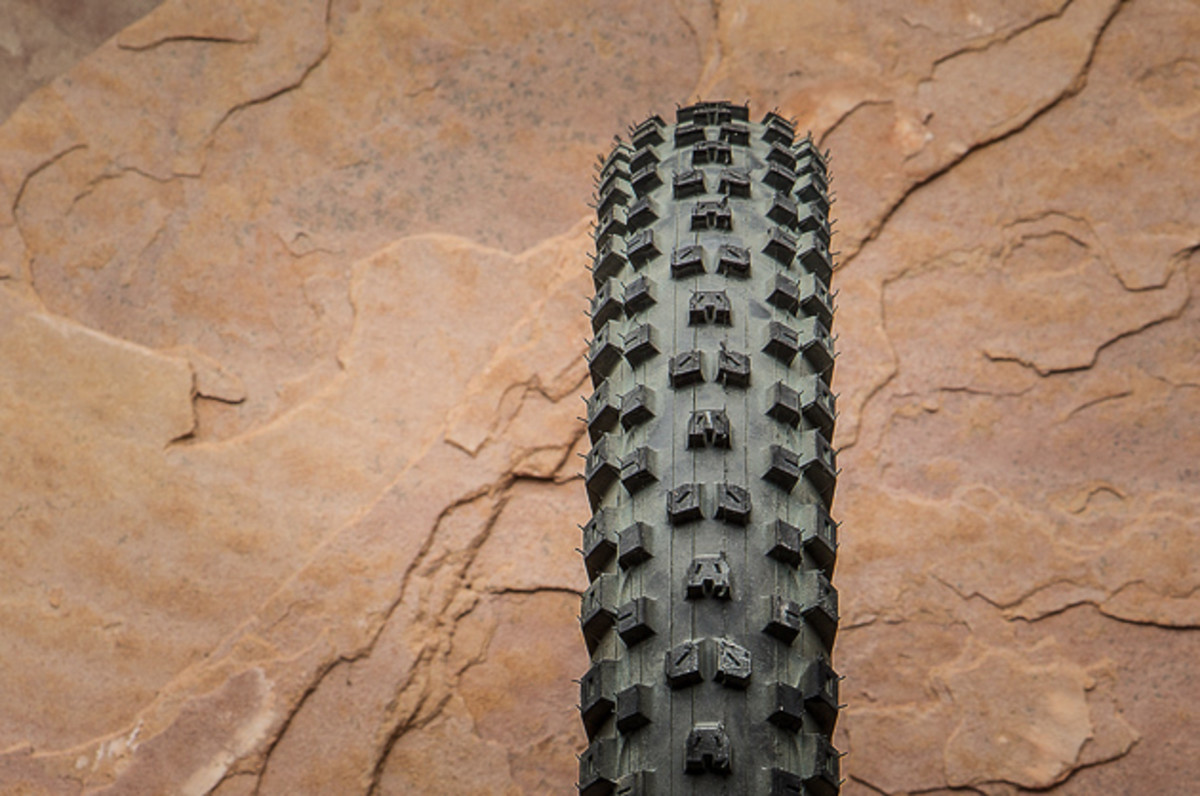 You know how Bontrager tires used to suck? The company noticed, too. So Bontrager's engineers did something about it. There's this guy named Frank Stacy. And he knows more about tires than probably anyone else in the industry. So in August of 2010, when we heard he paired up with Bontrager after 15 years of working with Specialized, we knew Bontrager tires were about to get better. It was good timing too, because tires are changing a lot these days. People are shredding like never before. Suspension, bike geometry, dropper posts—they're all making us ride harder and faster. Ordinary tires just aren't cutting it now. They squirm around on us when cornering or landing hard, so it was time to beef things up a bit. Whether you race enduro or just ride for the fun of it, the SE4, or Super Enduro 4, was designed for you. At 900 grams for the 26 x 2.35, they're not light, but they're absolutely incredible. Since the sidewalls are reinforced, they're stiff, so you get the ground-hugging benefits of running low pressure without the fear of bottoming, squirming or burping. Sticky rubber and a smart, versatile tread pattern provides unbelievable traction in most conditions. Seriously though, believe it, and get used to it. Bontrager tires don't suck. –RYAN PALMER
SPECIALIZED GROUND
CONTROL GRID 29 X 2.3
Price: $60 each
Contact: specialized.com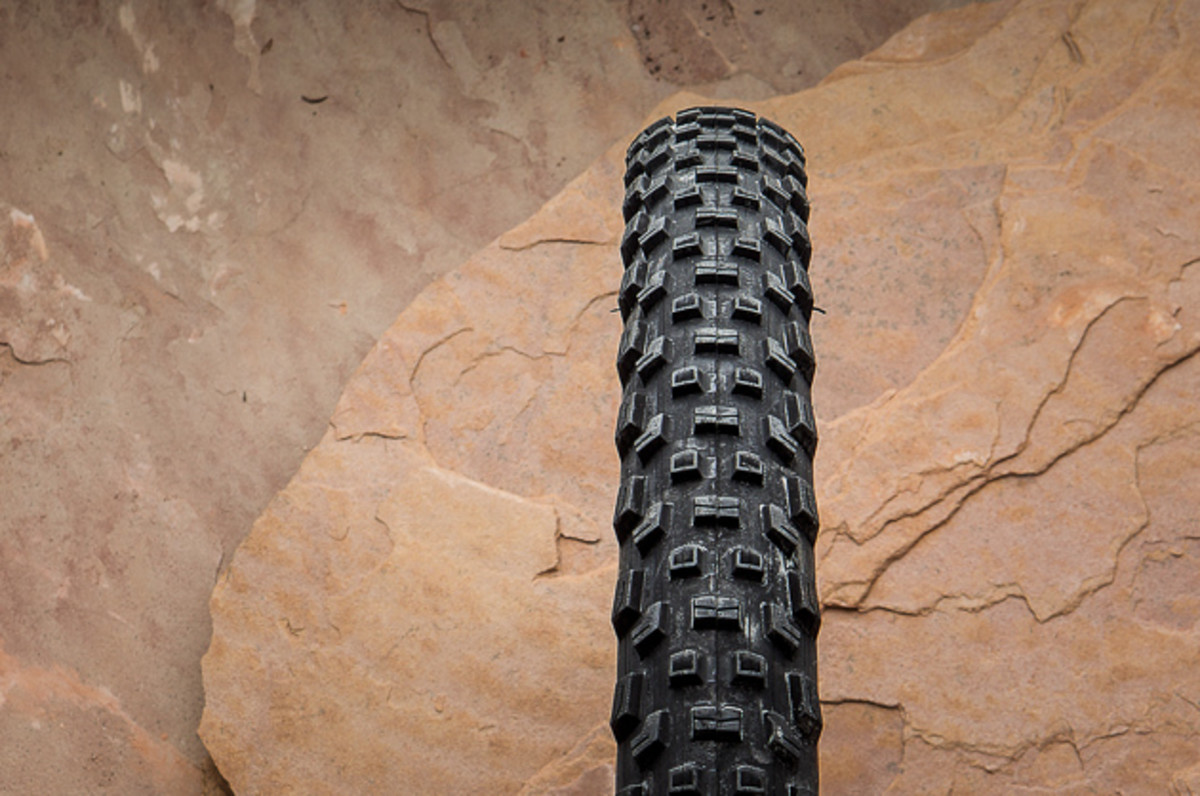 Did you know that the first product Specialized produced was a tire? It's true. They've been cranking out quality rubber for darn close to 40 years now, so it's no wonder they're pretty good at it. The Ground Control was designed to be a fast rolling all-condition trail tire available in two widths and 3 casing levels. We opted for the 2.3 over the narrower 2.1 option, in the toughest casing, dubbed Grid 2Bliss Ready, which features an added belt for increased sidewall protection. Most of the tires in these pages have some degree or another of this concept, balancing weight, protection and feel. Grid construction adds security to some already great tires. The Ground Controls are fast-rolling, yet still offer excellent traction for cornering, accelerating and braking. They're appropriate for dry to moderate conditions, but aren't the best choice in mud. Grid construction only adds 50 or so grams to the tire, but noticeably increases sidewall stiffness over the normal Control construction. At the same pressure, they feel more stable in corners, yet retain much of their original suppleness. Landing on the lighter side of the all-mountain spectrum, the Grid-equipped Ground Controls are a great half step between nothing and the fully armored Bontrager SE4, and at 775 grams each, they're far lighter. –RYAN PALMER
CONTINENTAL TRAIL KING 2.2 UST
Price: $70 each
Contact: conti-online.com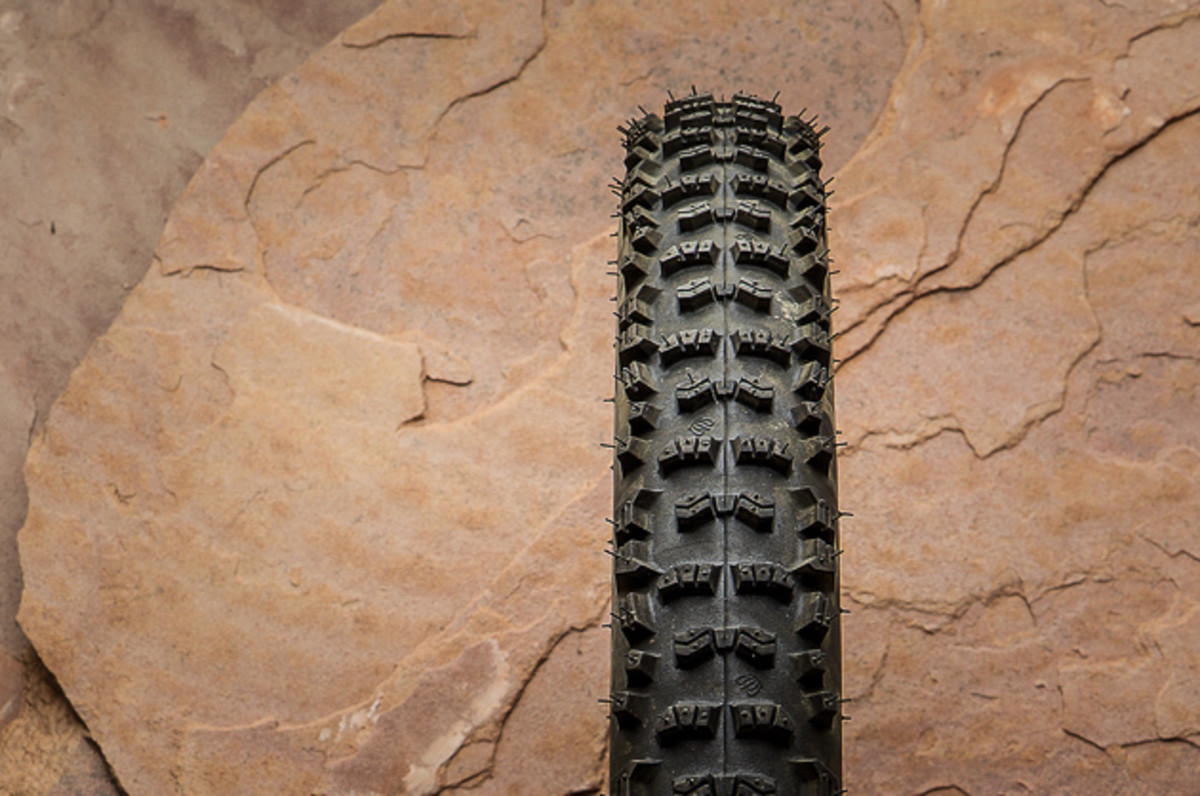 Last year I wrote a review praising one of my favorite tires, the Continental Trail King 2.2 UST, and my love affair is still going strong. They're durable but not too heavy—780 grams for 26ers—have phenomenal wear characteristics and provide excellent traction in almost any condition. The secret is Continental's Black Chili rubber compound.
Most of us know that harder rubber compounds last longer but don't grip well, and soft rubbers stick to the ground, but wear fast. Black Chili wears like hard rubber but grips like soft, so you don't have to choose between performance and longevity.
The knobs on the Trail King are spaced out enough to shed mud, but not too much to sacrifice rolling speed. The side knobs are buttressed for cornering stability and siping increases the tire's bite.The sidewalls are tough, yet still offer a supple ride. While some squirm is detectable when cornering hard, the tire strikes a good balance between weight and rigidity.
Right now, the UST version is only offered in 26-inch, but tubeless-ready models with reinforced sidewalls are available for 27.5- and 29-inch wheels. It's a lot to spend on rubber, but you'll rule your dirt kingdom aboard these aptly named tires. –RYAN PALMER

SCHWALBE MAGIC MARY AND ROCK RAZOR
Price: $93 each
Contact: schwalbe.com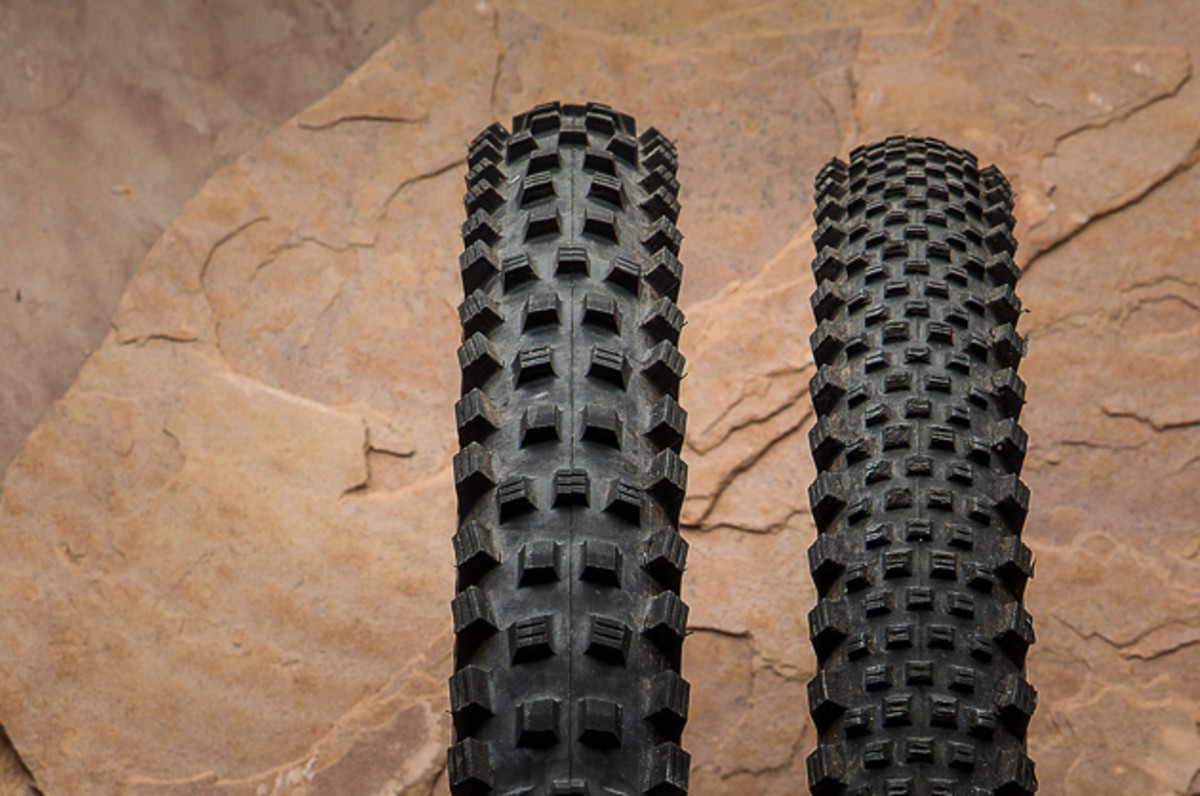 The two newest tires in Schwalbe's range are the Magic Mary and the Rock Razor, the former being a very chunky, intermediate tire and the latter being a fast-rolling semi-slick best suited to use as a rear tire.
The Magic Mary tires look somewhat like cut mud-spikes. While we expected them to squirm a lot on the hardpack, rocky trails of Sedona we actually found them to be very confidence inspiring. They are unbeatable at digging into the soft sand and smearing onto the rocks. They also excel in soft, wet conditions.
The tread on the Rock Razor is very low in the center. A four-three lineup of low profile square knobs means that the tire rolls fast, but on the shoulder there are reasonably big, burly cornering knobs for committed turning. On the trail, the lack of rolling resistance is noticeable and the high-volume carcass provides a lot of cushioning and surprising amounts of traction.
The Super Gravity tires sit between Schwalbe's EVO-SnakeSkin and DH casings. The carcass is thick enough to shrug off scars and the weight is reasonable for the amount of protection provided. At around a kilogram per tire—the 27.5-inch Magic Mary weighs 1,140 grams and the Rock Razor 920 grams on our scales—they aren't lightweight but the performance is on par with downhill tires. –SEB KEMP
MAVIC CROSSMAX CHARGE AND ROAM XL
Price: $59 each
Contact: mavic.com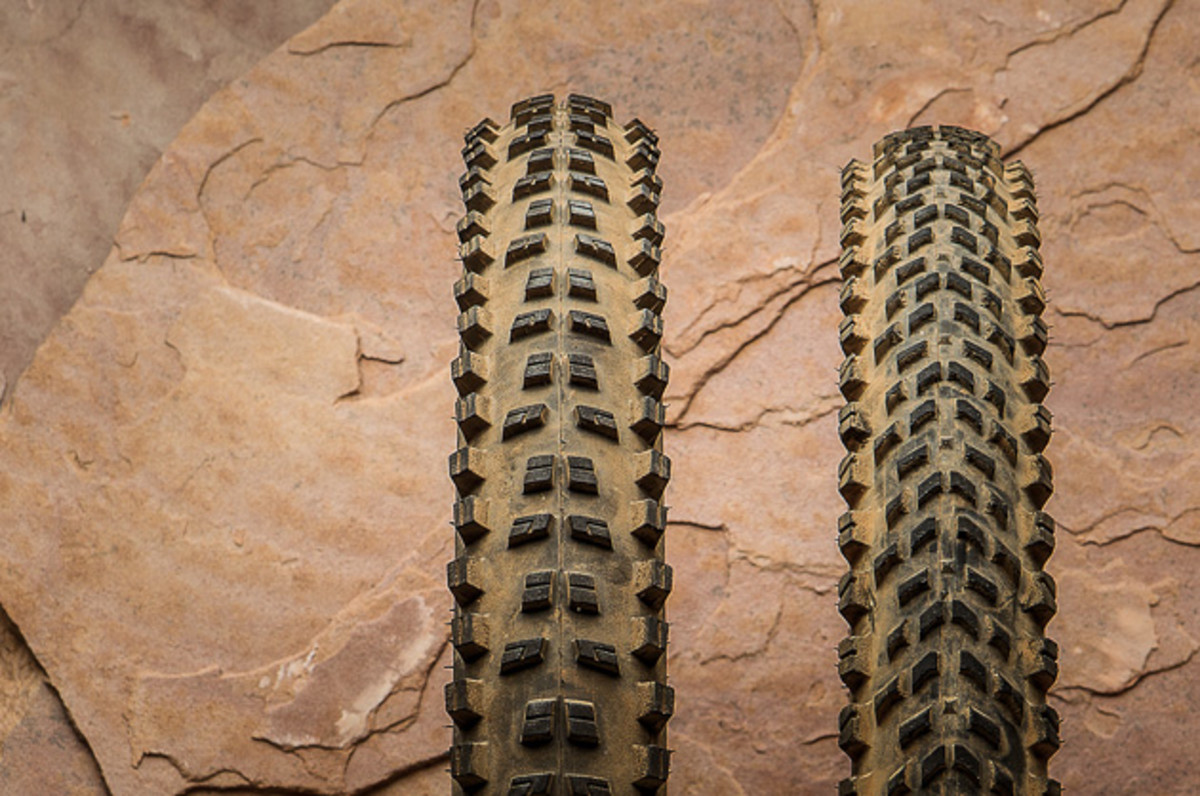 The rubber boots for Mavic's Crossmax Enduro wheelset are, like the wheels, front- and rear-specific. The Charge is a chunky 2.4-inch tire intended for the front with large ramped center knobs and tall, siped cornering knobs on the shoulder of the carcass. The Charge has Mavic's softest Super Contact Compound, which smears and clings onto the trail incredibly well. The narrower 2.3, rear-specific Roam XL incorporates smaller tread blocks. The tightly packed, dual-compound chevron pattern has a harder rubber on the center, which is designed to keep the tire rolling fast and give it a longer life. On the dry and sandy Sedona trails this tire whipped along, providing plenty of traction and a predictable breakaway point. On previous outings, our testers have found the Roam XL tends to pack up in very wet conditions.
Rather than single-ply construction with reinforcement in just the sidewalls, both the Charge and Roam XL feature a full 2-ply casing. This makes them heavier, but also burlier. Between this and the ability to run the tires tubeless with sealant, we were able to run lower pressures to improve grip and provide damping, but still resist flatting the narrow rear tire.
While 990 grams per tire—for 27.5-inch—isn't lightweight, the confidence and performance that such tires provide makes them a worthy tire option. –SEB KEMP
MAXXIS ARDENT 29 X 2.4
Price: $63 each
Contact: maxxis.com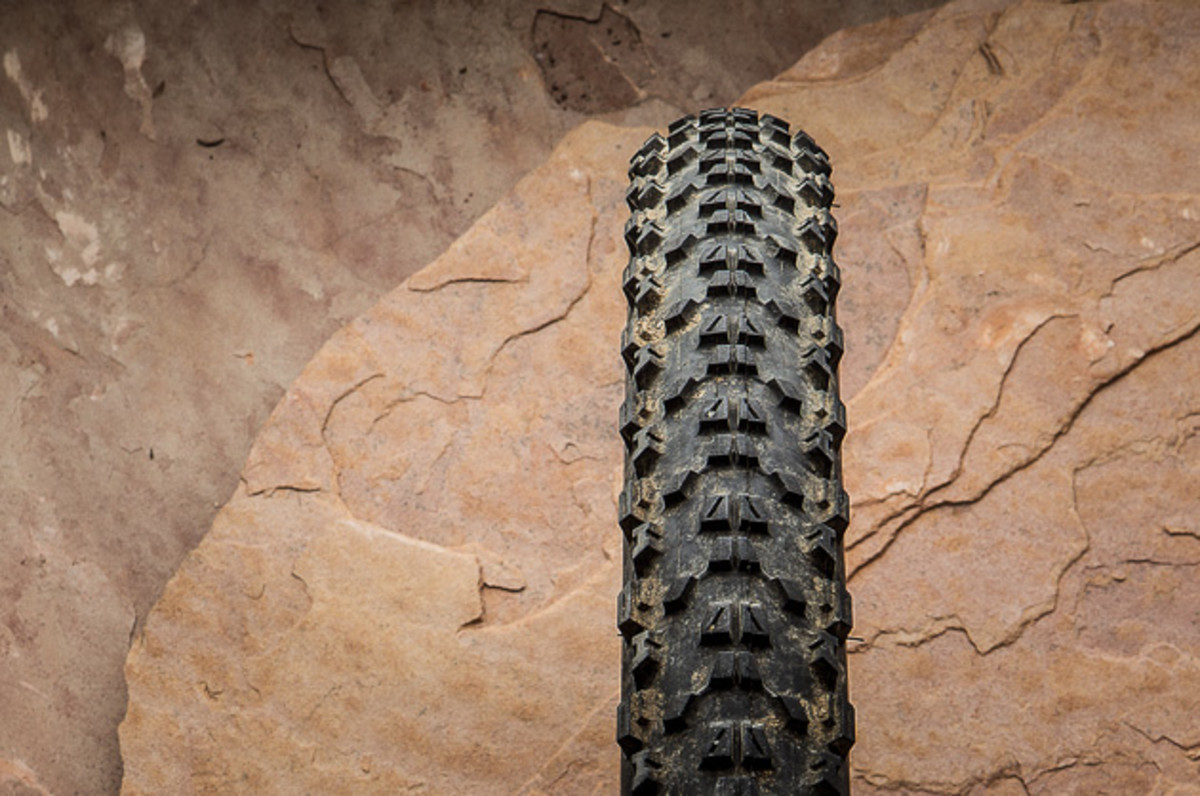 The Ardent 2.4 29er is one of the most underrated tires on the market. If you've tried Maxxis' 2.2 version, you may think the Ardent is nothing special. Opt for this 2.4-inch version, however, and it'll be a different story. The fat casing lends an amazing degree of forgiveness to whichever bike you're riding and the shoulder knobs hook up under hard cornering in ways that its skinnier twin can't match.
Where does the Ardent 2.4 excel? It's a good all-rounder with reasonably low rolling resistance, but considerably more grip than you'll find in most 29er tires. It's an excellent choice for someone who wants to add a bit of confidence and grip to a wagon wheeler. It's also available in 26- and 27.5-inch versions. I run this thing on cross-country and all-mountain bikes alike. I've ridden the Ardent 2.4 in the snow, mud and in dusty, dry conditions. It's solid everywhere. Not mind-blowing great, but if tires could be rated on a one-to-10 scale, this Ardent is a solid eight everywhere.
If you're all about reducing rotational weight, you might find this model's 830 grams a bit onerous, but the EXO sidewalls hold up well in the rocks and there's nothing more disappointing than an ultra-light tire that leaves you stranded in the middle of nowhere. –VERNON FELTON
WTB VIGILANTE 2.3
Price: $65-$70 each
Contact: wtb.com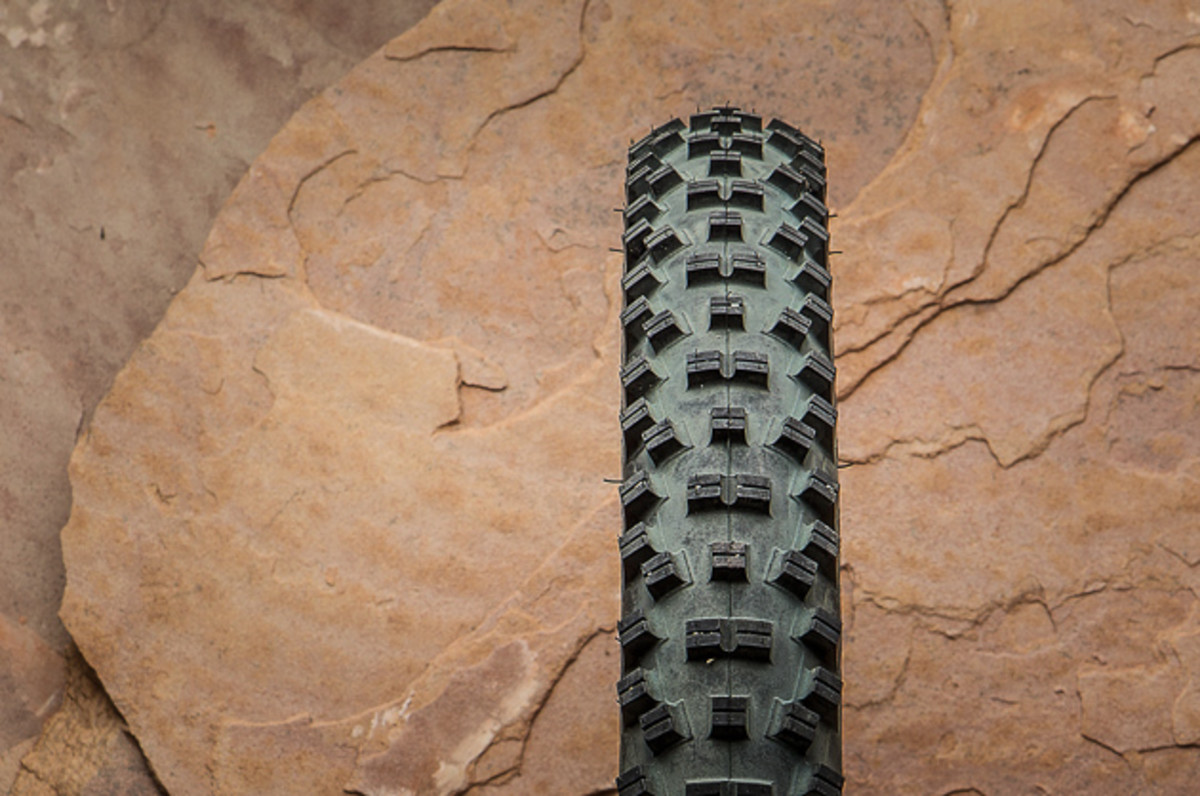 It's been a while since I've been stoked on a WTB tire, but the Vigilante is seriously good. It only comes in a 2.3, but in all three wheel sizes, with two casings and rubber compounds.
We wanted the Team Issue tire, which offers a reinforced casing and softer rubber, but they weren't available yet. The regular Vigilante still impresses, though. It has the same knob pattern, which excels in most conditions. The siped, square knobs are tall and widely spaced, equating to gobs of traction. WTB utilizes a dual-compound rubber on this model, which is harder at the center for better rolling and wear, and softer at the edges for cornering traction. It's not the fastest tire out there, but it's no slouch either.
Running this casing will save you roughly 200 grams per tire over the Team Issue, so if you aren't too hard on your equipment or ride in less harsh environments, these are a great option. In Sedona the lighter tire felt a bit thin when battling sharp-edged and ledgy rocks. I had to run slightly higher pressure to limit squirm and bottoming, but that didn't reduce traction much. At 715 grams, these tires accelerate well. Despite the relatively high rolling resistance, I still felt incredibly fast on these tires, especially up all the punchy climbs in Sedona. –RYAN PALMER