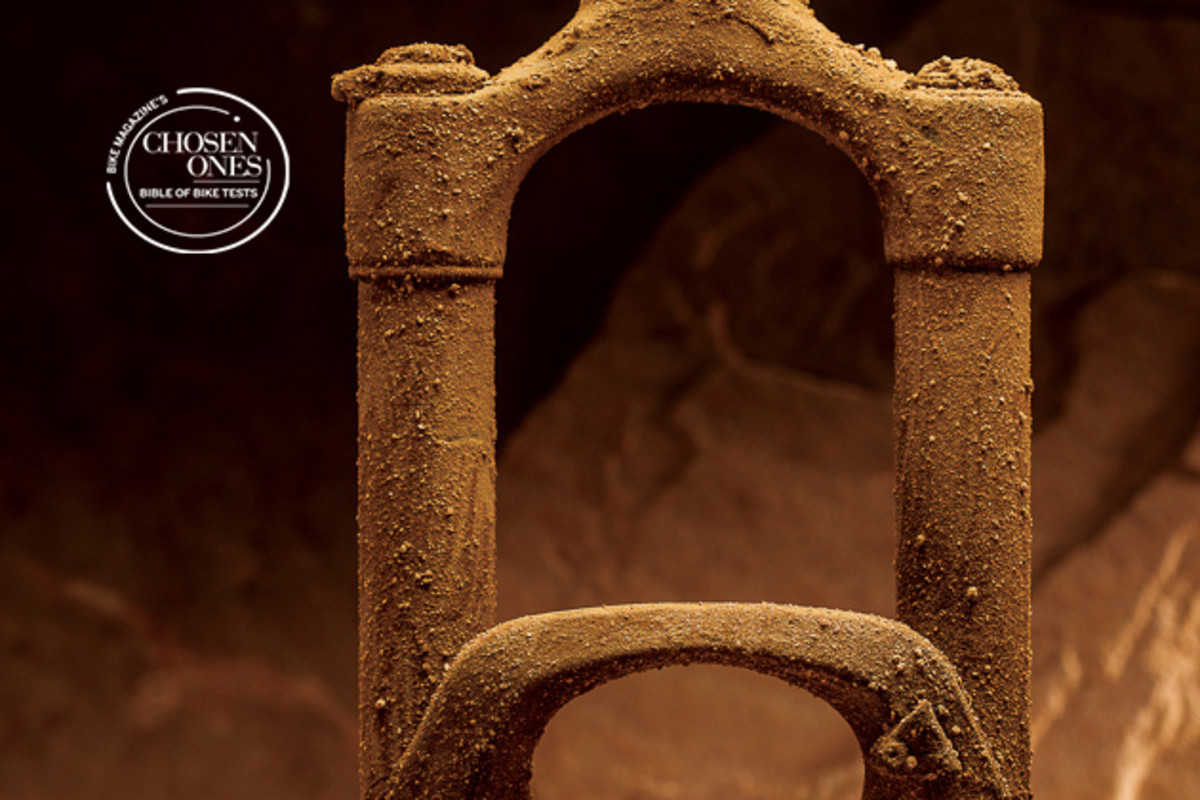 ROCKSHOX PIKE RCT3
Price: $980–$1,085
Contact: rockshox.com
The RockShox Pike sports new lowers, new stanchions, new seals, new guts, new, well, everything. The Pike comes in 26-, 27.5- and 29-inch versions and is designed to play rough in all of them. Thirty-five millimeter stanchions and a burly crown give the Pike a rock-solid feel in the roughest terrain, yet the long-travel fork weighs just 4.05 pounds in the 26er, 150-millimeter-travel iteration.
The big story is how well the fork gobbles up hits. RockShox equipped the Pike with a new bladder-cartridge damper called Charger. By separating air from the damping oil, RockShox contends that the Charger reduces the likelihood of air bubbles forming and screwing with the fork's damping on long descents. Even at 30-percent sag, this air-sprung fork simultaneously rides high in its travel and feels insanely plush on small hits and the Pike never seems to dive under hard braking or blow through travel on wrist-shattering hits. We realize those are supposed to be mutually exclusive traits in a suspension fork, but the Pike somehow does it all amazingly well.
The Pike is available in both a Solo Air, which we tested, and Dual Position Air version; the latter of which offers 30 millimeters of travel adjust. A three-position knob atop the right fork leg—the RCT3 damper—allows you to lock out the fork on climbs and fine-tune the fork's low-speed compression damping. We've racked up six months on this fork and have yet to find a weakness. –VERNON FELTON
X-FUSION SHOX SWEEP RL2 27.5
Price: $590
Contact: xfusionshox.com
The Sweep is X-Fusion's 160-millimeter-travel 27.5-inch-wheel specific fork. The fork features a lockout, which is great if you like that sort of thing, but there's very little in the way of adjustability besides the basic air spring volume and rebound. While this might be frustrating and a bit of a compromise the fork does perform very well. X-Fusion's secondary compression circuit, the Mid-Valve, gives the fork more compression support without affecting its suppleness at the beginning of the stroke. The lockout function works off the beginning stroke compression circuit while the Mid-Valve kicks in once an amount of oil has already surpassed the first circuit, allowing it to ride at a more neutral position in its travel. It doesn't dive heavily and takes heavy impacts despite soft air spring. The fork felt impressively plush and provided good control, especially for the price.
The 34-millimeter stanchions and 15-millimeter axle give the fork plenty of rigidity for trail riding. At 551 millimeters, the marginally longer axle-to-crown measurement slightly lifted our test bike's handlebar while the weight of the Sweep—1,820 grams by our scales, with cut steer-tube and axle—keeps it perfectly in line with the competition. If you want a fork that performs above its pay grade, doesn't compromise on weight or stiffness and is simple to use then the Sweep is worth a closer look. –SEB KEMP
FOX 34 TALAS FIT CTD TRAIL ADJUST
Price: $1,120
Contact: ridefox.com
The ability to adjust fork travel on the fly usually comes with strings attached. As such, TALAS forks have never felt as good as their fixed-travel Float brethren. The adjustable-travel air spring is a complex beast with more moving parts and seals that create more friction within the system and affect bump compliance. In addition, TALAS forks have had little support during the middle part of the travel, so they have to be run with much more air than recommended. Fox set out to change all that for 2014, redesigning the TALAS air spring and improving the CTD damper.
This fork is such a huge leap forward. Friction is vastly reduced. I can't detect a difference between TALAS and Float anymore. The spring rate is greatly improved, with a consistent feel throughout the 160-millimeter (140 for 29ers) stroke, and the spring rate automatically increases to maintain the same feel in the short-travel 130-millimeter setting. Now, you can ride the fork dropped. This comes in handy on tight trails and switchbacks, where a steeper headtube is beneficial. Between the more supportive spring and beefed-up compression damping in the right leg, fork dive is no longer a problem.
There's more customization now as well. Both total travel and travel range can be changed internally so you could, for instance, turn your 160/130 fork into to a 150/135. Last year, I wouldn't think of running a TALAS fork, now I wouldn't think of not. –RYAN PALMER
SUNTOUR AURON RC2
Price: $700
Contact: srsuntour-cycling.com
With many forks simply featuring factory presets and three-step dials for dummies, the amount of adjustability that the Auron RC2 possesses was a bonus. The top-end RC2 model—internally adjustable between 150 and 160 millimeters—has independent high- and low-speed compression damping and rebound damping adjustment. We found that adjusting these settings made a distinct difference to the feel and ride of the fork, which is made specifically for 27.5-inch-wheeled bikes. No placebo-effect dials to spin here.
On the fork's first outing through some of Sedona's bang-for-your-buck trails near town, adjusting the low-speed compression damping allowed the fork to stay high in its travel while sprinting out-of-the-saddle and braking hard for a few too many nearly overcooked corners. Adding a dash of high-speed damping also helped when the trail became a series of sustained drops and rock gardens. The ability to fettle on the trail allowed me to make the most of the fork, but most importantly, my ride.
The Auron has stout 34-millimeter stanchions, cast magnesium lowers and a hollow-forged crown, which helps keep the weight down—2,040 grams by our scales with axle and cut steerer. On the trail, the Auron tracks exceptionally well and doesn't give any indication of twisting or deflecting. Overall, a fork with very few faults and at a reasonable price. –SEB KEMP