Editor's note: This article originally ran in the July 2014 issue of Bike.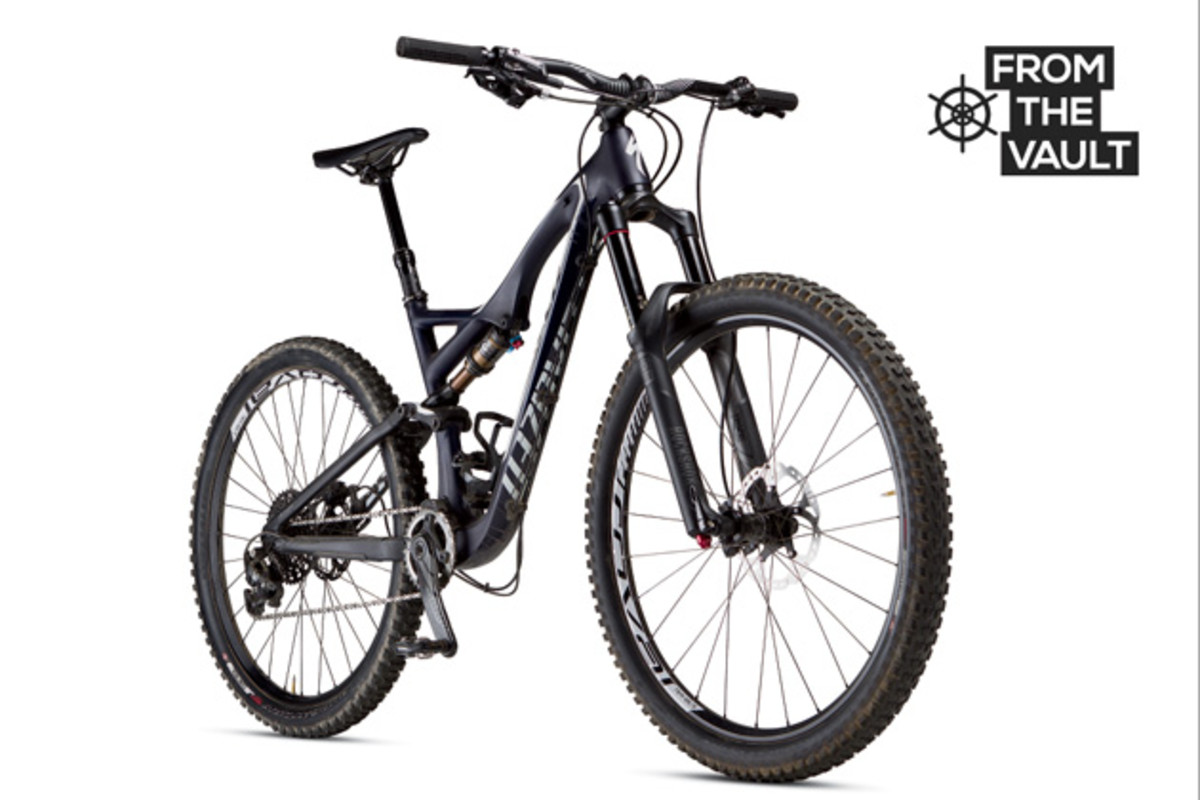 Specialized Stumpjumper FSR Expert Carbon Evo 650b | $6,500 | specialized.com

Testing this bike–Specialized's first public foray into the 650b world–has been a complicated affair. By now, many people are aware of Specialized's initial resistance to the rise of 27.5-inch wheels. And the brand's reluctant introduction of a 650b model–a clear concession to the overwhelming consumer demand for this wheel size–has drawn staunch criticism. This has been unwelcome news for a company whose zealous legal department has already landed it uncomfortably beneath the public spotlight.
For me, this is a real shame, because the conversation should be more about how this new bike actually performs and less about Specialized's controversial corporate practices. So how does the bike ride? In a word: fantastic. This probably shouldn't be too much of a surprise, as much of the hype about wheel size is overblown anyway, and of course this bike has inevitably inherited the proven strengths of the 26- and 29-inch Stumpy models.
To wit, the 650b Stumpy's front triangle is the 29er Stumpy triangle, with only the addition of a 10-millimeter crown spacer to accommodate for the shorter 650b fork. When developing this bike, Specialized made other test mules, but they claim that by mating the stock front triangle with a new rear end they found the best performance. While this might seem like a developmental short cut, it should be stressed that this combination gives the 650b bike some pretty interesting numbers. Perhaps most impressive is the staggeringly low, 12.8-inch bottom-bracket height–a full 8 millimeters lower than the 26- and 29-inch models. The bike's 68-degree head angle is ideal for this category, and if you wanted to run a 160-millimeter fork instead of the stock 150-millimeter RockShox Pike, you could simply remove the crown spacer without altering the head angle.
While I cannot say that I like the 650b Stumpy more than the 26- or 29-inch versions, I can say that it is extremely capable. And on one particular trail filled with short-and-swoopy, high-speed descents that catapult one straight into punchy climbs, I for the first time ever began to truly wonder if the bike represents a true happy medium between 26- and 29-inch wheels. However, I must stress that this would only be for certain applications: On trails consisting of steep, technical climbs and burly, straight-ahead descents without tight switchbacks, I believe the 29-inch Stumpjumper would still surely reign supreme.
This is undoubtedly only the beginning of what could prove to be a long and bitter debate about Specialized and its choice of wheel sizes. And while the internet forums are ablaze with acrimony and accusations, I'll hopefully be out on this bike, shredding sweet singletrack and laughing all the way.
More Specialized Stumpy reviews: