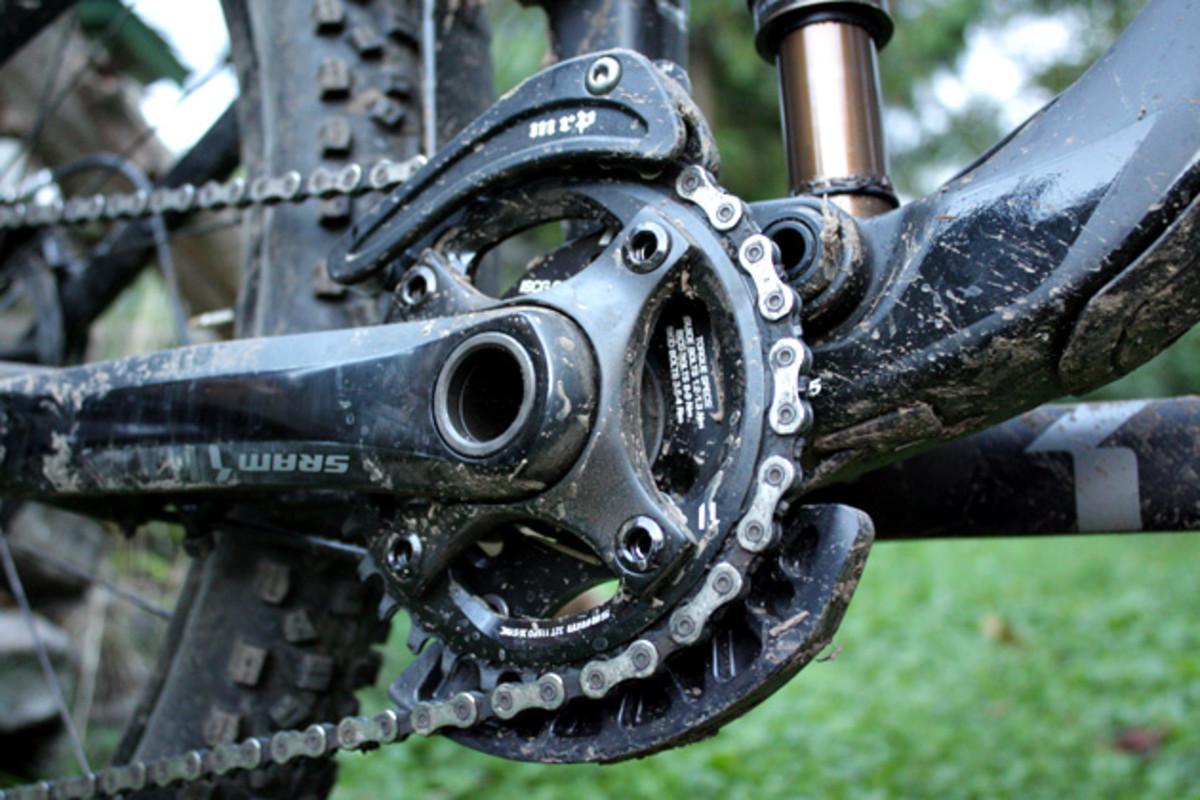 MRP AMg chainguide | $105 | mountainracingproducts.com

By Vernon Felton
If you ride somewhere filled with logs and big rocks, you've probably shed a tear as you manhandled your way over something scary and heard that distinctive "Skkkrrreeee!"—the screech that signals the demise of a very expensive chainring. The sound of teeth being ripped off your chainring is a brutal thing, which is why I've been running MRP's All Mountain Guide (AMg) on my three front derailleur-less bikes. The AMg offers a twofer to anyone opting to go the 1X route: the upper guide keeps your chain from going AWOL on rocky descents and the integrated taco–style skid takes the brunt of your mistimed encounters with things large and immovable.
MRP offers the 1X guide in ISCG, ISCG-05 and bottom bracket-mount versions. Installation takes all of about two minutes and requires a single allen key. That's it. MRP's tolerances are quite tight. Consequently, even when you have the sucker perfectly dialed, you may experience rubbing in your lowest gear. The rubbing quiets down after a while (the chain just wears away a bit of the plastic guide), but it's kind of annoying for the first week of riding.
I'd say more, but the beauty of a good chainguide is that you bolt it on and it does its job so well that you forget that its there. That's been the case with my AMg guides. Chain stay on (I'm running narrow-wide rings, so chain derailment isn't really a problem for me anyway) and several times a ride I hear a "thunk" instead of that horrible screetch. My chainrings live to fight another day and my pocket book survives the ride unscathed. It's as simple as that.
If you're not into the whole single-ring thing, MRP's 2X guide offers some of the same benefits in a front-derailleur friendly format.
More on the drivetrain: