There are all kinds of jackets: puffy insulated ones, waterproof ones, denim ones that make for a fine Canadian tuxedo, furry ones made of dead critters and the list goes on. Then there's Mountain Hardwear's Ghost Lite, a jacket that's trying its hardest not to be one. And at just over 3 ounces, it's lucky to be anything at all.
Constructed of 15-denier ripstop nylon, this $100 shell retains its feathery weight while checking all the basic boxes with a full-length zipper, a chest pocket and a hood. The hood stows away easily: a small Velcro-ended strap pulls out of a pocket on the jacket's nape, then goes over the rolled-up hood, through the hang loop and then adheres to itself. The Ghost has an athletic fit, but accommodates body English without any binding issues. I'm 6'1, and usually stuck between medium and large sizing, but the medium Ghost fits me perfectly.
This jacket has the ability to pack into its own chest pocket, and when stowed it's about 8 inches long, 5 inches across and 2.5 inches tall. But those dimensions are mostly taken up by air, and when compressed the stowed jacket gets really tiny–small enough to fit into the pockets on most shorts or bibs. I've ridden with it stashed in a bib pocket on many occasions, and it goes unnoticed.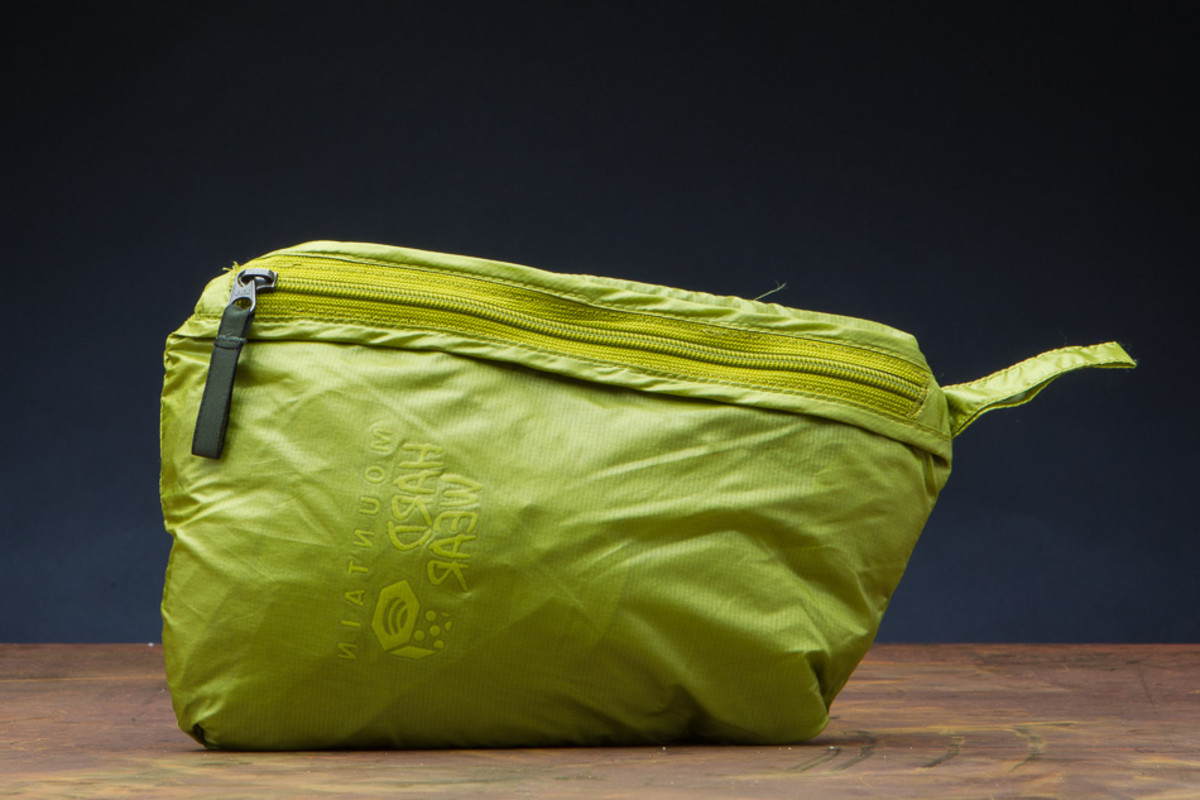 When it's needed, though, the Ghost can make all the difference. It's effective as a windbreaker, or as an insulating shell on cool rides. If I'm heading out on a chilly day and it looks like the clouds are rolling in, or if I know I'm going high enough that exposure and temperature change could be a factor, I grab the Ghost. It provides peace of mind for a short ride if showers are in the forecast, keeps you dry on a misty morning, or acts as a barrier to wet flora after a rainstorm. But this jacket isn't made to deal with real precipitation: It won't keep you dry for more than 10 or so minutes of riding in steady rain.
Mountain Hardwear Ghost Lite Details
Sizing: SM, MD (tested), LG, XL, XXL
Colors: Black, green, blue, grey
Fit: Athletic, true to size
Material: 15D Ripstop nylon
MSRP: $100
mountainhardwear.com
While it doesn't feel much more durable than a plastic bag, the Ghost Lite isn't headed for the landfill any time soon: It's shrugged off a couple falls and multiple brushes with trees that I expected to leave rips. The cuffs are the only part of the jacket showing wear–the fabric is pilling slightly and there are some loose threads where they've contacted and caught on the Velcro closures of my riding gloves. That minor hiccup is really the only thing that outs the Ghost as a non-bike-specific piece, but otherwise you'd think it was purpose-built for logging saddle time.