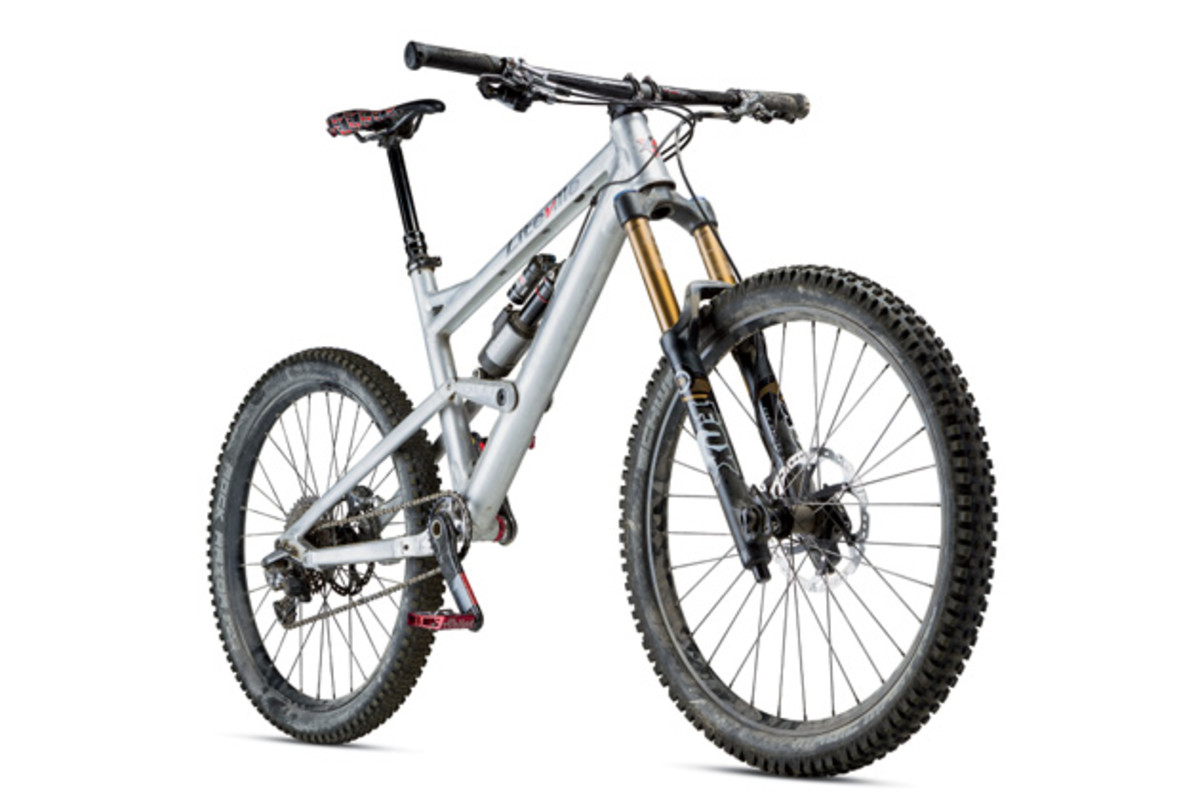 Liteville 601 Mk3 | $3,150 for frame, shock and installed headset | liteville.de
When I first lifted the Liteville 601 Mk3 out of the box, the first thought running through my mind was, "This has to be the wrong bike. There is no way this bike sports 190 millimeters of travel."
Then I slapped on the wheels, the front, 27.5-inch, and the rear 26-inch, and hung it on our in-house scale and gawked. It weighed just over 30 pounds, even with my big, beefy SPD pedals.
At first glance, the geometry itself seems pretty straight forward: a 4-bar linkage design with nice clean lines throughout. But upon further inspection, it's clear this hoss houses much more than just four pivots and aluminum butting.
In its third iteration, the two key changes from the Mk2 to the Mk3 are the integrated shockmount on the downtube, which saves weight and reportedly improves shock performance, and the internal reinforcements to the toptube to increase stiffness.
The shock is mounted on a slider that micro-adjusts the geometry, and up front, in the nose, VarioSpin headtube cups can be installed to change the headtube angle, without changing the bottom bracket height, plus or minus 1.5 degrees. The bike comes standard with 0-degree headtube cups (which is how I rode it).
As with all big-hit bikes, the 601 sports thru-axles. And of course, engineering was not lost here. The 601 employs the Syntace X-12 thru-axle system (Syntace is Liteville's sister company) with a built-in allen key, which means the wheel can be quickly removed.
And finally, the cable routing is all internal, so there's no worry about bashing cables while running shuttle.
But of course, at 30 pounds, who needs to shuttle? Right?
The 601 is described as a "do-everything weapon," so I decided to test this claim straight up. My first ride was up the hill from our office in Southern California. Right away, it was clear that it's a long-travel bike meant for descending. It bobbed. Not bad, but it was noticeable. Before getting too far into the ride, I firmed up the RockShox Vivid Air rear shock to hopefully reduce the bob. It helped, but I wouldn't want to ride a steep incline for very much longer than a 5 or 10 miles.
The descent I was headed for is steep grip-it-and-rip-it kind of descent. One that you aim for the exit and let the suspension do the work. Once you're in it, you can't really stop—it's controlled sliding more or less. I chose this descent to really test out the 65.5-degree headtube angle. It took the straight, steep descent like a champ and when I railed the smooth berm, it gripped and shot me slinging out the other side.
From there I toyed around in the tight, windy turns of the desert landscape. The bike was a bit out of its element; it didn't like the sharp, low-angle turns and the front end skipped around when I really railed them. In the bike's defense, this zone is optimized for the steep headtube angles of cross-country rigs.
I knew I hadn't given this bike a chance to shine, so I decided on bike-park weekend. The 601 flew through the deep, buffed berms of Snow Summit with ease, and took my many cased jumps like a champ. On the drops, it showed no flaws. And by the end of the day, (in my mind) I was whipping it like a pro.
Riding buffed, well-manicured trails is one thing, but how well does this "do-it-all" rig handle in the rough-and-tumble, loose terrain of the high-alpine trails of Southern California?
When the going is straight, no matter the obstacle, the bigger 27.5-inch wheel tracks true and rolls over everything with ease, pulling the smaller 26-inch rear wheel with it. But when there's a turn in that rough-and-tumble, I found it hard to get the 601 to lean over. It seemed to only like to go straight.
I'm not sure if it was the different wheel sizes, or maybe just the 27.5 front wheel, that I wasn't used to running on a long-travel bike, but I found myself reigning it in whenever there were turns. You might say, yeah, that's what you do when there are turns–you brake–but when I'm on a long-travel bike, I expect it to hold my line through the rough stuff, whether it's on a straight section, in the flats, down through the steeps or while turning.
I'd be lying if I said I didn't have fun on this bike. It rips and it charges with the best of them, but there are a couple places–like with all "do-it-all" bikes–when it didn't shine. I wouldn't take it up a grueling 10-mile slog, nor would I consider it for a high-speed, cross-country session, but I would absolutely consider it for a day in the park. Multiple days at that. And as a 'slack-country' rig that can be pedaled for a couple miles after a full day sending tables, this is a supreme being. Sure I had issues with it tracking the way I wanted, but then again, it is highly adjustable and with a little more time, I bet I could have gotten the geometry just the way I liked it.