A few years ago, Kona realized that the philosophy governing mountain-bike geometry was fundamentally flawed. Mountain bikes were mostly being built on the principles of road-bike geometry, which work great–if you're in a static riding position. Kona cooked up a new geometry for dynamic riding; a doctrine of low standover heights, short rear ends, long reaches and short stems.
The three full-suspension rigs that resulted were massively successful. But, despite a spy shot and extensive begging on forums, the Bellingham, Washington, brand has yet to bring a carbon Process to market. In 2015, Kona introduced this Supreme build of the 27.5-inch-wheeled Process 134, which comes decked out with the kind of parts you'd expect on a carbon chassis. The goal? To satiate some of the pent-up demand for a high-end carbon Process.
At the core of the Process Supreme is the same predominantly aluminum frame as on the $2,900 entry-level version. The Process' 134 millimeters of rear suspension is achieved by a linkage-driven single-pivot architecture that relies on the shock for damping–no complex linkage or varying axle path here. Kona's intention was to author a design with a predictable feel throughout the travel that also allows the use of large, durable bearings in the linkage.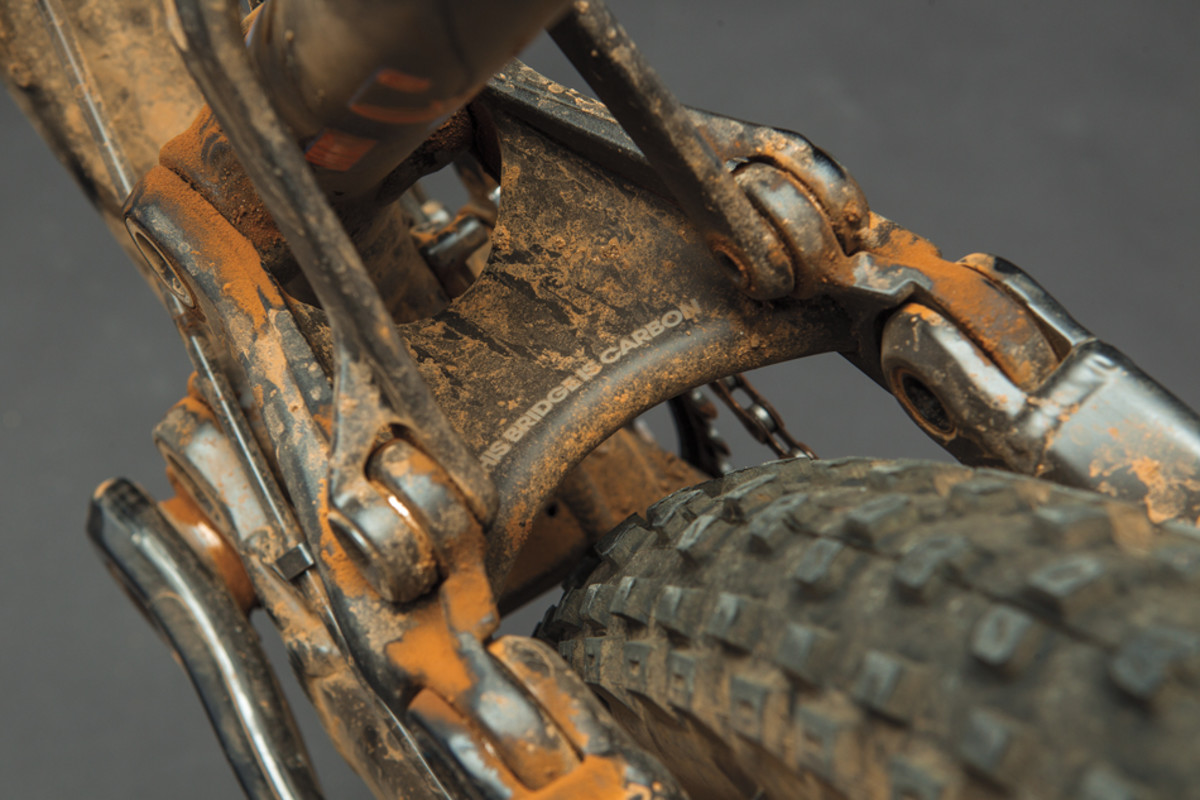 If 'predictable' is what Kona wanted out of the suspension, the engineers can pat themselves on the back. But that's about the dullest adjective that can be used to describe how the 134 feels.
I've never driven a rally car, but after several months piloting the Process 134, I think I've got a pretty good idea of the sensation. The trail-hugging rear suspension is complemented by nimble handling thanks to the short 425-millimeter chainstays, which allow the bike to carve fluently through tight corners. That same one-two punch yields impressive uphill traction, though there is some movement in the linkage during hard out-of-the-saddle efforts.
The 134's front end wouldn't be out of place in an Iowan caucus. The 68-degree head angle is befitting of the 134's flair for cornering and technical climbing, and is in its element on the vast majority of terrain covered on a typical trail ride. It was only due to the rear suspension's readiness for faster, steeper, gnarlier terrain that I caught myself wondering what the bike would be capable of if equipped with a 10-mil-longer fork, a one-degree-slacker head angle, or a combination of the two. But a trip down that road would detract from the 134's level-handedness.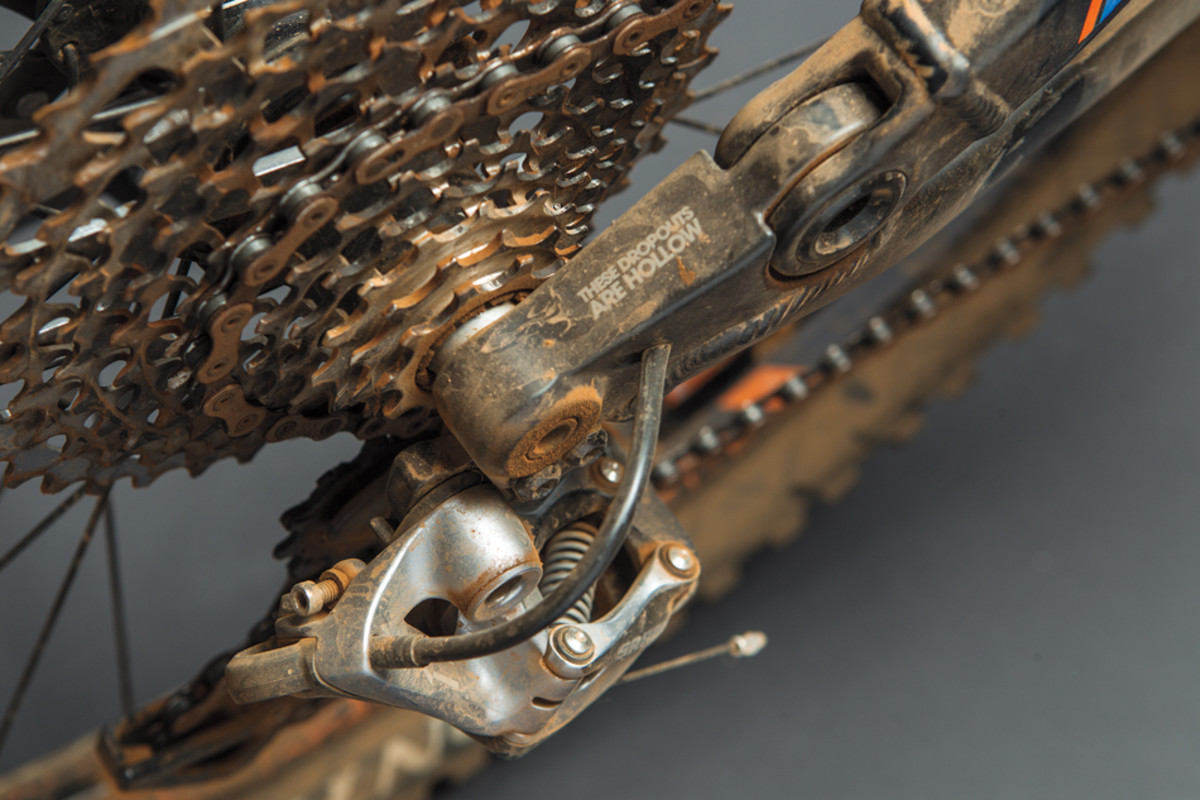 The short rear end creates some speed limitations as well. Coming from a BMX background, I used to believe that shorter was better when it came to chainstay length. While I still appreciate the playful feel of a short stay, I do think there are some benefits to longer rear ends. I wouldn't necessarily want them any longer on a mid-travel, playful trail bike such as this–the compact rear on the 134 does come at the cost of some high-speed stability, but this was only evident on wide-open sections with high-frequency hits. Thankfully, the long reach makes for an in-the-bike feel and mitigates the rear-end's high-speed jitters on the vast majority of terrain.
And now, finally, we come to fit. If ever I have ridden a bike that felt like an extension of myself, this is the one. There was no getting-to-know-you period on the 134–there was only speed, manuals and unbridled fun.
This is no budget build at $5,500, and it's not without a couple minor flaws. I like the 2.4-inch Ardent that came stock on the front of the bike, but the 2.25-width rear didn't hold up to the sharp rocks that occupy some of SoCal's terrain. Also, the 34-tooth chainring, coupled with SRAM's XX1 11-42 cassette, wanted to climb at a faster pace than my desk-jockey legs could sustain, and one long ride resulted in a hallucinatory push up an unmaintained doubletrack. Otherwise, there's not much to whine about here: The RockShox Pike RCT3 and Monarch RT3 provided supple, consistent suspension and the sturdy combination of WTB Frequency i23 rims laced to Hope Pro 2 Evo hubs is a relatively lightweight setup with good ride quality. The 150-millimeter-drop KS Lev Integra is a blessing on steep terrain, and is currently my favorite dropper post. Although the Shimano XT brakes don't have superlative modulation, they've been hassle-free and pack ample power.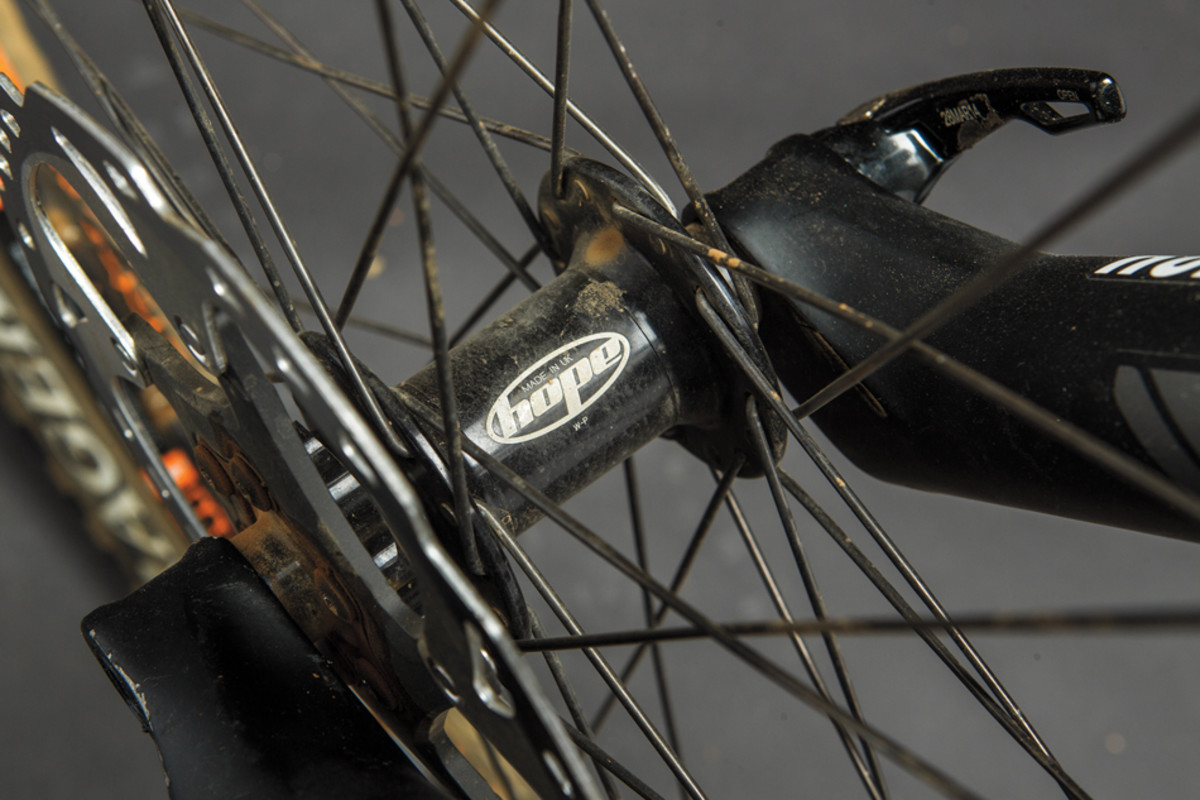 It's a good build, but I'd opt for the Process 134 DL. You'll save $1,700 with the only real downgrades being to the hubs and cranks. If you want the lightest, highest-performance stock build available, though, the Supreme is the way to go; and with our size large weighing in under 30 pounds, this is no pig–especially for a bike with an aluminum frame.
Kona's keeping tight-lipped about the status of the carbon version, but don't fall victim to that red herring. Sure, a carbon frame might be stiffer, lighter, prettier and perhaps even a few other '-ers,' but you'd be remiss to let speculation delay throwing a leg over an aluminum 134. There's always a bigger fish–don't pass up reeling in the one you can see for another you can't. That's a surefire way to miss out on a damn good bike.
KONA'S TWO CENTS | I've never been to an Iowan Caucus, but I imagine it being like another analogy that starts off with 'business in the front' and ends with 'party in the back.' At the end of the day, isn't that what we're all looking for? Kona is a rider-run brand, and the Process lineup is the best example of that. Jon got it right when he said we felt that mountain bike geometry was fundamentally flawed. So we set out to make the bike we wanted to ride where we ride, and the Process was the result. A frame design that is so versatile that it really can do it all, paired with a thoughtful spec that does make the DL a great option that doesn't sacrifice performance if cost is a concern. Ride one, and you'll know. –Brian 'Sally' Fornes, brand manager, Kona Bicycles