Whenever we're evaluating a new product, we do our best to stay "brand-blind." After all, journalists are supposed to stay neutral. But deep down, I get kinda fired up when a manufacturer that started small in a garage goes on to become an influential force in our industry. Intense Cycles surely fits that description, but it's hard to narrow down just one reason why. They were early innovators in monocoque and hydroformed frames, and have been helping refine VPP suspension for nearly a decade and a half. They've tended to be ahead of the curve as trends tilt towards more aggressive riders, and their focus on aesthetics and design has helped define the look and feel of our sport. So I guess there are several reasons why Intense has stayed so relevant in a changing industry, and each of those reasons is on display on the updated Tracer 27.5.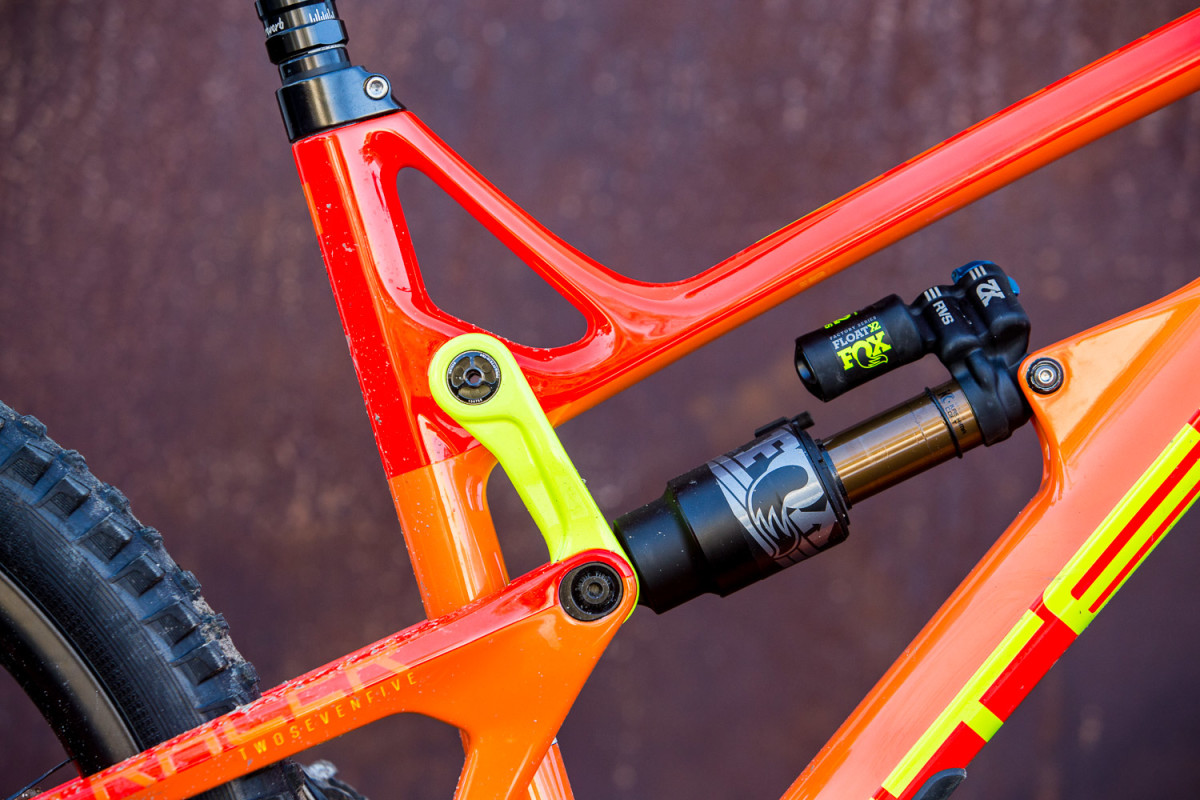 And I don't mean updates like the obligatory ones that put new emojis or U2 albums on your iPhone. The new, full-carbon Tracer got gnarlier from stern to bow. A few subtle changes were made to bring it up to date like 148mm dropout spacing and internally tubed cable routing. I lamented the loss of a bottle mount on this year's frame, but there's more exciting stuff to talk about. The head angle has been slackened a full degree, down to 65.5 and the seat angle steepened to 75. The wheelbase has gained a full inch, and the reach gained a half. The Tracer also got a little boost to its travel, now stacking 165 millimeters in the back while coming stock with 160 up front. The frame is carbon, though lower-end models use an alloy top link.
Speaking of suspension, let's get down and nerdy. The VPP linkage patent recently expired, so Intense introduced their own take on the counter-rotating dual short link platform called JS Tuned. Each travel category in Intense's JS equipped lineup features a unique leverage curve. In the case of the Tracer, there's a subtle ramp up for the first half of the stroke, which becomes more progressive towards bottom out.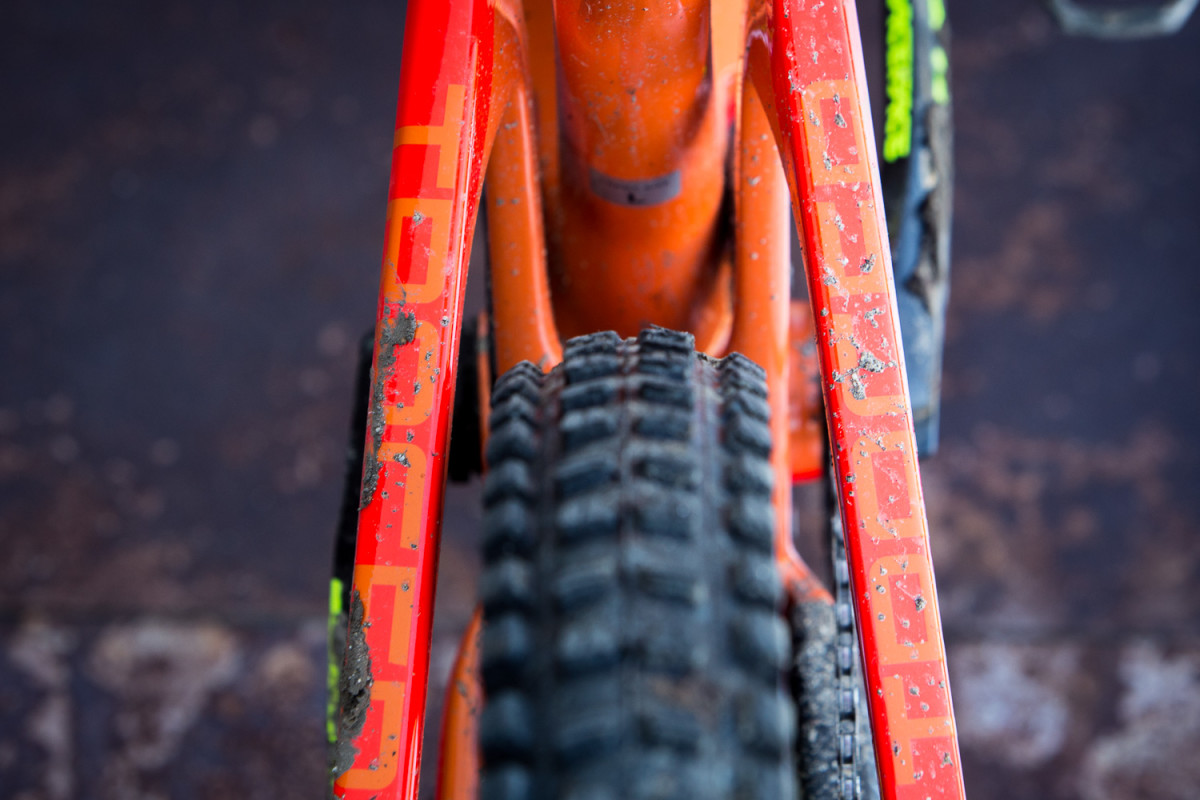 The new linkage also allowed the rear triangle to get a boost in stiffness and durability without sacrificing tire clearance or increasing chainstay length. But the real frontier in VPP refinement is the fight against pedal feedback. The JS Tuned suspension aims to remain snappy and efficient, but more responsive to small- and medium-sized bumps on rough climbs. The minutia of how Intense achieved this lies in the refined axle path and the way it interacts with the leverage curves, which is really better explored through how it actually rides.
The Tracer's top three build kits–Pro, Elite, and Factory–all spec a version of Fox's Float X2 with a 2-Position lever, leaving much of the rear shock's behavior up to you. The steep seat tube, long reach, and low stack immediately got me in the mood to go out and cover some ground. But when that ground got steep, the Tracer proved susceptible to a force that, to be fair, would hinder any bike with such ample squish. My weight would shift back, the sag would deepen and the angles would slacken. Even when those steep climbs were rocky, I had to rely on the Float X2's relatively firm 2-Position lever. It kept the Tracer neutral and efficient, though it wasn't as smooth and planted as it was when climbing with the shock wide open.
The lofty claims of this new linkage were fulfilled on moderate climbs. During one arduous trek up a dry creek bed, I kept expecting an untimely meeting of a rock and pedal to send my hips into my handlebars, but it never happened. My image of the Tracer as purely a lightweight sled for short thrashes and enduro races began to fade, and I started to plan reckless all-day exploits at high altitudes.
Intense Tracer Geometry

It's been a wet winter in southern California, and the dirt has been at its very best. Riding a bike like the Tracer at times like these is quite a treat. Trails that would otherwise be exercises in survival become Velcro-lined bobsled runs. Though I comfortably crawled and slid it down plenty of the loose, dry chutes that feed our canyons the rest of the year, the long, slack, plush Tracer prefers to go fast. But we had to get to know each other first.
Much of my trial and error in suspension setup was spent finding my ideal sag. At just over 30 percent, I had a hell of a time trying to bottom it out, which, on most bikes, I might do two or three times in a descent. But its performance over small- and mid-sized bumps was perfect, and it felt unbalanced when I deepened the sag, so I stayed between 30 and 33 percent. Most of the travel would stay busy predictably and consistently chewing up trail, and there was always a little extra ready to soften a big jump or erase a big mistake.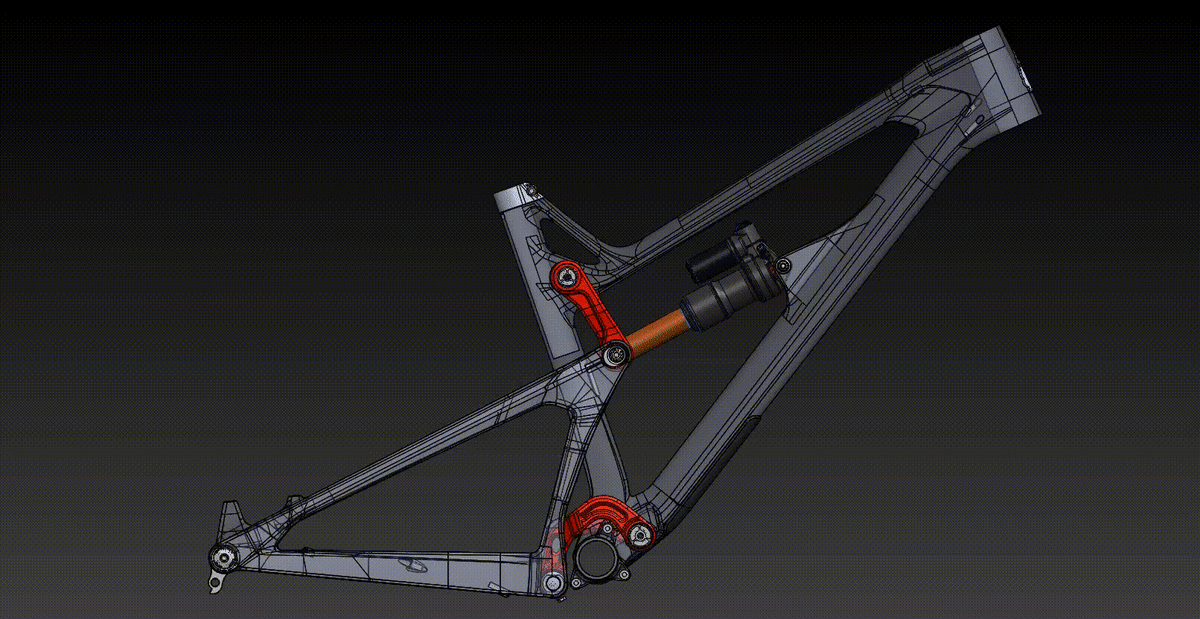 The Tracer isn't the only bike in its category that was given an extreme makeover this year. Nearly every member of the long-travel category in the 2017 Bible of Bike Tests had recently gotten the longer, lower, slacker treatment. We saw wheelbases that stretched to nearly 48.5 inches and head angles that dipped below 65 degrees. And don't get me started on how nutty some of today's 29ers are getting. What sets the Tracer apart is that it manages to keep a firm grip on reality. On bikes like the newly reimagined Pivot Firebird, I would occasionally find sections where its damn-the-torpedoes approach to travel and geometry were suitable, but few trails are that rowdy from end to end. The new Tracer doesn't ask you to sit down, shut up, and hold on. It wants you to take the wheel.
The Tracer still lends itself to stability and traction, and our test bike's willingness to get tossed around was no doubt thanks in part to its top-shelf Factory build, weighing a little over 27 pounds. No expense was spared, as evidenced by the alarming $10,400 price tag. There are five builds available, all of them carbon, reaching down to the $4,600 Foundation option, which still weighs just 30 pounds. If you're lucky enough for your local terrain to demand it, the Tracer is worth splurging for. It's capable enough to be your big bike, and versatile enough to be your only bike.
More details at intensecycles.com.
Related
Review: Pivot Firebird – 2017 Bible of Bike Tests
Review: Rocky Mountain Slayer – 2017 Bible of Bike Tests