Several new bikes released this season tout both 27.5+ and 29er compatibility. In theory, it's a cool concept because you basically get two bikes in one: a surefooted, traction-loving monster, and a fast-rolling distance dominator. But there's a rub: The market seems to have already chosen 2.8 inches as the preferred width for 27.5+ tires, which are at least an inch smaller in outside diameter than an average 2.3-inch-wide 29er setup.
So, if you build a bike that's compatible with both, you've got to make the chainstays long enough for the 29-inch hoops. In addition, you typically need to change the fork travel when swapping wheels in order to correct the bike's geometry. Perhaps more relevant than these geometry challenges is the following question: How many folks are really going to invest in a second set of wheels to experience the versatility of their new purchase?
Ibis looked at all this and took a different approach, resulting in the new 130-mil-travel Mojo 3. It's still basically two bikes in one, but with the same set of wheels. Ibis specifically designed the bike around Schwalbe and Maxxis 2.8-inch-wide tires, which are shorter than other 2.8- and 3-inch offerings on the market, and very close in diameter to a normal 27.5×2.3-inch tire when weighted.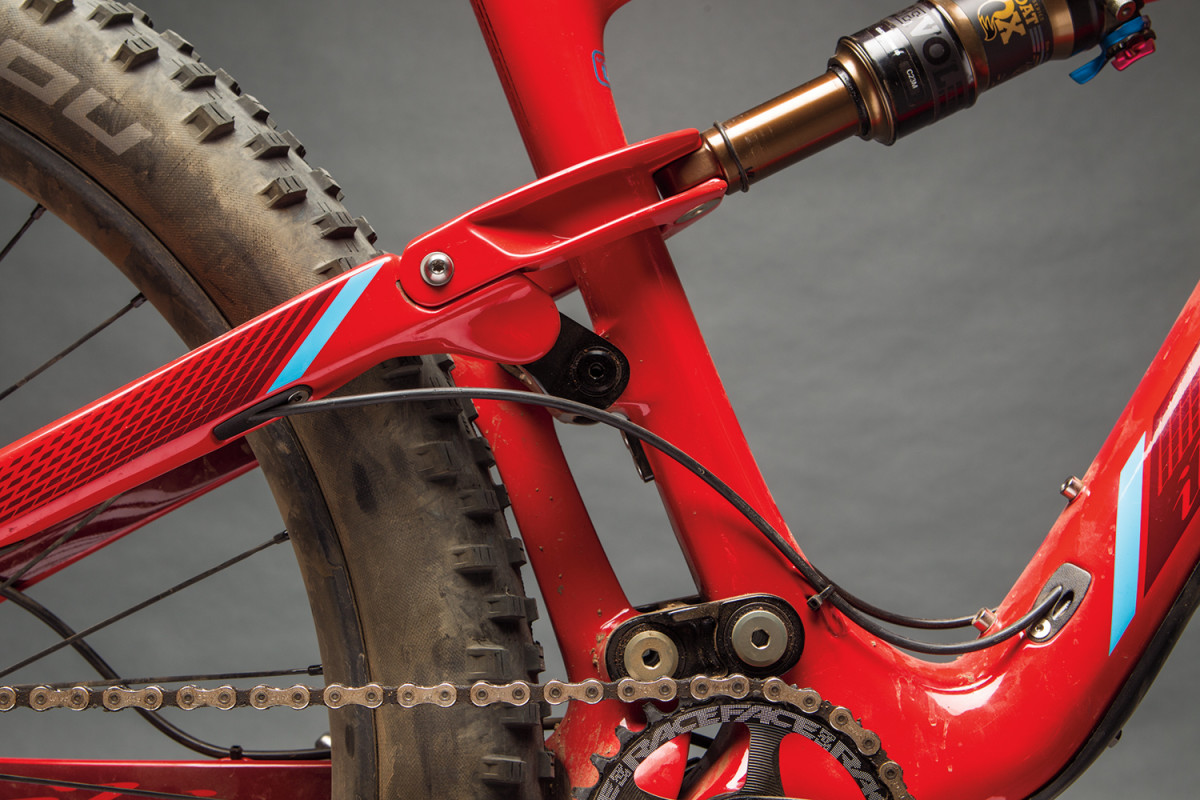 We did some measuring of our own and found that when unweighted, the Maxxis Rekon+ 2.8 is about 10 millimeters taller than a Maxxis High Roller 2.3, but at normal riding pressure (13 and 26 PSI, respectively) with a 165-pound rider, they're within a couple millimeters of each other. Because of this, the Mojo 3 can run regular or plus-size 27.5-inch tires without requiring a flip chip or fork-travel change. Since Ibis didn't account for 29er or larger plus-size setups, the Mojo 3 is able to have super-stubby 16.7-inch chainstays.
It shouldn't be much of a surprise then that the Mojo 3 is without a doubt the most 'normal' feeling bike with plus-size tires I've ridden. The bike's cornering ability is ridiculous. Traction is one thing–it's predictably amazing–but what I didn't expect was how effortless it would be to dive the bike hard into corners and transition from one turn to the next. It's difficult to describe, but the Mojo 3 feels stable, while at the same time light-footed. Perhaps this is made possible by the quick-handling 45.5-inch wheelbase, coupled with the wide footprint of plus-size tires.
I'm about 190 pounds, and I find myself running anywhere from 13.5 to 15 PSI, depending on terrain and conditions. Aside from a bit of tire-pressure tinkering, there's been no learning curve with the Mojo 3–I immediately felt in sync with the bike. I experienced minimal roll and bounce with the stock Schwalbe Nobby Nic 2.8 tires mounted on our test bike's new Ibis 742 wheels, which sport 35-millimeter-wide hookless carbon rims. While some plus setups have a scary undamped pogo effect in technical sections, this combo displayed nothing of the sort. Most of the time I'd forget that the bike had honkin' 2.8-inch tires on it until I needed the added traction or capability. Between the tire traction and the DW-link suspension, the Mojo 3 simply tears up climbs–the steeper and more technical, the more it excels.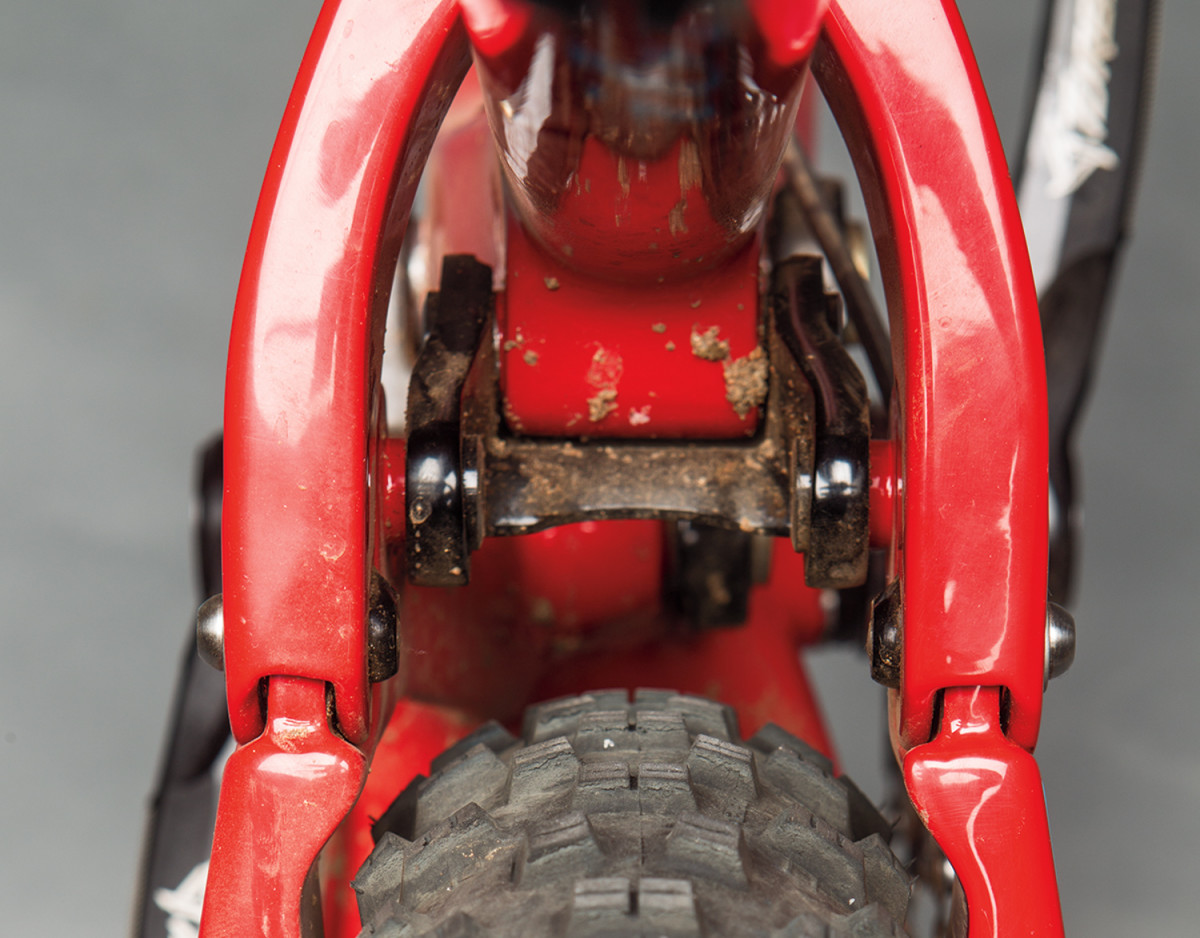 The plus-tire-laden Mojo 3 is far more capable on descents than its 130 millimeters of travel would suggest, making the 140-mil-travel RockShox Pike a perfect choice. Even though the Mojo 3 frame weighs just 5.5 pounds with its Fox Float DPS shock installed, and sports a near 67-degree head angle, it handles rowdy terrain nearly as confidently as bigger, slacker enduro bikes. For context within the Ibis family, this bike feels almost as tenacious as its bigger HD3 brother, but it's sprightlier.
While the 2.8 Nobby Nics handle well, they're lightweight and pretty fragile. If you live in tire-shredding territory, you'll want to opt for a Maxxis tire, such as the Rekon+ 2.8, which Ibis also offers on stock builds. For a beefy, non-plus option, Ibis offers the Minion DHF 2.5 WT, which, when mounted on a wide rim like it's designed to be, is insanely good.
Ibis offers the Mojo 3 in 10 builds, each of which allows the choice between regular and light suspension tunes, as well as several tire choices. A SRAM X01 derailleur, X1 cassette and shifter, and Race Face Turbine crank with a 30-tooth chainring make up the drivetrain on the $7,600 X01 Werx build.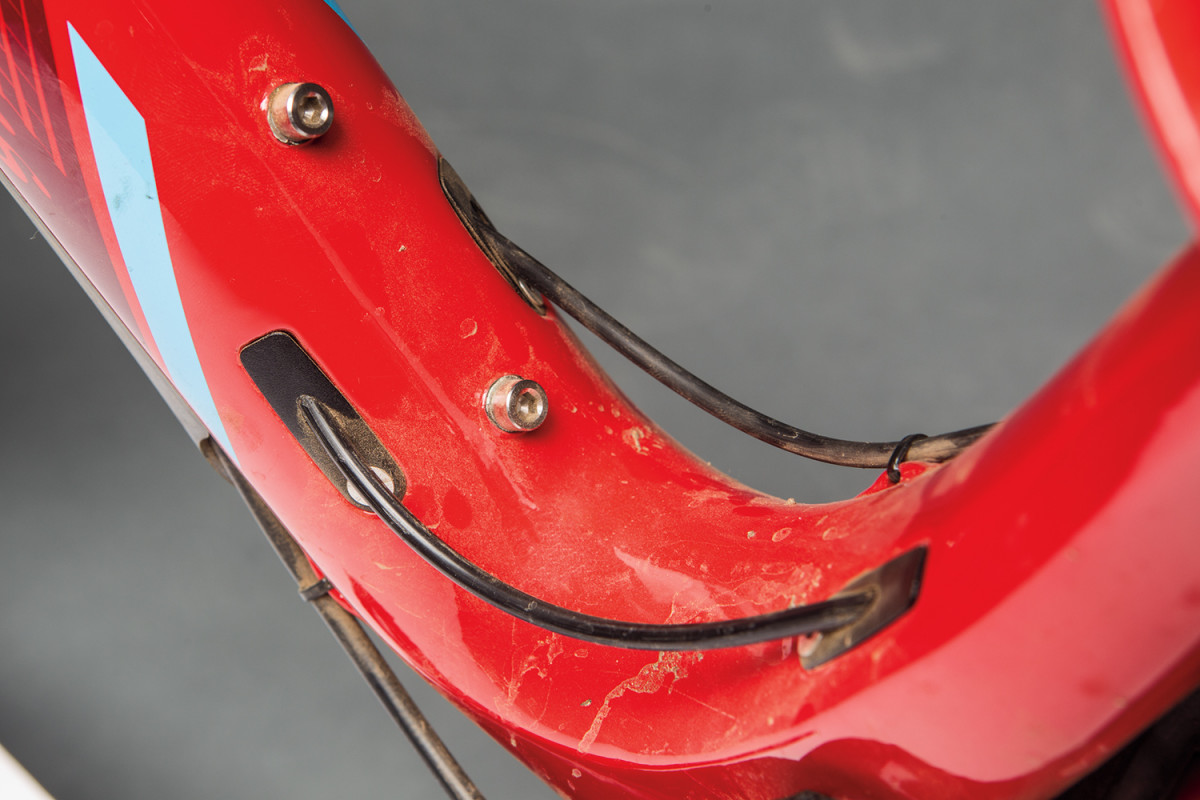 Rounding out the kit, you'll find a Cane Creek 40 Zero Stack headset, an Ibis 760-millimeter-wide carbon bar in either flat or riser versions with a 31.8-millimeter clamp diameter mounted on a Thomson stem, a KS Lev dropper post with 150 millimeters of travel and SRAM Guide RSC brakes.
The fact that the Mojo 3's versatility is more accessible than the 27.5-to-29 convertible bikes on the market right now means that it can easily adapt to riding style, terrain and seasons. We're still not sure where this whole plus-size trend is headed, but the Mojo 3 already feels ahead of the curve.
IBIS' TWO CENTS | Some more about tires: We just finished a month of demo-tour rides in the Southwest, which is rocky, tire-shredding territory. Hundreds of rides were conducted in Moab, Sedona and Hurricane over four consecutive three-day demo weekends. We had zero flats with the Nobby Nics, which was completely unexpected. We think the lack of flats might have something to do with the suppleness of the casing when running these mid-teens pressures. We are spec'ing the 2.8 Maxxis Rekons on the bike as an alternative to the Nobby Nic. All the samples we've received of these tires have been roughly 100 grams lighter than the Nobby Nic–another surprise. They've been holding up well in our testing too. If you want burly in a 2.8, we would recommend the 2.8 Minion DHF, available mid-summer 2016. –Scot Nicol, Founder, Ibis Cycles
Related:
Review: Ibis Ripley LS – 2016 Bible of Bike Tests
Review: Ibis Mojo HD3 Special Blend – Dual Tester