This review was originally published in the June 2014 issue of Bike.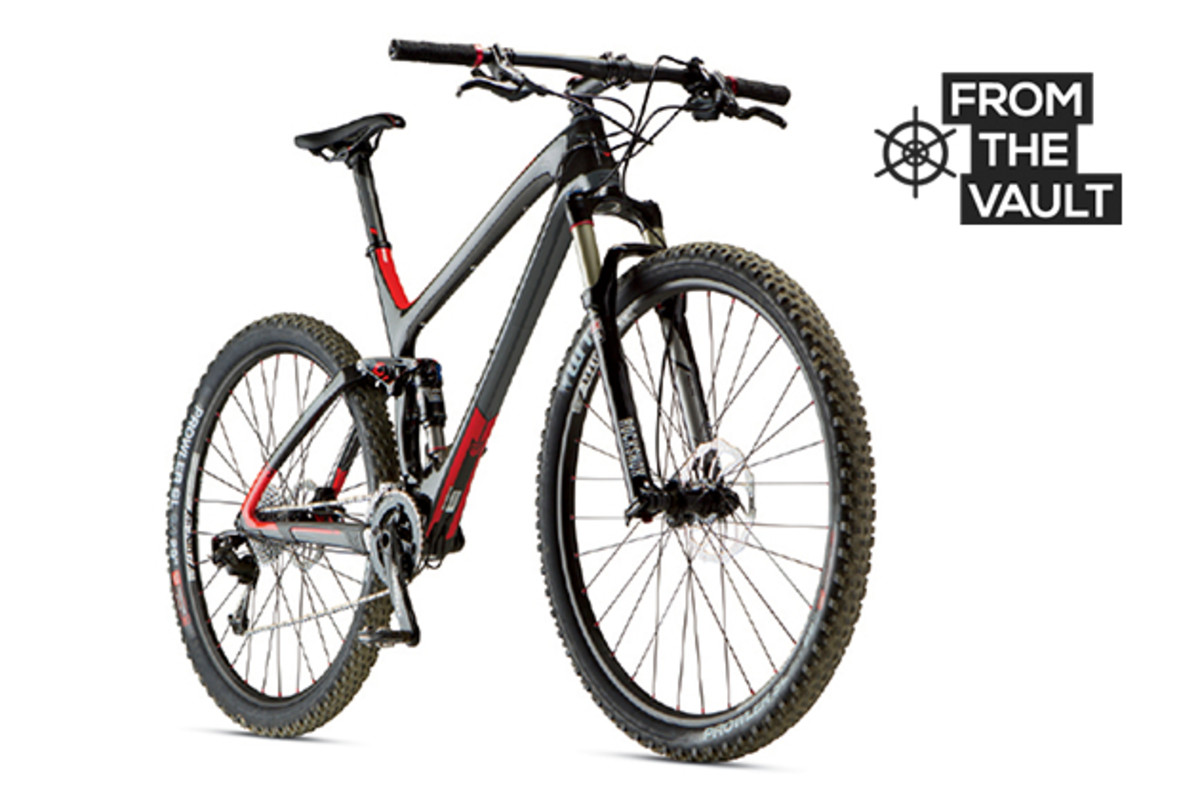 FELT | EDICT NINE 3 | $3,600 | FELTBICYCLES.COM
Felt's 100-millimeter-travel Edict Nine series is designed for speed and efficiency, and it does not disappoint. For the carbon-framed top three models, including this one, Felt utilizes its Active Stay Technology suspension, which is designed around a flexing seatstay. That is, there is no pivot at the rear axle, making it ideal for shorter travel bikes. Since the flexing seatstay is really just a leaf spring, it acts sort of like a pedaling platform for the system. As the shock moves into its travel, the carbon stay resists the movement. The result is a phenomenally well-pedaling suspension design.
Considering this, you might think that the bike has horrible bump sensitivity, but it's actually quite good. With the shock open, the bike tracks well through stutter-bumps and smaller hits, maintains traction during climbs and still provides nice support. Turning on the RockShox Monarch RT shock's platform makes the bike ride too harsh for my liking. The function comes in handy for pavement or long fire road climbs, but since the suspension design is already providing pedaling efficiency, it's a bit redundant for normal riding or racing.
The full carbon frame is outfitted with a SRAM 2×10 drivetrain with X7 and X9 Type 2 front and rear derailleurs, respectively; Magura MT2 brakes, RockShox Recon Gold fork with remote lockout; and WTB Speed Disc i23 rims laced to no-name hubs. The brakes offered nice power and modulation, great pad clearance and use mineral oil, which is far less gnarly to handle and has a longer shelf life than DOT. Another standout was the WTB Prowler 2.2 tires. They boosted my confidence in loose, sandy conditions. At 28.5 pounds without pedals, this build is not incredibly light, but the frame alone warrants upgrading the parts as they wear out. Plus, it pedals much lighter than the scale says, thanks to the suspension design.
The Edict Nine benefits massively from a dropper post, perhaps even more than an all-mountain bike. Luckily, Felt realizes this too and supplies a cable routing option.The 71.5-degree head angle and 42-millimeter bottom bracket drop allow for quick handling and cornering ability on all types of terrain, up and down hill. It's perfect for an aspiring XC or marathoner, or anyone who just loves smashing pedals. –RP
More Felt bike reviews:
Tested: 2013 Felt Compulsion LT3