Burger King ain't got nothing on today's mountain-bike-drivetrain menu. Riders are able to have it their way via a menu of shifting concepts, gear ratios and chainring configurations. Narrow-wide chainrings and clutch-style derailleurs have done wonders in the chain retention game, reducing the number of conventional chainguide devices being used in on everything from cross-country to enduro and park bikes.
When it comes to downhill bikes sporting eight or more inches of rear-wheel-travel, though, chain slap and drivetrain dangle is still a factor. Combine the high speeds with the harsh impacts these bikes endure, and it's no mystery why most stock offerings come equipped with a chainguide.
e13 LG1+ Crankset & Chainring Specs
83-millimeter aluminum spindle
Available in 165 and 170 millimeter lengths
Accepts 28-38 tooth direct-mount chainrings
Crankset MSRP: $250 (BB and chainring sold separately)
Guide MSRP: $160
The $250 LG1+ crankset is specifically designed for DH bikes and riders looking to get rowdy in the bike park. Bottom brackets are sold separately for $69, as are chainrings for $55. All in, you're looking at about $380 to get rolling with an LG1+ crankset. Unique to e13 is the P3 Connect spindle and crank arm interface. This smooth, triangular interface is claimed to provide full surface contact with the crank arm, avoiding the creaking and loosening sometimes associated with splined crank arms.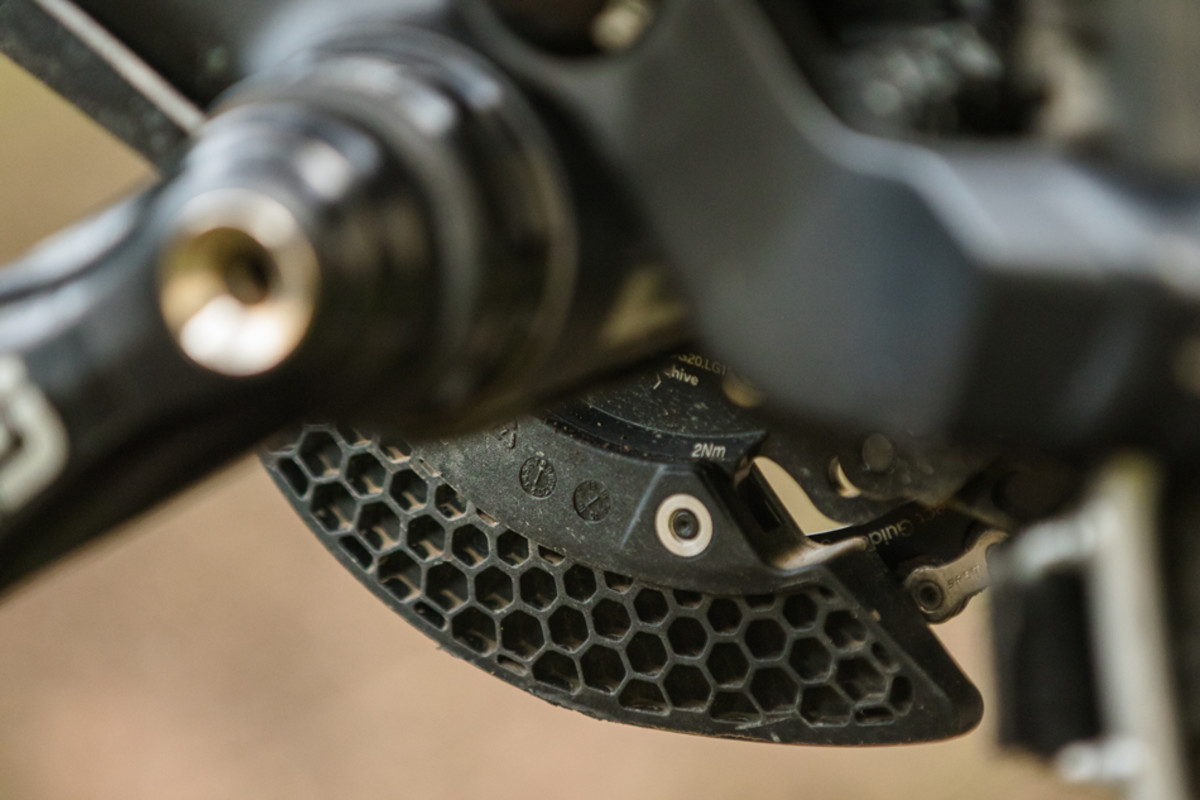 The LG1+ guide features e13's second-gen Stealth idler and new upper slider with a rubber interior to reduce drivetrain clatter. This $160 guide is modular, with the lower idler able be removed completely if one prefers. Like most chainguides, the LG1+ uses mostly plastic bits, but e13 was careful to use materials that will hold up despite exposure to solvents and chain lubrication.
The upper slider can be opened without tools and swiveled up and out of the way like a Lamborghini door, easing installation of a new chain or the removal of the crankset. To protect a wide range of chainring sizes, three different replaceable direct-mount lower bashguards are included.
My test LG1+ crankset has withstood a year of poor line choices and untimely pedal strikes in the bike park. Even the threaded pedal eyelets remain unscathed despite a couple bent pedal axles this season. I'm not alone in my disdain for potentially creaky Press Fit bottom brackets (one reason many brands are going back to threaded options), yet thankfully e13's PF30 setup has remained dialed and silent. The stiff crank arms and unique junction at the spindle create a burly connection that feels confident and efficient under power.
As the chain whips and recoils throughout the rear wheel's travel, the lower idler wrangles it back into place, keeping the drivetrain in check. There's some drag on the drivetrain from the idler, but on proper downhill terrain the trade-off is more than worthwhile. Plus, the idler can be easily removed for smoother tracks, extremely muddy conditions, or if a rider simply prefers a quieter and friction-free ride. The chainguide's retention capability has never been an issue–it's proven to be one of the most dependable systems out there. For downhillers in search of a crankset and chainguide combo that's durable and lightweight for the application and won't skip a beat when sprinting to the finish line, the LG1+ combo delivers.
Related
Review: Specialized Mini Chainguide