Editor's note: This article originally ran in the July 2014 issue of Bike.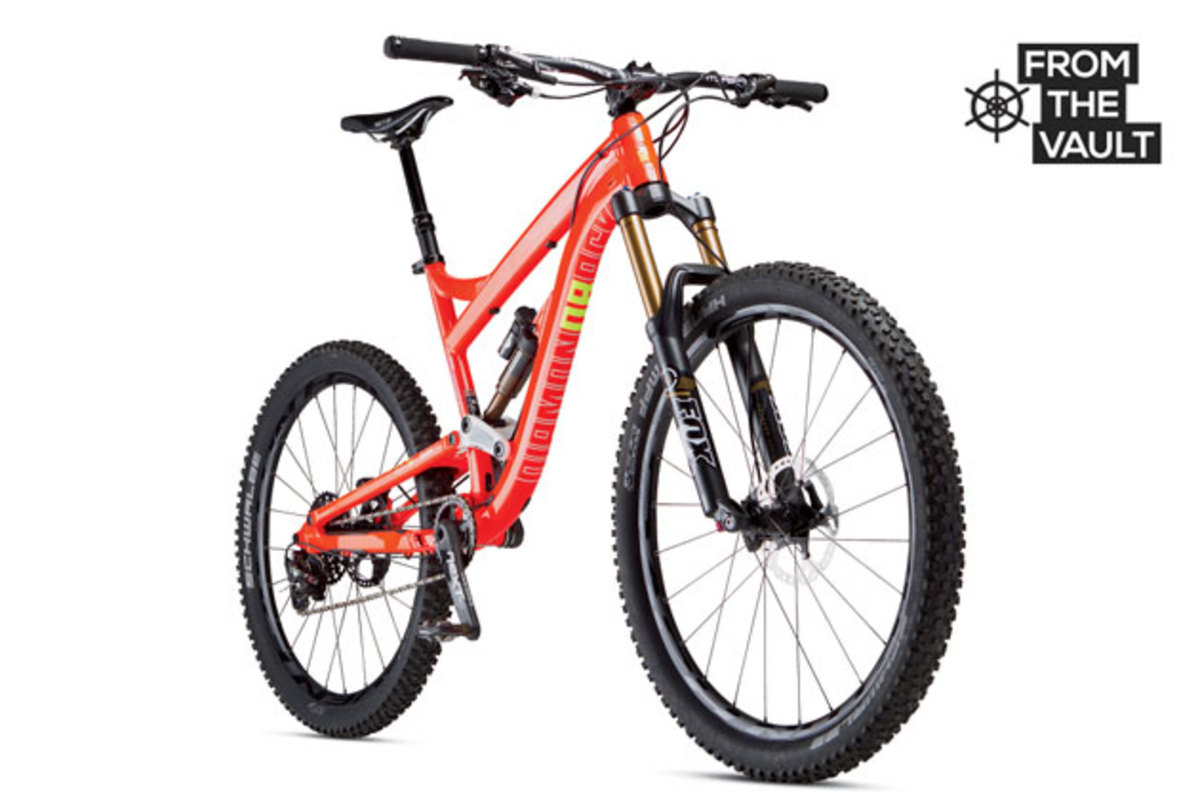 Diamondback Mission Pro 27.5 | $6,500 | diamondback.com
The last time we tested a Diamondback, we loved the ride quality and stout construction of the company's Knucklebox suspension platform. The Sortie 29er shook off a northwest winter without a single peep. The downside was that big bell crank–the Knucklebox–wasn't winning any beauty contests. It worked well, but so did a lot of other, better-looking bikes.
Reshaped for the Mission, the new Knucklebox provides the same buttery suspension feel we love in a tighter package. At nearly 32 pounds, you'd expect the 160-millimeter Mission Pro to putter along, sucking the life out of the poor soul pedaling it. Actually, the Mission wears its weight well, scooting up climbs and through undulating trail with surprising ease for a bike designed for downs.
Despite its incredible small-bump sensitivity, the Mission pedals quite efficiently. Though the compression control on the Fox Float X shock comes in handy, don't stress if you can't reach for the lever fast enough to make a punchy climb.
This bike loves rough trail and only gets more comfortable with speed. A mid-height, 13.5-inch bottom bracket provides pedal clearance without much sacrifice to the handling, while long 17.7-inch chainstays and a 66.5-degree head angle give the bike excellent stability in the chunky bits. That stability comes with tradeoffs though. If you're the kind of rider who likes to manual or play on the trail, a bike with a shorter rear end might suit you better. On the other hand, long stays make the bike feel invincible at high speed and help keep the front wheel planted on climbs. Long bikes have a reputation of feeling slow on tight trail, but I never felt particularly choked up aboard the Mission.
At the top level, the Mission Pro is stacked with many of the parts we'd choose if we were custom building a bike. Although, there is one rub: Why spend $6,500 on the Mission when you could spend the same amount or slightly more for a lighter, carbon-framed all-mountain bike from any number of brands? Most of us can't spend that kind of coin on a bike purchase anyway, which is where the $3,300 Mission 2 comes in. It features the same bomber frame with a more reasonable parts spec.
More from Diamondback:
Video Review: 2013 Diamondback Mason
Diamondback 2013 Launch: Sweet Singletrack and Sick Dirt Jumps