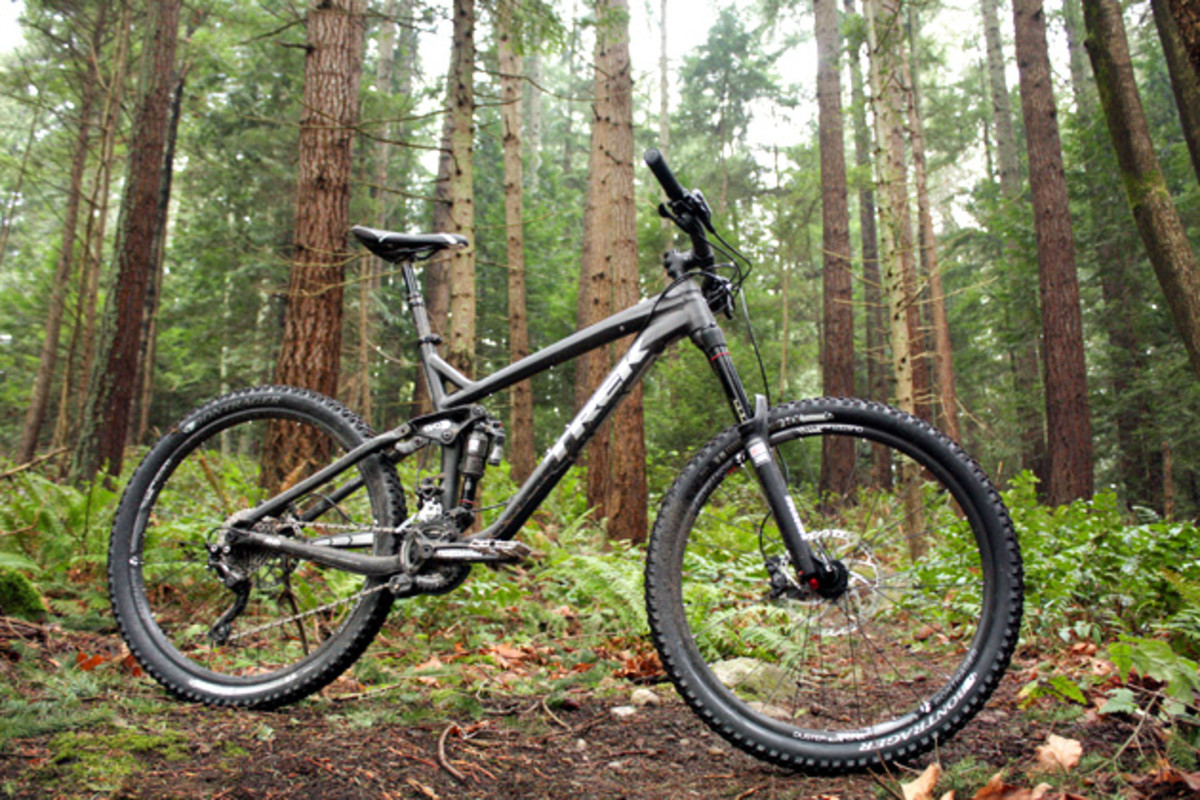 By Vernon Felton
Trek's Remedy has proven itself a capable all-mountain bike over the years. So capable, in fact, that it's often easy to overlook the rowdier siblings, like this Slash, in Trek's all-mountain/enduro stable. The Slash boasts almost an inch more of rear suspension (6.3 inches versus the Remedy's 5.5 inches) and, as you'd expect, slacker geometry.
The fundamentals, however, are the same. The Slash squishes up and down on the same fundamental walking-beam suspension system Trek has been refining for well more than a decade now. The bike sports all the features that have become hallmarks of Trek full- suspension bikes: the Active Braking Pivot (designed to keep the rear suspension supple under braking), Full Floater shock mount, the stiff-as-all-hell, one-piece EVO rocker link, Mino Link geometry adjuster (a flip chip that enables you to slacken the head and seat tube angles a half degree while also dropping the bottom bracket from 14.13 to 13.78 inches).
This year's Trek Slash 8 27.5 ($4,200) has some nice bits perched on it. The RockShox Pike RC is a great fork—light, stiff, well mannered—and if you find the 65-degree head angle to be too slack for your tastes when you're climbing something steep, you can drop the two-position Pike down to 130 millimeters of travel, which will steepen the head angle a degree and change. Rear-suspension duties are handled this year by a Monarch Plus R DebonAir. The bike also sports a stealth-routed RockShox Reverb dropper post. Nice. Drivetrain on the Slash 8 is a mix of SRAM X7 (Front derailleur) Race Face (Ride 36/22 2x crankset) and Shimano SLX/XT (shifters and rear derailleur, respectively). Bringing everything to a tidy stop are Shimano SLX brakes. Finally, the bike gets the usual Trek treatment, with a heavy dose of Bontrager cockpit components and wheels.
It's a solid component mix. Trek has blended some very high-end bits with plenty of solid, workingman parts. It, in fact, bears a strong resemblance to the component spec we found on Kona's Process 153. No surprise since, in both cases, Trek and Kona are trying to find a way to keep price tags out of the "stupid expensive" realm, while still giving you the fundamental performance of their premier models.
This is a preview (you'll find a full review in an upcoming issue of Bike), so I'll keep the riding impressions to a minimum, but here are some initial thoughts.
The star of the show, as far as I'm concerned is Trek's rear suspension. I've always felt that their Fuel EX and Remedy models always felt like they boasted more travel than the spec sheet suggested—very supple off the top with just the right amount of ramping. The same is true with the Slash. The DebonAir piggyback shock doesn't hurt either—the bike just gobbles trail chatter. Trek made the unusual decision to not spec the RC3 version of the Monarch Plus. On one hand, you can see that the RC3, with its 3-position compression damping set up would raise the price tag on the Slash 8, but, really, no "lock out" or even "Trail" setting on a six-inch travel bike?
I eyed the first long climb of the day with some resignation. There would be, I figured, a distracting bit of energy-sapping bob. But, to my surprise, the Slash 8 motored up climbs suprirsingly well in its default "wide open" mode. I mean, you're sure not going to toe the line of an XC race on this bike, but then again, you can easily do big days in the saddle, filled with evil-big climbs, without feeling like you were stuck on a rocking horse from hell.
On descents, the Slash's rear end feels, simply, awesome.
As for components, I'm swapping out the stock Bontrager XR4 Experts for some Bontrager G5s, which I suspect are going to offer better grip in the currently sloppy conditions. I'll probably also swap out the bar for something a tad wider and flip the Mino Link. We'll see how the Slash 8 fares alongside the likes of the Kona Process 153 and a few other heavy hitters that I'll be trotting out here on bikemag.com in the coming month