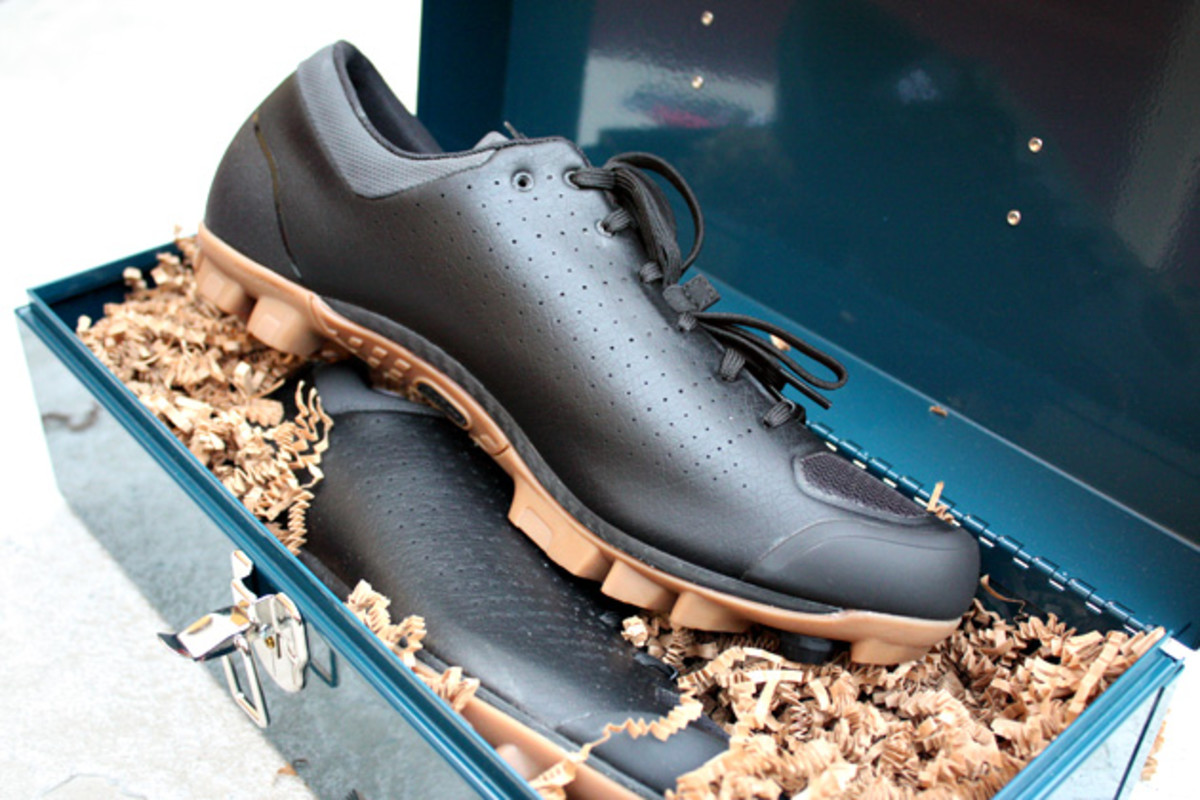 SPECIALIZED RECON MIXED TERRAIN | $225 | SPECIALIZED.COM

These days, most of my riding shoes look nothing like this. I favor flat pedals and, consequently, my go-to kicks look less like a NASA-designed clog and more like something you'd find at the skate park. Still, having grown up in the era of toe-clips and Italian leather riding shoes, I allow that I still have a warm spot in my heart for shoes that look more like something Eddy Merckx might have worn and less like a ballet slipper constructed of gold lamé and carbon fiber. Thus, I was intrigued when these new shoes arrived in the office.
As the name suggests, the shoe is designed to work for both road and off-road riding. I'm guessing that "gravel ginder" is the target audience here (i.e., riding your road or cross bike godawful distances on dirt roads and trails). I'd roll my eyes at the whole gravel-grinder trend, but I've actually always been a fan of riding skinny tires off road. I can't muster any resentment whatsoever towards putting wider tires and disc brakes on road bikes and riding them miles away from the nearest beer-can throwing jackass in a Ford F-350. Are these shoes the right tool for that kind of riding? Dunno. They just showed up, but there are a few potentially cool features that leap out at you.
Despite the whole Fausto Coppi flashback appeal, the Recon Mixed Terrain sport as aggressive a sole as you'd find on most cross-country mountain bike shoes. What's more, the tree is fairly soft and grippy. I'm not going to relish the prospect of hike a biking up wet, granite ridge lines in these things, but it's fair to say that Specialized has cooked up a tread that offers as good (and probably better) traction on wet rocks.
The shoe also sports a carbon sole. While you might want something with more flex for those hike-a-bikes, the carbon sole is going to kick arse in the power-transmitting department, when you're actually turning pedals. The shoes are drilled for typical 2-bolt SPD-style cleats.
The shoes sport non-stretch, waterproof laces, which Specialized contends helps to create a more comfortable, customized fit. It makes sense on one level, but I can't say that I've ever been bummed in the least with the fit created by either Velcro, ratcheting-buckle or BOA-style closures. Juries out on the laces for me. It's worth noting that the shoes also sport "Lacelock"; an elastic loop that should go some ways towards preventing your laces from getting eaten by your big chainring. Finally, all that shiny leather-looking outer is actually a Micromatrix synthetic leather. How does it hold up to buckets of rain, road grime and mud? We'll see. Northwest winters are hell on shoes. This will be interesting.
Related:
Palmer's Picks: Shimano SH-M200 Shoes