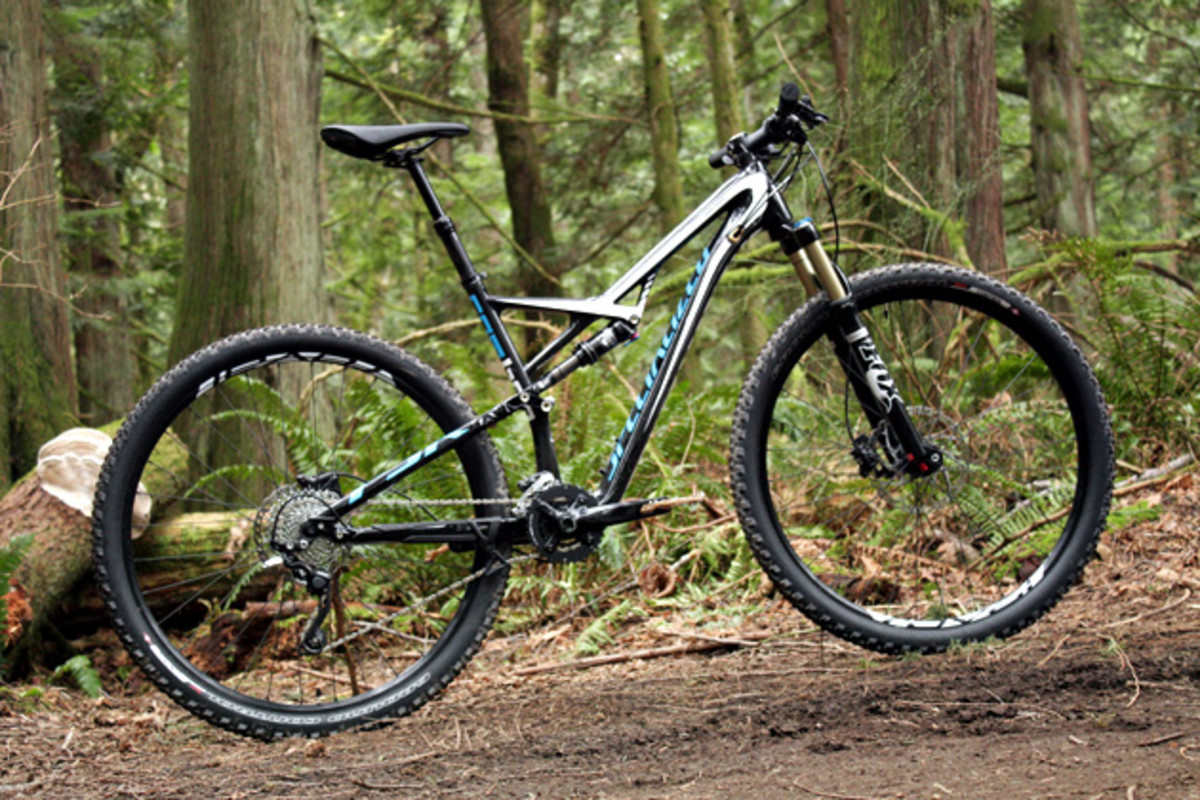 SPECIALIZED CAMBER COMP CARBON | $3,500 | SPECIALIZED.COM
Truth be told, it took us a while to catch on to the Camber. The 110-millimeter travel trail bike occupies a bit of an odd niche in the Specialized line up—somewhere between the pure cross-country aspirations of the Epic and the everyman's model, the Stumpjumper. When the bike first debuted in 2011, I personally wasn't even convinced this bike needed to exist at all given all of the other siblings in Specialized's line. But that was before I rode one.
We first tested the Camber at our 2014 Bible of Bike Tests in Sedona and the bike's nimble, yet aggressive demeanor, floored everyone who rode it. It's like the aggressive rider's cross-country bike or maybe it's the cross-country rider's trail bike. I still can't say which, but I can say this: it hauls ass up climbs and hangs better on descents than it has a right to, given how little squish it's packing.
Of course, that model we tested in Sedona was the ultra-pimped carbon EVO model. It sold for a bundle and therefore should have been all that and a bag of chips. Fair enough. This here—the Comp Carbon model—straddles the middle of Specialized's nine-bike Camber line. This is the most affordable of the models to feature a carbon front triangle. If it's still too rich for your blood, you can get into an aluminum Camber for $2,000. If, on the other hand, you are loaded and feel the need to spend unseemly amounts of money on a bike, the S-Works version sells for $9,400.
But back to the bike in question… As you can tell from its squeaky clean yearbook photos here, I just pulled this thing out of the box this past weekend and have gotten two rides on it to date. The first ride involved a couple hours of grinding away on both steep fireroads and steep and technical singletrack. The Camber Comp Carbon fairly flew up that stuff. Despite the fact that this isn't the lightest bike on the block (28 pounds and change ain't bad, but given the amount of travel here, you might expect it to weigh less), I found myself motoring up the climb a good deal faster than at any other time this season. Specialized FSR suspension is known for being an "active" suspension and that holds true here as well: you'll want to do your climbing with the rear shock in Trail or Climb mode (depending on how rocky the ascent is).
Today, I did the climb thing again for an hour, but chased it with a rowdy descent down a series of jump trails that most people reserve for bikes with a lot more travel. It was definitely a case of bringing a switchblade to a gunfight. A badass switchblade, but you know, still a switchblade.
The Camber sports a middle of the road geometry that's kind of meandering towards "relaxed". The 70-degree head angle doesn't feel steep in the slightest on a 29er like this. It's not "slack" like, say, a Kona Process 111 or Transition Smuggler, but it's not overly steep either. I guess the best way to describe the bike is that it feels "confident" as you enter technical terrain. Then again, once you are halfway into really chunky stuff, you realize real quick that there isn't a lot of travel with which to bail yourself out of trouble. You need to land jumps just right and even when you do, you bottom the suspension out regularly.
Now, having said all of that, I'll admit that I was definitely riding the Camber in conditions that were way above its pay grade and that you should expect your fair share of "Whoa, Nellie!" sketch moments when you pull that kind of crap. The real surprise, I suppose, is that I could get away with it at all. That, at the end of the day, is testimony to how well designed the Camber actually is. I mean, I sure as hell wouldn't have taken a cross-country bike down a bunch of jump trails and yet the Camber is actually faster and nimbler than most dedicated cross-country bikes. In short, the Camber punches above its weight class. That's always a good thing.
I've got a few months to play around on this bike. Now that I've taken it to extremes, I'll probably spend the rest of my time riding it on terrain that meshes more with its mission statement. We'll see how the Camber Comp Carbon stacks up against a group of other trail bikes in this price range.