There was a time when I dreaded riding 29ers. It's not that I couldn't see the potential upsides; the improved angle of attack and all that jazz. But for their first decade of existence, it seemed like most 29ers had fallen out of the crappy-handling-tree and hit every branch on the way down. Then Santa Cruz came out with the Tallboy in 2009 and I had to come to terms with my biases because that bike simply ripped. Twenty-niners didn't inherently suck, I realized, it just took some time and evolution for the breed to get beyond their hideous zits-and-braces adolescent stage. It's been six years since I've spent much time aboard a Tallboy. Does the bike still hold its own today?
SANTA CRUZ TALLBOY C (S BUILD KIT) | $3,900  | SANTACRUZBICYCLES.COM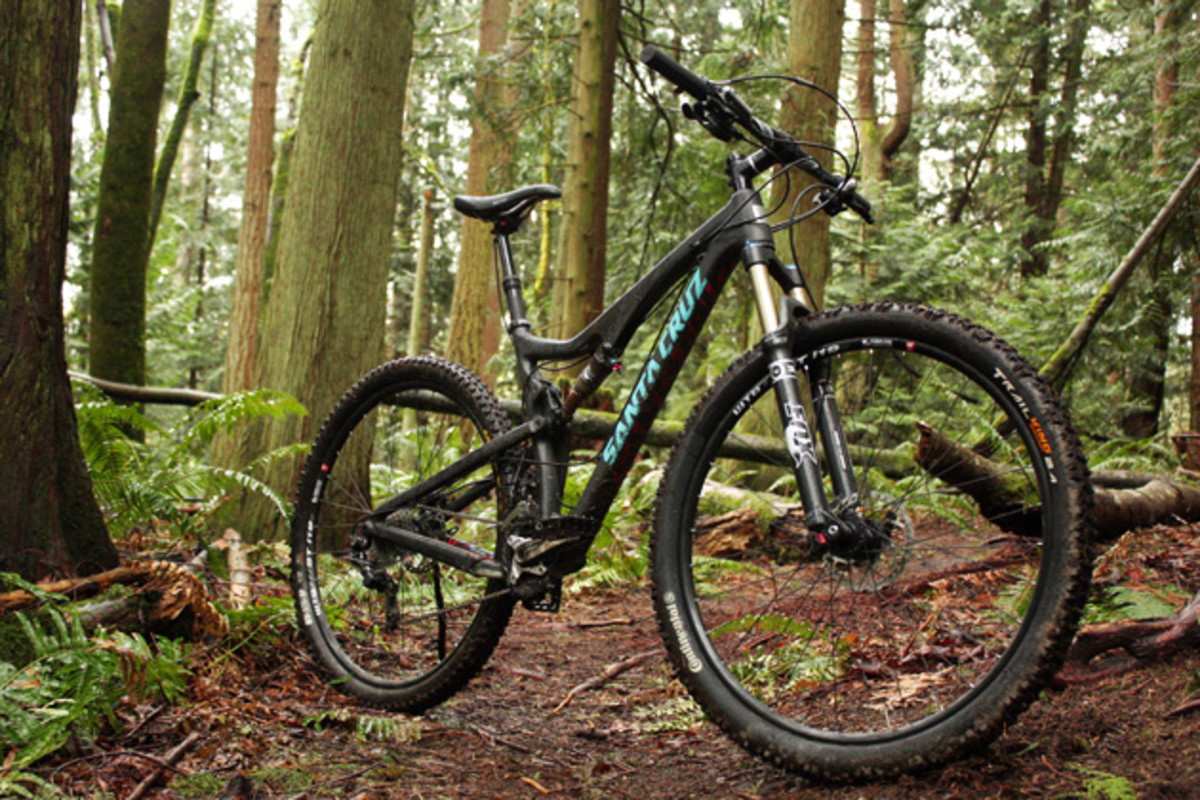 For years, the Tallboy was Santa Cruz's best-selling model, which is probably why they left it untouched for the first four years of its existence. In 2013, however, the company rolled out the next generation Tallboy 2. In truth, they didn't mess with the basics much because, frankly, a whole lot of people liked the Tallboy just the way it was.
No bike, however, is ever perfect. Santa Cruz added an integrated front-derailleur mount, tooled the frame up for stealth-dropper post routing, and, more substantively, fiddled with the shock orientation a bit in an attempt to give the Tallboy a bit less ramp-up in its rear travel. Not a lot of companies go that route with their four-inch travel XC 29er, but the Tallboy has never been an easy bike to pigeon hole. Sure, you can race it in your plum smugglers, but the Tallboy sees more mileage as a trail bike and some riders felt the rear travel was a bit harsh on bigger hits. Giving the revamped Tallboy a more linear rear-suspension feel, then, was also on the to-do list.
The Tallboy's strength had always been its geometry, which made the bike a joy to push around on twisty trails. Santa Cruz didn't mess with the special sauce here. True, the Tallboy isn't as long in the cockpit nor as short in the rear as some of the latest-generation 29er trail bikes, but it's still a compelling mix of angles.
One of the biggest changes in the Santa Cruz line of late has been the emergence of their more affordable carbon-framed models. That's what you're looking at here. I'm not telling you that $3,900 is cheap, but bear in mind that the higher-end "Carbon CC" frame sells for $2,900 all on its own. Sure, that frame weighs a half-pound less, but personally speaking, I'd opt for this package right here.
Our test bike is equipped with the "S" build kit, which pairs a Fox 32 120-millimeter travel fork with a primarily Shimano SLX and XT component group. For hoops, you're looking at WTB STi19 rims mated to SRAM hubs. The bike came with 2.2-inch Maxxis Ikon tires. I tossed those back into the box straight away in favor of a beefier Maxxis Beaver 29×2.35 rear tire and a chunky Continental Trail King 2.4. Those pinner Ikons would have been a nightmare in my Pacific Northwest slop. Likewise, the S build kit features a standard seat post, which I ditched for a dropper. Other than that, I kept the bike stock.
FIRST IMPRESSIONS
I'm still in that getting-to-know-you phase with the latest Tallboy, so I'll refrain from making any hard and fast judgements. That said, some things make themselves immediately known. The Tallboy is still a blast in the corners. The bike is easy to flick around and is the kind of fun that 29ers, at one point, just weren't famous for at all. It's actually kind of staggering to find myself enjoying the Tallboy as much as I did in 2009 and 2010. Sure, I could see how shortening the chain stays a half inch and growing the front center by the same amount might make things just that much better in some senses, but then again, the bike is pretty damn dialed just the way it is. I understand why they stuck with the original recipe, from a handling standpoint.
The bike also has a more solid feel than I normally expect (or encounter) from a shorter-travel 29er. It's not as if there are a ton of noodley bikes out there, but when you start manhandling the Tallboy you realize that the little bike has a tighter, more consistent feel in corners than most bikes in this weight class.
And, yes, the bike is still fast on its feet. Pedaling efficiency is really the hallmark of the whole VPP system and the Tallboy doesn't disappoint on that score. In the same way that I wound up riding Ibis' new Mojo HD3 wide open 99.9 percent of the time, I'm having a hard time seeing the need to ever flick the switch on the Fox Float CTD Evolution rear shock. Does this latter-generation Tallboy have a "plusher" feel to it? I'd have to ride the bikes back to back in order to say anything valid here, but compared to a lot of bikes sporting four inches of rear travel, the Tallboy does feel like it provides a bit more margin for error when the riding gets rowdy. Always a good thing.
Those are my first impressions. Keep your eyes peeled for the full review in an upcoming issue of Bike Magazine.