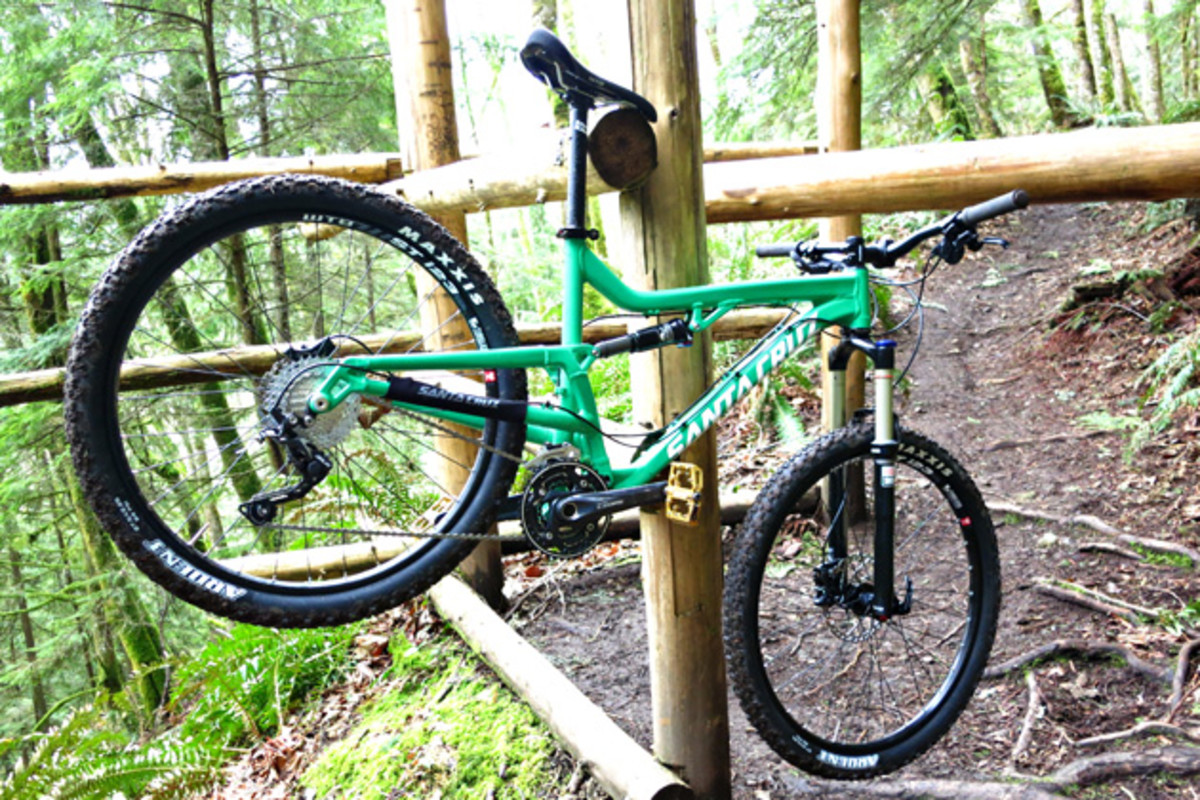 By Vernon Felton
Santa Cruz Bantam
Price: $2,900 ($1,300 frame only)
My first full-suspension bike was a 1997 Santa Cruz Heckler. Even back then, there were fancier bikes on the market; bikes with overtly clever linkages and cool marketing acronyms. The Heckler, by contrast was a brutally simple, four-inch travel machine that pivoted on hardware that looked like it'd been stolen from Ace Hardware. But it was also a solid, predictable bike that was capable of tackling a lot of different trails. Santa Cruz sold a godawful lot of Hecklers and then they butted the heck out of the tubeset, called it a Superlight, and sold even more of those things.
Over the past 13 years, Santa Cruz has become famous for their spin on the Virtual Pivot Point design; so famous, in fact, that it's easy to forget about their current single-pivot offerings (the Superlight 29, Heckler and Bantam as well as the Juliana Juno and Origin models). But that might be a mistake—particularly if you are a rider on a budget.
Both the Heckler (6-inches of travel) and this Bantam (5-inches of travel) are designed around 650b wheels. They both sport a bevy of smart features that include 142×12 rear thru-axles, ISCG-05 tabs, Santa Cruz's excellent collet-axle pivots and a threaded bottom bracket. Best of all, both frames can be had for $1,300. That, for the record, is damn good. The Bantam you see here (equipped with the R-AM build kit) sells for $2,900.
I recently began hitting the trails on the Bantam and was immediately struck by a couple things….
DIALED GEOMETRY
The Bantam geometry is almost identical to that of the much bally-hooed 5010 model (essentially, the VPP-equivalent of this bike) and is not far removed from the Blur TRc (the 26er version, which is loved by many aggressive riders for its low-slung chassis and slack geo). The Bantam sports a 68-degree headtube, 73-degree seattube and 13.1-inch bottom bracket. All that wonky number stuff boils down to this—even though we are still in the early stages of our relationship together, I feel perfectly at home pummeling the Bantam down technical trails. In fact, it felt perfectly dialed right off the bat. The Bantam is also noticeably nimble in tight conditions. Switchbacks have suddenly become a whole lot easier to clean.
SMART KIT
Are there less expensive bikes out there? Sure. But, then again, the Bantam comes spec'd very smartly. The Fox CTD shock is an excellent choice at any price. The WTB ST i23 wheelset is also a big-ticket item that could easily be original equipment on a bike costing a lot more. The Maxxis Ardent tires are a good all-purpose tread and Santa Cruz wisely put Shimano SLX components in the places where it counts (the rear derailleur and shifters) and Shimano Deore in the places where those components suffice (the crank and brakes). If $2,900 is still too pricey for you, the Bantam can also be had with the slightly less expensive D-AM kit ($2,600).
In short, you get a lot of bike for the buck. Do you give up anything? I'm going to spend more time on the bike, fiddling with the suspension, before I start spouting off in that direction. You can read all about it, however, in the upcoming May issue of Bike magazine. Stay tuned.