As progression advances forward and athletes are demanding more from their forks, RockShox has responded with a slopestyle and jump specific fork, the RockShox Pike DJ. The fork has been dubbed the little brother of the Pike, with a lower weight for maneuverability, but stiff enough to rail berms, and still stout with a 35mm chassis. It comes with a custom tuned Charger damper, which stands up on jump faces, and the specific Solo Air system provides heaps of bottom-out progression to help butter the landings. It is available in 100 and 140mm travel versions.
Charge higher
The Pike DJ has the same refined damper as the Pike and BoXXer, and sports an extra firm compression tune to meet the needs of today's extreme athletes. RockShox trademark Rapid Recovery rebound tune, with beginning stroke rebound adjustment, helps control the landings, while Charger's sealed design with an expandable rubber bladder keeps Pike DJ's performance constant run after run. A low speed compression adjuster makes it easy to adapt to all course conditions, from smooth hardpack jumps to rough slopestyle courses.
Progression never stops
For the 100mm travel version, Pike DJ's specifically developed Solo Air top cap gives riders a highly progressive feel, equivalent to having five Bottomless Tokens installed in a standard 26" Pike, while remaining highly tunable with additional Tokens. What does this mean? A fork that will be predictable on every take off and landing without ever slamming through all the travel.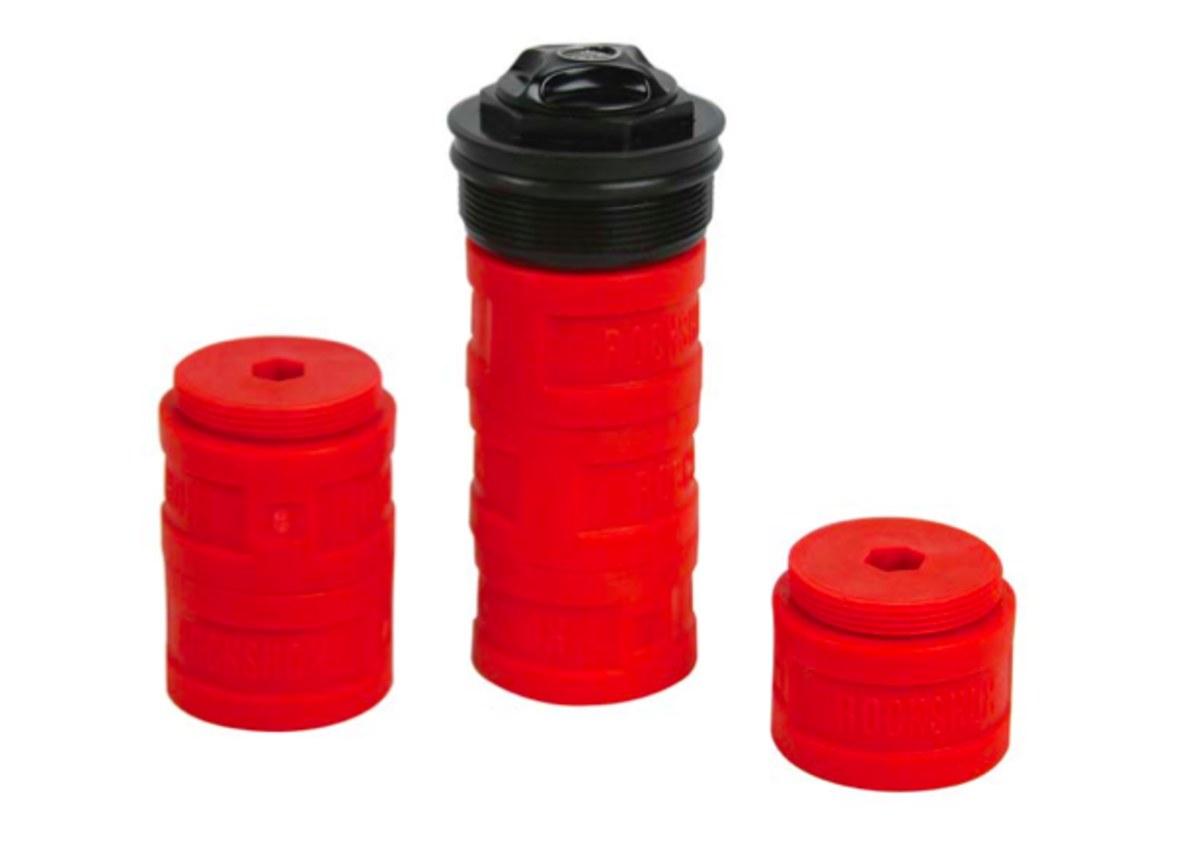 Specifications


RockShox Pike DJ
Weight: 1845g (4.06lb)*
Wheel Size: 26″
Travel (mm): 100mm/140mm
Steerer/Steerer options: Tapered Aluminum
Crown: Forged, hollow 7050 aluminum
Upper Tube Type: 35mm, Tapered Wall Aluminum
Upper Tube Finish: Low friction anodized Fast Black
Axle: 15x100mm Maxle Ultimate
Damper Adjust: External rebound, low speed compression
Spring/Spring Options: Solo Air
Color: Black, Diffusion Black, White
Fork Offset: 40mm
Brake Type: Disc
Lower Leg Material: Magnesium
Maximum Rotor Size: 200mm
Price: 884$/€786
*Weight Based On: 100mm travel, 265mm tapered aluminum steerer, 15mm Maxle
More fork reviews:
First Impressions: 2015 RockShox Boxxer