The RIP 9 has been a mainstay of the Niner line since the company began beating the wagon-wheel drum a decade and change ago. The RIP 9 has always been their do-it-all model, morphing from a lightweight four-inch travel bike to what you see here: more of a brawler, with five inches of rear suspension and about five and a half inches of relief up front. The RIP 9, if you think less about inches and more in terms of competing bike models, is roughly in the same class as the Santa Cruz Tallboy LT and Yeti SB95: very capable trail bikes that could easily be classified as "all mountain," depending on who's piloting the rig.
NINER RIP 9 CARBON 2-STAR SLX |
 $3700
 | NINERBIKES.COM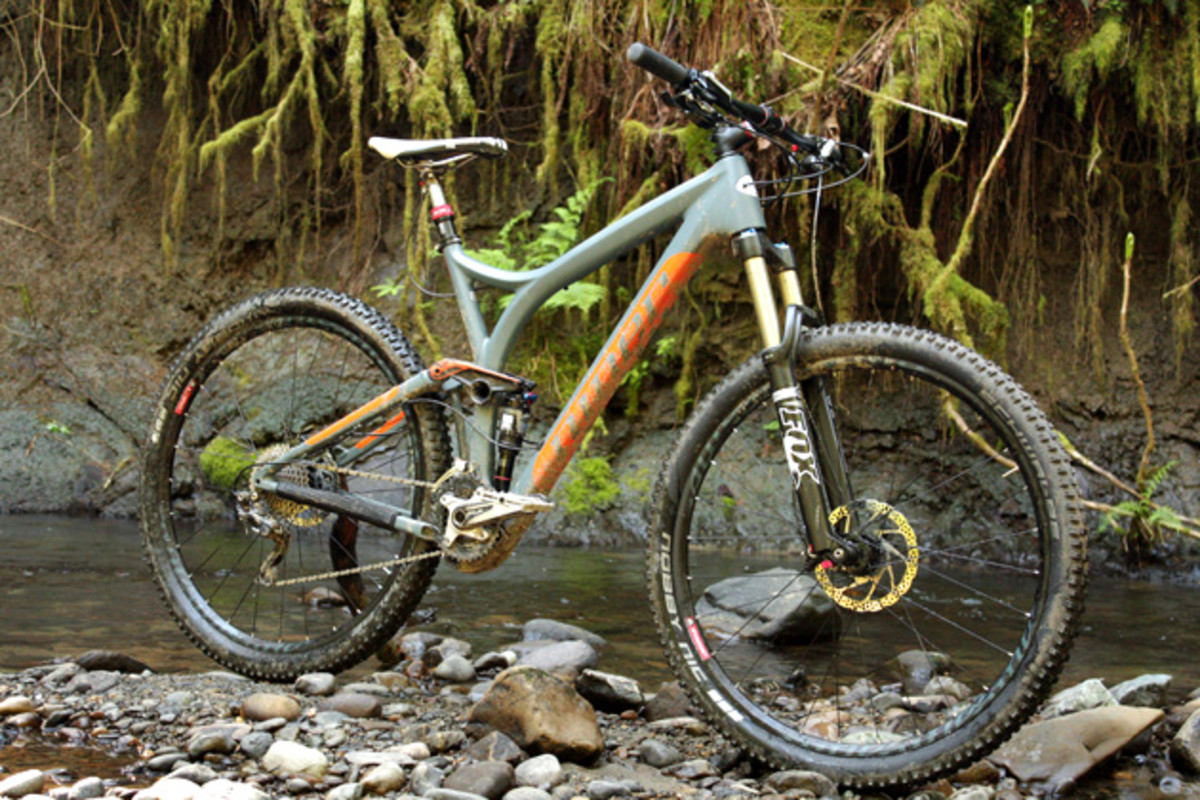 For 2015, Niner introducted a half carbon/half aluminum version of the RIP 9, which means you can get into a (part) carbon RIP 9 beginning at $2,200 for the frame and rear shock and $3,300 for the "1-Star" model (which is a largely Shimano Deore/RockShox Sektor affair). We went up-spec slightly to the 2-Star build kit, which gets you the upgrade to primarily SLX components and a Fox 34 Evolution O/C fork. For my money, that's a no-brainer.
I've been running the RIP 9 for a few weeks now and, as this is a preview—let's be blunt, a bit of a tease for the full review that will eventually run in the print edition of Bike, I'll keep this brief.
Niner makes a big noise aobut their bikes' pedaling efficiency. Their suspension models all use different iterations of the company's own, short dual-link "CVA" suspension. Again, if you want to think about classes of bikes, that puts the Niner suspension design in the same basic zip code as VPP, DW-Link and Maestro. Each of the designs is very distinct, but they fundamentally purport to do similar things; namely, harness chain tension created by you mashing pedals, to combat the unmitigated monkey motion that would otherwise occur when you mash those same pedals.
It's still a bit early in my riding of this bike for me to testify on high about how the thing rides, but my initial impressions are that it sits mid-pack in terms of pedaling efficiency, a bit crisper than Maestro and less efficient than either VPP or most DW-Link designs (which, to be fair, are all tuned differently based on what each brand wants Weagle to wring out of the kinematics).
I found the Niner's climbing performance a hair more sensitive to sag (that is getting sag perfectly right) than other brands. I initially ran the shock with 30 percent sag because that's about where I generally run aggressive trail bikes and, since we're being blunt, because I'm also in that pale and slightly squishier-than-ideal, early-spring physical condition. Anyway, the rear suspension definitely squatted more than I'd like on the climbs when I ran that 30 percent sag. Sure, setting the Monarch rear shock into it's mid-level compression setting (the RockShox equivalent of "Trail" mode) muted that problem significantly, but I prefer to run my rear suspension open on the chunkier sections of climbs, so I was feeling the bob. After adding a few PSI to the RockShox Monarch shock (so that I was sitting pretty at 25 percent sag), the RIP 9 was climbing like a champ, even when run wide open. It's hard to believe that a mere five percent difference in sag could make such a sea change in this bike's manners, but that it did.
Niner did a nice job on the spec. A lot of companies will equip a bike like this with decent parts that are just a bit out of their element in tough conditions—components that are better suited to a less aggressive rider and bike. Niner, thankfully, didn't go that route here. The bike gets a Fox 34 fork, decently-fat tires (Schwalbe Nobby Nic 2.35s), a healthy 180 rotor up front, and nice, wide bars (780 millimeters). And, yes, it's chainguide compatible. I know, small details, sure, but it's nice to see someone paying attention.
As for drivetrain, it's a Shimano SLX party with the exception of an XT rear mech and a Deore front derailleur. For wheels, you're looking at a house brand set of hoops which feature reasonably wide (22.5-millimeter internal width) rims. My only addition to the bike was the old, crusty KindShock Supernatural dropper post. At this price point, you're generally getting a rigid post and, yup, Niner specs a garden-variety alloy model.
We'll see how the Niner fares over the long term. Look for a full review in an upcoming issue of Bike.