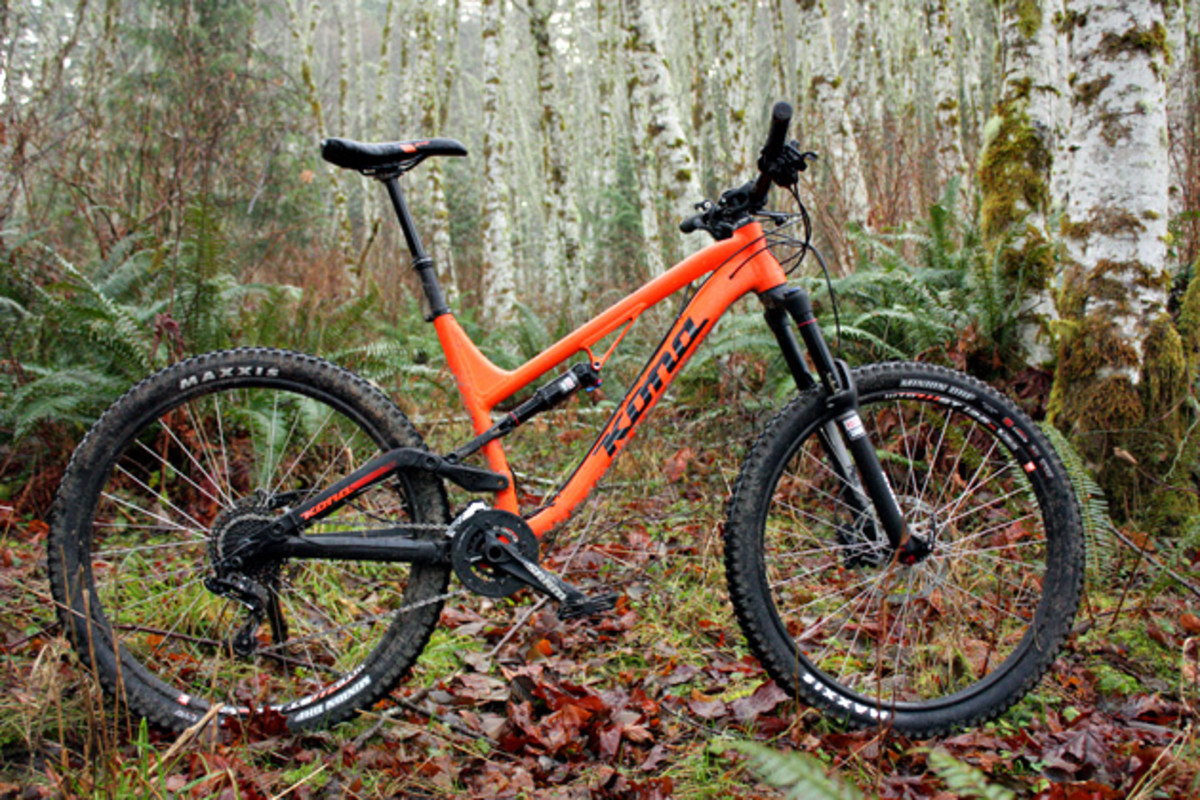 By Vernon Felton
Kona made waves last season with the debut of their Process line—three different bikes, three different travel packages, but one overriding common denominator: a personality that's playful and aggressive. Kona achieved all that by equipping each Process model with a low-slung frame, long top-tube, short chainstays, a stubby (40 millimeter) stem, a ton of standover clearance and relatively slack geometry. Bottom line: the Process bikes feel incredibly capable in tight and technical conditions.
THE ALL-MOUNTAIN VERSION
This is the six-inch (153 millimeters, to be precise) travel iteration of the Process line. There are two 153 models for 2015—this base-level version, which retails for $3,500, and the deluxe 153 DL, which carries a higher ($5,000) price tag and a swanker parts kit. Now, having said that, the 153 here carries a pretty impressive bundle of components.
Let's look at the big-ticket items: fork, brakes and wheels.
BITS AND PIECES
Kona picked the excellent RockShox Pike RC to spearhead the party. Light, yet stout, it's the perfect choice. While $3,500 isn't inexpensive by any measure of the word, you often find underwhelming forks at this price point, which is always a massive let down since high-quality forks often sell for as much as a grand. Upgrading your fork is always a pain in the pocket book. Kona, however, set the Process up with a fork that requires no upgrading whatsoever. Nice.
When it came to brakes, Kona played it safe, spec'ing the bike with low-end Shimano Deores. When I say they played it safe, I mean they picked an inexpensive brake that is short on frills (there's no adjustable lever stroke feature or even tools-free reach adjust), but long on reliability. Truth be told, price point Shimano brakes (and there are a ton of them out there) are one of the best-kept secrets in the dirt world—they flat out work. Decent power. Decent modulation. Excellent durability. In short, you lose easy, on-the-fly adjustability and you wind up carrying a few extra grams, but you gain a reliable, consistent brake. As far as trade offs go, it ain't a bad one. Kona wisely outfits this bike with a 203-millimeter rotor up front and a 180 in the back—there's enough power here for the bike's intended purpose. It's always nice to see product managers paying keen attention to all the little (yet vital) details.
For hoops, Kona chose WTB i25 rims mated to Shimano Deore hubs. WTB has gained massive spec with their i23 and i25 rims and there's a good reason for that—it's another reliable and durable choice. As the name implies, these rims sport an internal width of 25 millimeters; that's not as sprawling as some of the uber-fat rims on the market, but it is plenty wide enough to mate well with fatter (think 2.5-inch) tires. As for hubs, again, you won't walk into a bar and start bragging about the degrees of engagement or awesome chainsaw noises emitted by your Deore hubs, but these roll just fine and rarely complain.
The upside of the less-than-boast-worthy hubs and the reliable-but-not-flashy brakes is that the Process sports a solid frame, great fork, good shock (RockShox Monarch RT), solid SRAM X9/X7 2×10 drivetrain and an excellent KindShock LEV Integra dropper post that boasts 150-millimeters of "infinite" travel adjust. It's a smartly spec'd bike that prioritizes performance over flash.
ON THE TRAIL
I rode the 2015 Process 153 DL, the pricier sibling, at this year's Kona dealer launch in Bellingham. I'd tested the shorter-travel 29er Process 111 and the mid-travel Process 134 already and was impressed by how the longer travel 153 managed to combine the forgiving nature of a six-inch travel bike with the playfulness of the shorter-travel bikes. It's a good combination.
Of course, whenever we test pricey bikes and give them glowing reviews, readers inevitably point out that "yeah, no shit, it should ride well — it costs more than my car." And rightly so. This, then, is the chance to ride a bike that while not "cheap," definitely packs a lot of value for the dollar with a no-compromise frame and quality big-ticket item parts.
This is just a preview, so I'll keep this short: honestly, you wouldn't be "losing" much by going with this downspec'd version. True, it's a good bit heavier than its upscale twin, but the ride quality is fundamentally the same: a brawling yet sporty demeanor that feels amazingly dialed in chunky, twisty terrain.
"Capable" is the appropriate adjective here, and that's an obviously good thing. The Process, however, wants to be ridden aggressively—elbows bent bulldog style and your weight solidly over the front wheel. Riding passively from the seat is never a good idea on any bike, but the Process particularly punishes that kind of sloppy, fearful riding stance. You are truly centered on the bike when you ride it aggressively. Fortunately, the Process 153 has a capable feel that encourages you to pilot the bike precisely that way.
Kona's engineers spent a lot of time trying to figure out how to configure their suspension kinematics so that the Process would offer as much standover clearance as possible. Well, clearly they succeeded—the super-low top tube provides you with a crazy amount of wiggle room to lean the bike. The Process' Rocker Independent Suspension system is a burly contraption and while it appears to be a serious departure from what you'd find on older Konas, it is, at its core, still a fairly simple, linkage-driven, single-pivot design that moves on massive bearing hardware. In a word: burly.
Want to know more about the Process 153? You'll find a full review of the bike in an upcoming issue of Bike magazine.
More on Kona's Process line:
2014 Bible of Bike Tests Roundtable Reels: Kona Process 134 DL
Video: Inside the Kona Process