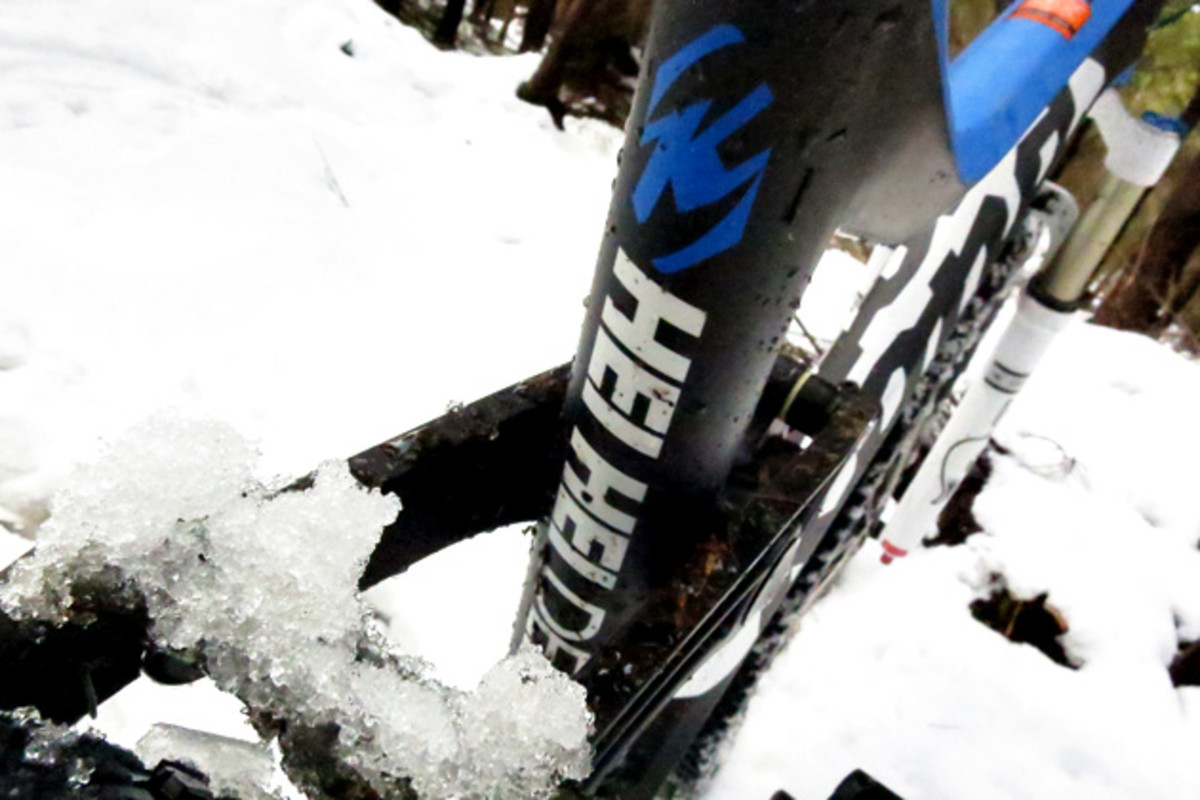 By Vernon Felton
The Hei Hei has been in the Kona line-up for decades now, morphing with the times. The Hei Hei has taken the form of (among other things) a titanium hardtail, a short-travel, aluminum full-suspension bike and, in this case, a 4-inch travel carbon 29er. But while the trimmings have changed over the years, the Hei Hei's mission has remained constant: Go fast. At its core, the Hei Hei has always been a race whip and the latest incarnation carries on that tradition.
The model you see here is the Hei Hei Deluxe—the second from the top model. As such, it sports a carbon frame and a mix of both high-end and mid-level components. If $4,000 is too rich for your blood, it's worth noting that there are four bikes in the line, including two all-aluminum models. The base price Hei Hei sells for a very reasonable $2,000.
But back to the bike in question. The 2014 Hei Hei Deluxe sports a full carbon frame (which is actually a rarity at this price point) kitted with a mix of Shimano SLX (brakes, cranks, shifters and front derailleur), Fox suspension bits (CTD Evolution shock and Float 32 Float CTD Evolution fork) and Stan's ZTR/Shimano SLX wheels.
If you're familiar with Kona suspension bikes of the past, you undoubtedly recognize the walking beam "four bar" design. Kona is calling it the "Beamer Independent Suspension" system now and, interestingly enough, it's what they use for both pure gravity bikes (the Operator and Entourage) as well as the very cross-country Hei Hei rigs.
I'm just getting to know the Hei Hei Deluxe, so I'm not going to lay down any final thoughts here, but a few things immediately caught my attention during the past week on the trail.
FAST, YEAH, BUT FUN TOO
A lot of race bikes have a fairly narrow range in which they excel. To wit, if you aren't pinning it on a relatively buff course, some of those bikes are about as fun as donating blood. This, of course, is understandable—they are race bikes, after all, and racing generally isn't concerned with smelling the roses: It's about gritting your teeth and putting the hammer down and tasting blood. Fair enough.
Well, the Hei Hei can do the race thing just fine, but it's also actually fun to ride. The Hei Hei is surprisingly capable in technical conditions for an XC rig, which leads you to push it a little harder and to tackle trails that you might not normally consider when your in an XC/number plate/zone training frame of mind. Cool.
I tested an older iteration of Hei Hei 29er and wasn't terribly impressed with it (particularly with its long rear end). This bike is a whole 'nother kind of machine, and I mean that in the best possible way.
BRILLIANT SPEC
I know, four grand ain't cheap. It's not affordable. It's not the deal of the year. I get that, but there are carbon frames that sell for nearly three grand. You get the whole enchilada here for a grand more and none of these parts are bargain bin, disposable widgets.
Shimano SLX flat-out outperforms the competition, dollar for dollar. It's freaky how good this stuff is. The product manager did a great job of putting SLX in the right spots and using the leftover cash for top-tier bits, such as the Fox rear shock and fork. There are simply no short cuts anywhere. Through axles front and rear. Great hubs (SLX again) and good brakes. The Hei Hei Deluxe ain't cheap, but it is a good value. Kudos to Kona on that score.
Look for an in-depth review of the Hei Hei Deluxe in the June issue of Bike magazine.