Ibis' all-new Mojo HD3 proved to be one of the most highly regarded bikes in our 2015 Bible of Bike Tests issue. That's no mean feat. We load that particular edition of the magazine with some of the best bikes on the market. So, when a number of testers go on record saying that a particular bike was on their "top three" list, that's saying something.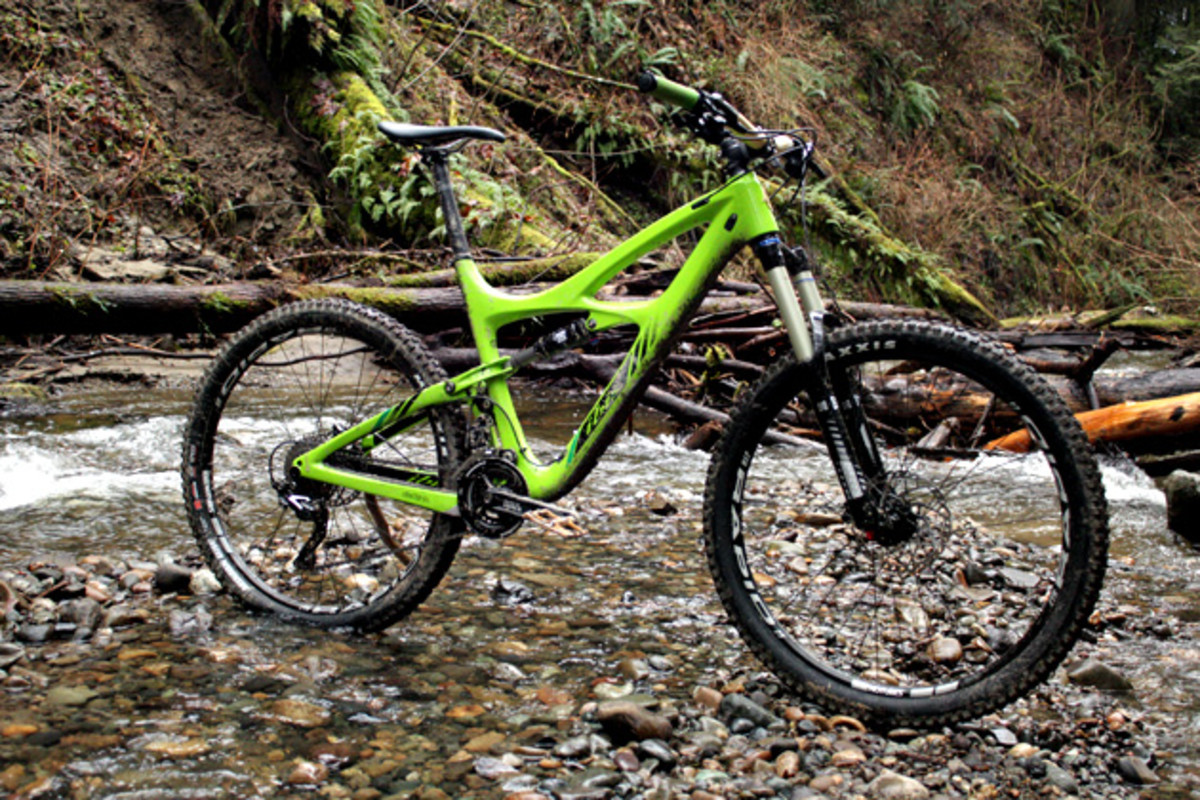 Then again, the particular Mojo HD3 that we tested in the Bible of Bike Tests issue was pimpalicious—Ibis carbon wheelset, Fox 36 fork and SRAM X01 drivetrain. When a bike sells for $7,540, you just kind of expect it to leap over tall buildings in a single bound. Anything that costs that much should be downright amazing.
So, now consider this particular bike: the Mojo HD3 frame sells for $2900. When you add Ibis' Special Blend component kit to the mix, the whole bike sells for $3,950. Hot. Damn. Let's put that another way, for $1,050 more than what the bare frame alone costs, you get a completely-built Mojo HD3: wheels, fork, rear shock, drivetrain, brakes..the whole enchilada.
HOW THE HELL…?
So, here's the deal: Ibis offers a few models (including the Ripley) with "Special Blend" component kits. "Special Blend" is essentially the gateway drug to getting into a full-carbon Ibis. In this case, you get the same carbon HD3 frame, but it's hung with an X-Fusion Sweep RL fork, X-Fusion 02 RLX rear shock, Stan's ZTR Rapid 650b wheelset, Shimano Deore brakes, Deore/SLX drivetrain and Race Face Respond (24/36 with a bash ring). There are a bunch of Ibis-branded components as well (seatpots, bars, stem and saddle).
In short, you are not scoring a RockShox Pike or Fox 36 fork. You also forgo the Fox (or Cane Creek DBinline) rear shock that graces the higher-spec versions. There's no super-swank carbon wheelset here. Then again, you could easily spend a grand on a great fork for this bike. For the same amount of money, the Special Blend kit nets you every widget you need to roll on down the trail. It's a crazy proposition. The question is, does it actually make any sense? In the name of Science, we got one to test and have been running around on it these past couple of weeks. But before I get into the whole first impressions thing, we should get back to the whole "new and improved" thing, because the Mojo HD3 is a different beast than past Mojo HDs you may have ridden or seen.
I went into this whole "Look a new Ibis!" story a ways back. If you want the full monty, check this story out. But here's the short-and-sweet version. This is the third-generation Mojo HD. It features 650b wheels and 150-millimeters of DW-Link suspension. More to the point, it's a total re-design of the Mojo HD.
HERE'S WHAT CHANGED ON THE MOJO HD

The Geometry
• 67-degree head angle with a 150-mm fork (66.6 degrees with 160 fork)

• Chain stay length: 16.9"

• Bottom Bracket height of 13.4-inches
The Frame

• DW-link, Version 5–the most advanced version of the dw-link suspension to date

• 6 inches of rear wheel travel

• 5.9-pound frame weight (size Large, matte-finish, with shock)

• Room for up to a 2.4-inch rear tire, depending on brand and height of cornering knobs

• Very clean, internal cable routing including internal dropper routing.

• Optional polycarbonate downtube cable guard

• 12 x 142-mm Maxle rear axle

• 160-mm post mount left dropout, carbon fiber

• Dual-row, angular-contact bearings on the drive side of the lower link that have less play than standard sealed bearings. Preload adjustment is not necessary. Large 28mm x 15mm x 7-millimeter radial bearings on the non-drive side for stiffness and long wear

• Removable, direct-mount front derailleur mount for a clean 1X look
Tons of Build Options

• Nine different build kits—from bargain to bling
(this being the "bargain")
• Optional shock upgrade: Cane Creek DB Inline

• Optional fork upgrade: Fox 36 (160-mm)
ON THE TRAIL
As I mentioned earlier, this wasn't my first rodeo aboard the Mojo HD3. I had a chance to pilot the bike at the Bible of Bike Tests in Bend, Oregon. At the time, the bike struck me as an excellent all-rounder. The geometry is steeper than what is quickly becoming the norm in the enduro/all-mountain world. That's not to say that a 67-degree head angle is anything remotely "steep", but in a world of bikes rolling out of factories with 65 and 65.5-degree head angles, it is steeper.
So what the hell does that mean? Well, no bike can be reduced to a single statistic on a geometry chart. It's pointless to suggest that you can tell how a bike is going to ride simply because of its head angle, but the Mojo HD3 is, in fact, a quicker-steering all-mountain bike than, say, the new Giant Reign or Yeti SB6c. When we were descending the Edison Lava Trail in Bend, I preferred the feel of the slacker bikes, but could see how the Ibis would be a better all-purpose machine for a lot of riders—particularly people who aren't "pinning it to win it" on super gnarly downhill courses and are looking for a bike that strives for more of a balance between climbing and descending. My review said as much. The past three weeks aboard this bike have only cemented that impression. The bike, frankly, is more nimble than our original test course suggested. I've been riding the Mojo HD3 on a mix of steep, rocky descents, wide-open fireroads, tight "east coast-style" singletrack and everything in between. The Mojo HD3 handles the lot of it like a champ. It's as easy to maneuver in tight conditions as plenty of cross-country bikes.
CLIMBING MACHINE
As ludicrous as this sounds, the Mojo also outclimbs plenty of cross-country bikes. No, I'm not making that up. This thing is a holy terror. I climbed our test loop in Bend with the shock in its wide open ("descend") mode. I didn't feel the need to use the little blue lever to reduce suspension bob. That's been true on this Special Blend-edition as well. Kudos to Dave Weagle on this iteration of the DW-Link. The Mojo HD3 has just the right amount of anti-squat: it stays high in its travel, moves on out with minimal bob and yet still offers up good traction on rocky climbs. For a bike with six inches of travel, it's freaky how well this thing gains elevation.
THE BARGAIN KIT
That's the big picture stuff. It's too early to weigh in on the quality of the X-Fusion components which, in my opinion, take a bit longer than Fox or RockShox to properly break in. I've rattled on and on already about how much bang for your buck Shimano Deore brakes offer, so I'll spare you that rant. Let's put it this way: I swapped out the narrow (710-millimeter handlebar) for something more my size (780), I installed a dropper post and I haven't looked back since.
I'm not overwhelmed by how awesome the Special Blend components are, but I honestly haven't spent any time cursing any of them either. While that may not sound like a ringing endorsement, I honestly anticipated some crappy shifting, spongy brakes and downright shitty suspension performance and none of those ills have reared their ugly heads as of yet. And, for the record, I am pushing this stuff hard. I am not easy on parts. At the risk of premature gushing, this just might be the best bang for your buck that you can wring out of a full-carbon, all-mountain bike.
Well, so far, so good. We'll see how it all fares in the long run: long-term durability tends to be the bane of more affordable component kits. Stay tuned for a full review of the Ibis Mojo HD3 in the pages of Bike magazine.