Giant is probably best known as a "bang for your buck" kind of brand, which is a bit misleading. That's not to say they don't deliver on that score. But whenever I hear "bang for your buck," I immediately substitute that term with "Probably ugly as sin and not much of a performer, but at least it's affordable." And that's where Giant departs from the script. The company also has a track record for delivering bikes that can go head to head with just about anyone's big-dollar models.
GIANT TRANCE ADVANCED 27.5 2 | $3,650 | GIANT-BICYCLES.COM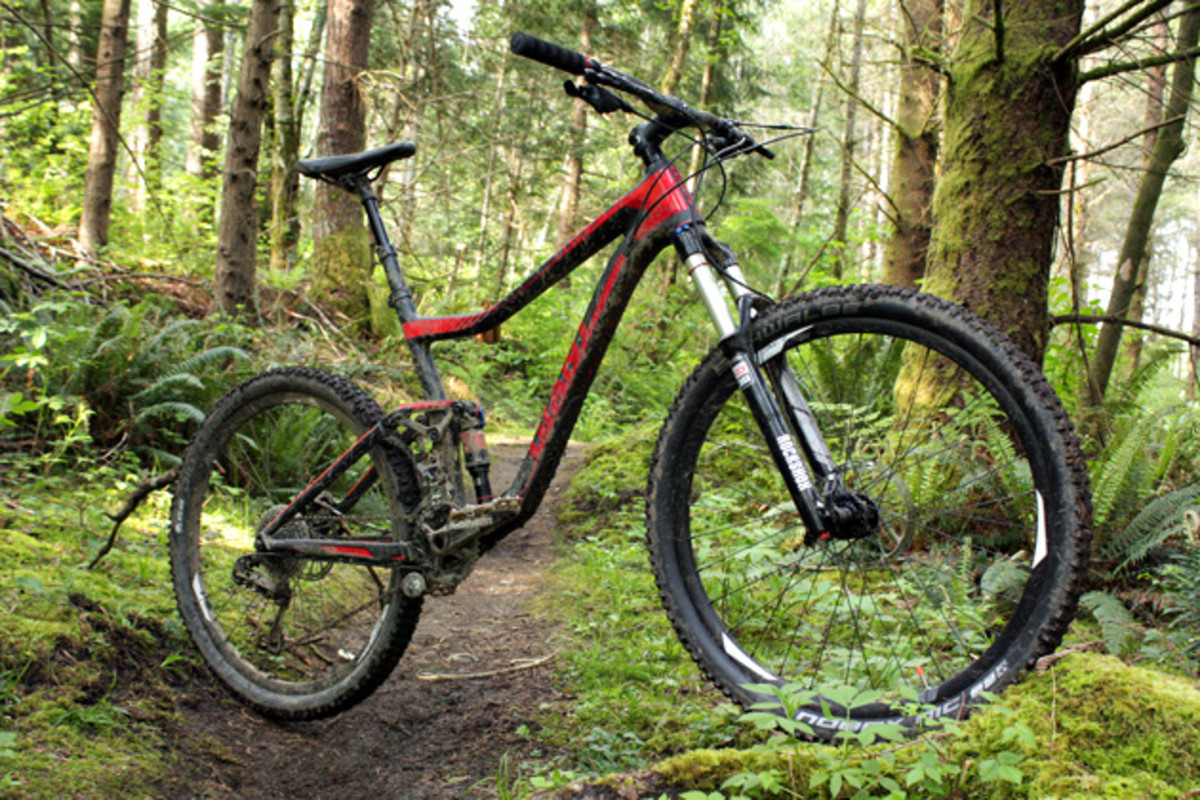 The Trance Advanced 27.5 2 is a good example. The bike features the same half-carbon/half–aluminum frame as their $7,750 flagship model. Sure, the RockShox Monarch RT is slightly downspec'd from the RT3 version, but "slightly" is the key word here. I'm no stranger to the frame—I picked the same one as the chassis for my "dream bike" last year. The 5.5-inch travel frame is decidedly capable—you can run it as an aggressive trail bike and with a few tweaks run it as a full-on enduro race rig, as Adam Craig and company did until the Reign received its 2015 re-boot.
So, yeah, versatile. This model here is the most affordable of the carbon versions and you won't find many complete carbon-framed bikes at this price point. If $3,650 still sounds too rich for your blood, Giant's aluminum Trance models roll out of shops for as little as $2,175. That said, this bike is worth saving up for. For starters, it comes well equipped, so there's little need to upgrade. Highlights include the excellent SRAM Guide R brakes, SRAM X7/X9 dual-ring drivetrain and Giant's own Contact SL Switch-R dropper post. Giant saved money by spec'ing the bike with a RockShox Sektor RL fork, a rash of Giant-branded cockpit components and a set of the company's own hoops.
Bluntly speaking, the fork and wheels get the job done, but there's no denying that you can do better. They are also far from inexpensive, as far as upgrades go, but neither the Sektor fork nor the house brand wheels are actually shoddy. The fork simply lacks the control and stiffness of RockShox's Pike fork and the wheels could lose some grams. That said, I'd run both of them into the ground for a couple of seasons before I worried about upgrading them—it's not as if this bike is saddling you with dogs that need to be dragged out back and put out of their misery.
And then there is the rest of the bike, which frankly, holds its own against far more expensive bikes. There are quicker climbers in this class, but the Giant is not far off the mark from the best and the traction is outstanding, thanks to the bike's outstanding small bump compliance. On descents…well, this is just a preview, so I'll just say the bike is capable of being rallied very hard. These new Trance 27.5 models are far better descenders than older Reign models and decidedly snappier when you get on the gas.
I'll forego the nitty-gritty ride impressions on this bike until the full magazine review, but I'll leave you with this: I was running around on this bike for a couple months thinking that it was selling for $4,650—I'd had a brain fart at some point and that was the number that was rattling around my skull. Anyway, the entire time I was thinking, "Well, the fork should be better at that price, but this Trance is still a good deal." Then I realized, "Wait—the bike sells for a thousand bucks less than that. Holy. Crap. I mean, if you just wanted to buy this frame alone, you'd spend $3,250. Sure, you get a Monarch Plus shock when you go the frame-only rout, but in my book, this is clearly one of the best deals of the year—same high-end frame, full kit…just four hundred more bucks. No brainer.
Check out the full review in an upcoming issue of Bike Magazine.