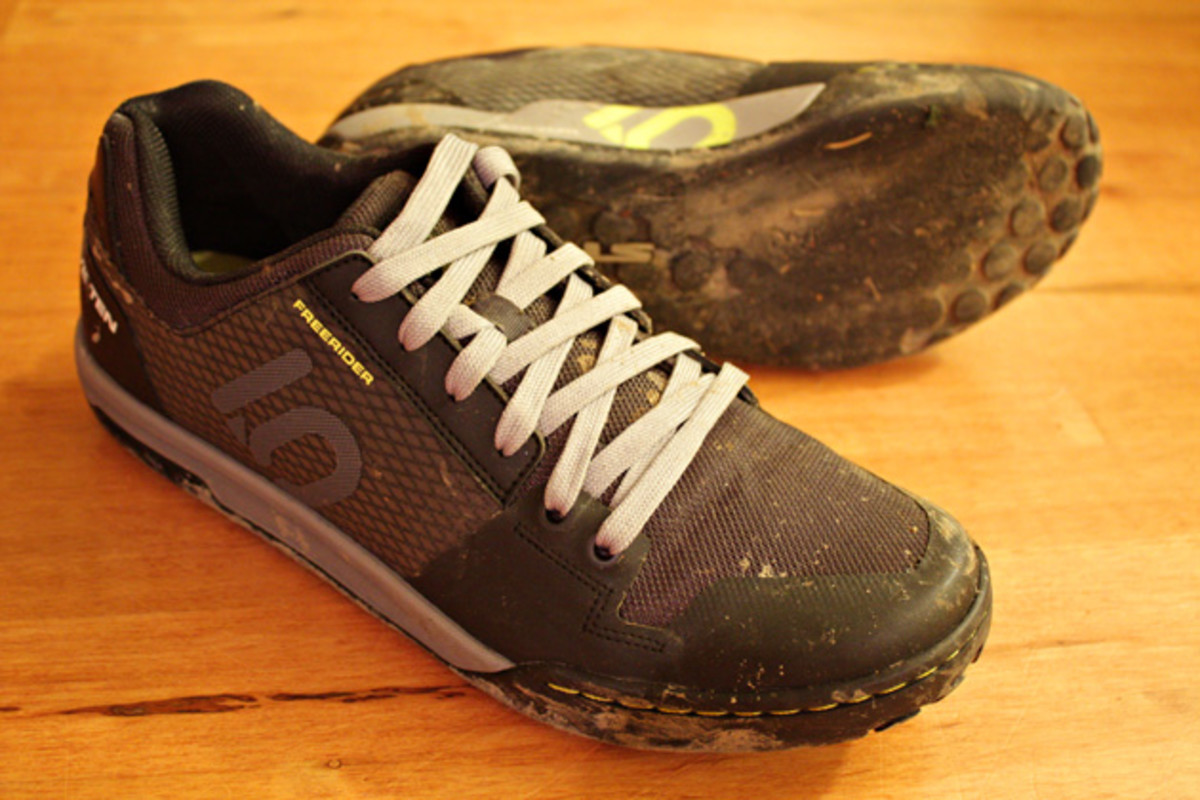 Five Ten Freerider Contact | $125 | fiveten.com
By Vernon Felton
People either love Five Ten's super grippy soles or complain that Five Ten's flat-pedal shoes are just too damn sticky. When you wind up actually removing traction pins from your pedals in an attempt to create a little less friction…well, that kind of says it all.
Me? I can't ever have too much traction—particularly since I spend two-thirds of the year flailing about in the mud. That said, while I love the bomber build and unbelievable grip of Five Ten's Impact shoes, there's no denying that the things weigh a ton.
Five Ten realized that plenty of riders wanted a flat-pedal shoe that was better suited to all-day, "all mountain" style riding and responded a couple seasons ago with the Freerider VXi. The Freerider VXi was much lighter than the Impact. The most noticeable departure, however, was the sole—a big portion of which is devoid of tread. Think of it as a semi-slick version of a Five Ten.
For 2015, the Freerider VXi gets a name change (it's now known as the Freerider Contact) and a few subtle updates. It's mostly material improvements. The synthetic uppers have been improved with an eye towards reducing the amount of water the shoes sponge up in a rainstorm. The toe box gets a bit more wiggle room as well. The shoe also gets a full Mi6 rubber wrap around, for improved durability and grip.
Now, speaking of grip, the Freerider Contact will not be your go-to, wet-weather shoe. Traction while on the pedals is still awesome. It's amazing: You look at that giant, bald-ass patch right where foot and pedal are supposed to make sweet love and you think, "WTF?!?" Frankly, it seems like the dumbest design move in a decade, but the truth is that Five Ten rubber is
so
grippy, that the Freerider Contacts still manage to offer a better pedal-to-shoe mating than most shoes out there. Where you
do
give up traction, however, is on hike-a-bikes. Scaling muddy rocks and roots is not a pleasure in these shoes. Not a huge surprise, really, but something to consider.
I've got a couple seasons on the previous model (the Freerider VXi) and just pulled these bad boys out of their bag. The Freerider Contacts should show up in shops later this season. In the meantime, I'm going to be giving these puppies a good flogging to see if they still merit Five Ten's reputation for durability and whether or not they truly improve on the performance of the VXi model. Stay tuned.