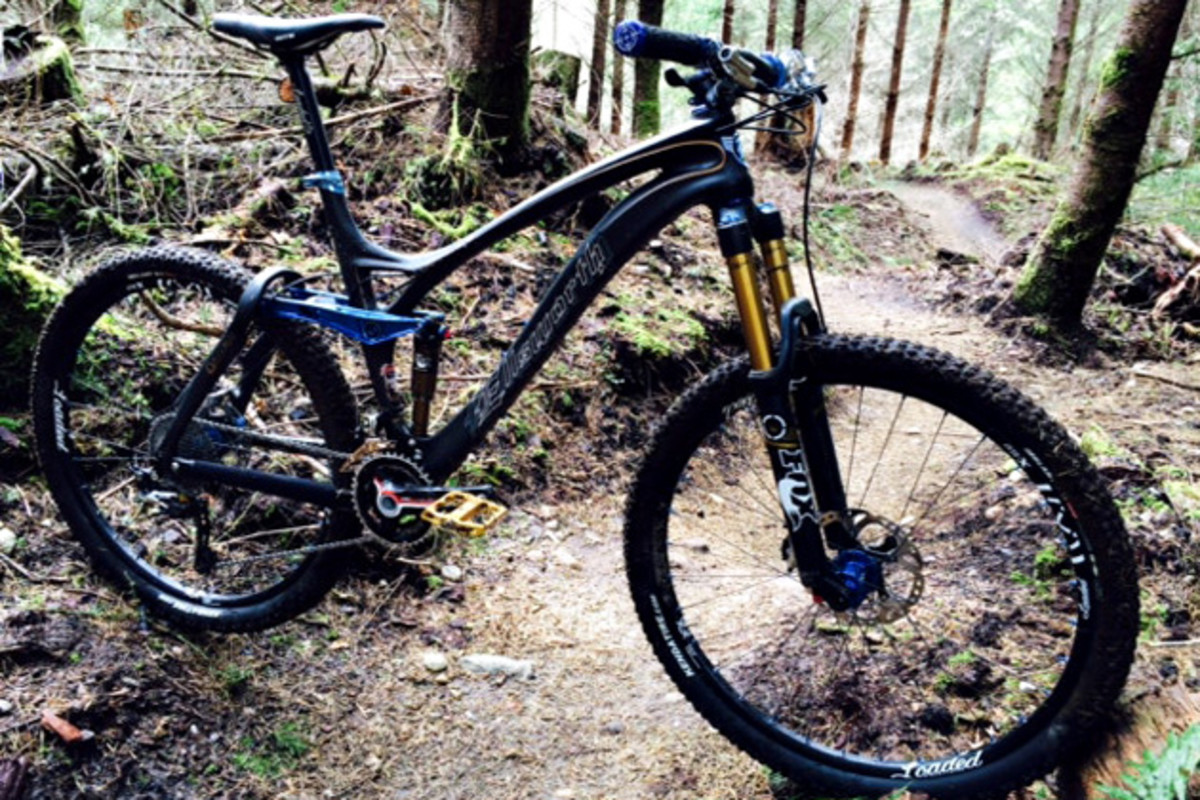 By Vernon Felton
Preview: Ellsworth Epiphany C XC 27.5
Price: $8,128 as tested ($3,095; frame only)
2014 isn't the first year that Ellsworth built a bike out of carbon, but it is the first year they offered complete (front and rear "triangles") made out of the stuff. What you see here is the Epiphany C XC, a long-legged, bantam-weight rig, which you might initially mistake for a lightweight all-mountain rig. With five and a half inches (140 millimeters) of travel at its disposal, the bike certainly has enough suspension to qualify for that category.
Sheer inches of travel, however, never truly define a bike's capabilities… or proclivities. The Epiphany C XC is less about shredding the gnar whilst making moto sounds and more about putting the hammer down and dropping the friends who mistakenly believed you when you said today's ride was going to be "just another slow day".
THE BITS AND PIECES
The Epiphany C XC is available as both a frame($3,095) and a complete bike. Ellsworth offers several build kits. This version is rocking the top-tier XTR kit. Our test model deviates slightly from the party line in that it rolls on Loaded-brand wheels (the XTR kit actually comes with Stan's wheels) and Ellsworth throws in a swank Thompson dropper post with the XTR kit.
Of course, at more than eight grand, you might be muttering to yourself, they should throw in a dropper. So, yes, this is one pricey bike. There's no way around it. In fact, this is one pricey frame, if we are going to get down to brass tacks. To Ellsworth's credit, this is a complete carbon frame. Some frames sell for a few hundred less, but come with aluminum rear ends. Making a multi-link carbon rear end tends to throw retail prices even higher into the stratosphere. All things considered, it's not a huge surprise that this frame costs as much as it does. Adding a ton of Shimano's best to the mix ain't going to help matters any. Can't stomach this sticker price? It's worth noting that you can cut the price tag in half ($4,070) by opting for the base-level build kit.
But, getting back to this particular bike… it is what it is. You want bling, you're going to pay for it. I guess the real question is really this: is this bike actually worth that much money?
This is a preview, so I'm not going to be brief. I'm saving a final verdict for an in-depth review a bit further down the line and we plan on also taking a look at how this bike compares to its brawnier sibling, the Epiphany 275 Enduro SST (which shares the same basic design, but more relaxed geometry, an aluminum frame and burlier components).
I can, however, say a few things about the rig at this point in the story….
ROCKET, MAN
First off, this thing gains altitude with ease. Tipping the scales at a mere 26.48 pounds (sans pedals), the Epiphany C XC isn't packing any fat; a fact which makes itself abundantly clear within a few pedal strokes.
Ellsworth claims that its four-bar design enables you to ride with "ZERO energy lost to the suspension." By that, I imagine they mean that all your pedaling effort is translated into forward motion. Personally, I find that hard to believe. All suspension designs exhibit some degree of squat. Some energy is going to be lost somewhere along the line and, truth be told, the Epiphany does not pedal as crisply as many of the DW Link and VPP bikes I've ridden. It is, however, not too far off the mark.
While I might quibble with the marketing language Ellsworth employs, the fact is their bike does pedal quite efficiently and that traction is good. If you live for climbs (I sure as hell don't, but some sick puppy out there undoubtedly does…), the Ellsworth is your kind of bike.
Fortunately, this bike does more than climb. I'm not going to tell you that it's a flawless and fearless descender—the geometry is too steep for that to be true, but the bike is an absolute hoot in tight conditions. The very short 43-inch wheelbase makes whipping the bike through tight corners a pure pleasure. While part of me was unnerved to find myself committed to such a head down, seat up, XC position, I actually found myself cleaning twisty sections that routinely stymie me on bike's with longer wheelbases. In short, the Epiphany C XC doesn't suffer fools who fall asleep at the wheel, but if you are on your A game, the Epiphany rewards your focus with razor-sharp handling.
That's it for now. I plan on making a few tweaks to the cockpit, throwing on some slightly meatier treads and heading out for several more rounds before I come up with a verdict. Until then…