Perhaps it's a sign of the times, but it's big news these days when a company debuts a wheelset that doesn't cost as much as a kidney transplant. Wheels have gotten stupid expensive. While Easton's $700 Heist wheels aren't going to qualify as "cheap" or "inexpensive" in anyone's book, they sell for less coin than a lot of other wheelsets around. More to the point, they have a lot going for them.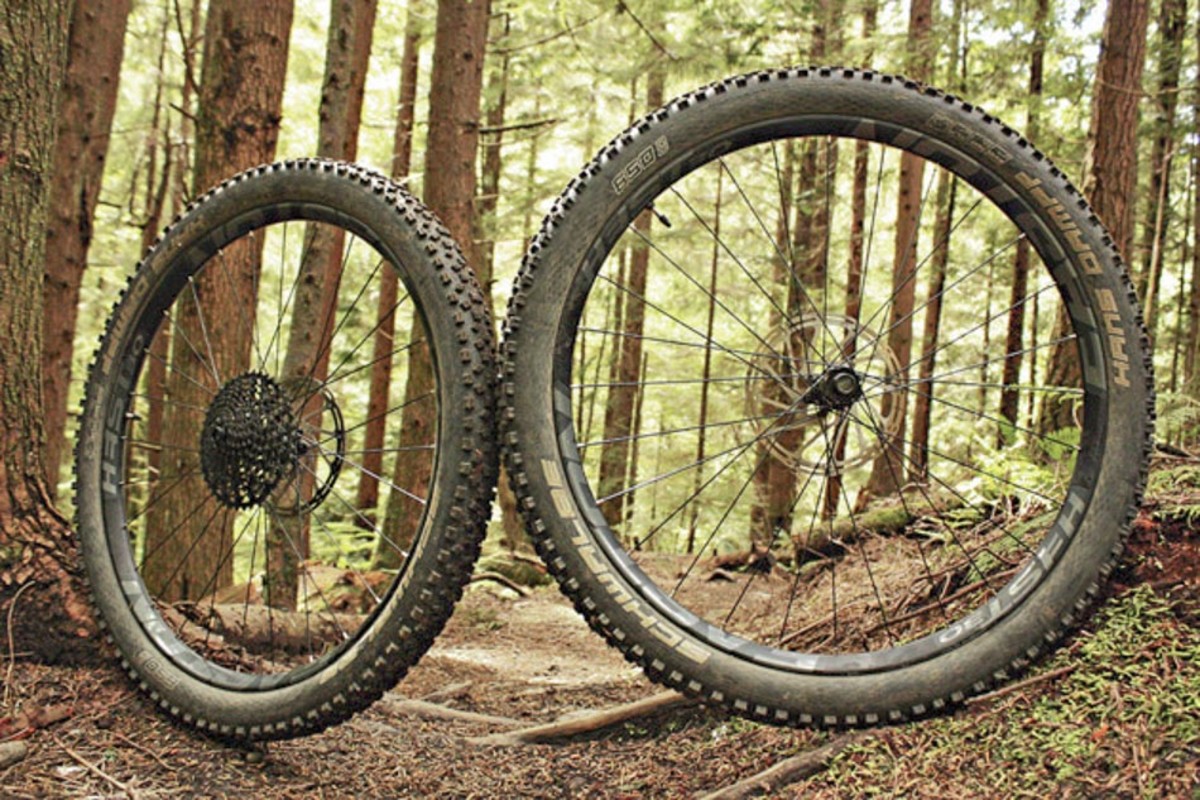 WIDE, WIDER AND EVEN WIDER
Not so long ago, Easton kind of kicked off the wider-is-better party (for lightweight wheels, at least) with their Haven wheelset. The Havens have an internal width of 21 millimeters, which seemed crazy wide at the time. But times have changed, and Easton fell a bit behind in the wide-rim arms race. Enter the Heist, which is available in three different internal rim widths: 24, 27 and 30-millimeters. If you've been stranded on a desert island for the past eight years, you might wonder why this millimeter crap matters. The basic idea is that wider rims provide better sidewall support for larger volume tires. Or, to put it more plainly, you can run those 2.4 and 2.5-inch tires at the lower tire pressures they deserve without also experiencing tire squirm when you're cornering hard.
So, which rim width makes sense for you? Easton suggests that riders with a more cross-country bent and a yen for narrower tires are going to dig the 24-millimeter version and that the spunkier and more aggressive you are, the wider you'll go. Of course, weight might be an issue for you as well. The narrower rims use less material and, no surprise, weigh less. Easton touts the complete 650b wheelset weights as 1650, 1750 and 1790 grams for the 24, 27 and 30-millimeter versions. We opted to test the 30-millimeter version of the 650b wheelset, which registered a weight of 1840 grams--with rim strips and tubeless tire valves.
Heist wheelsets are available in both 650b (27.5-inch) and 29er versions. Not surprisingly, there's no 26″ option. That news is going to piss some folks off, no doubt, but we're at a point where complaining about it is like yelling at the sky for being blue. Yes, I ride 26″ too and it bums me out as well, but I've already spent too many years slagging this whole 650b thing, so I'll refrain from flogging that very dead horse.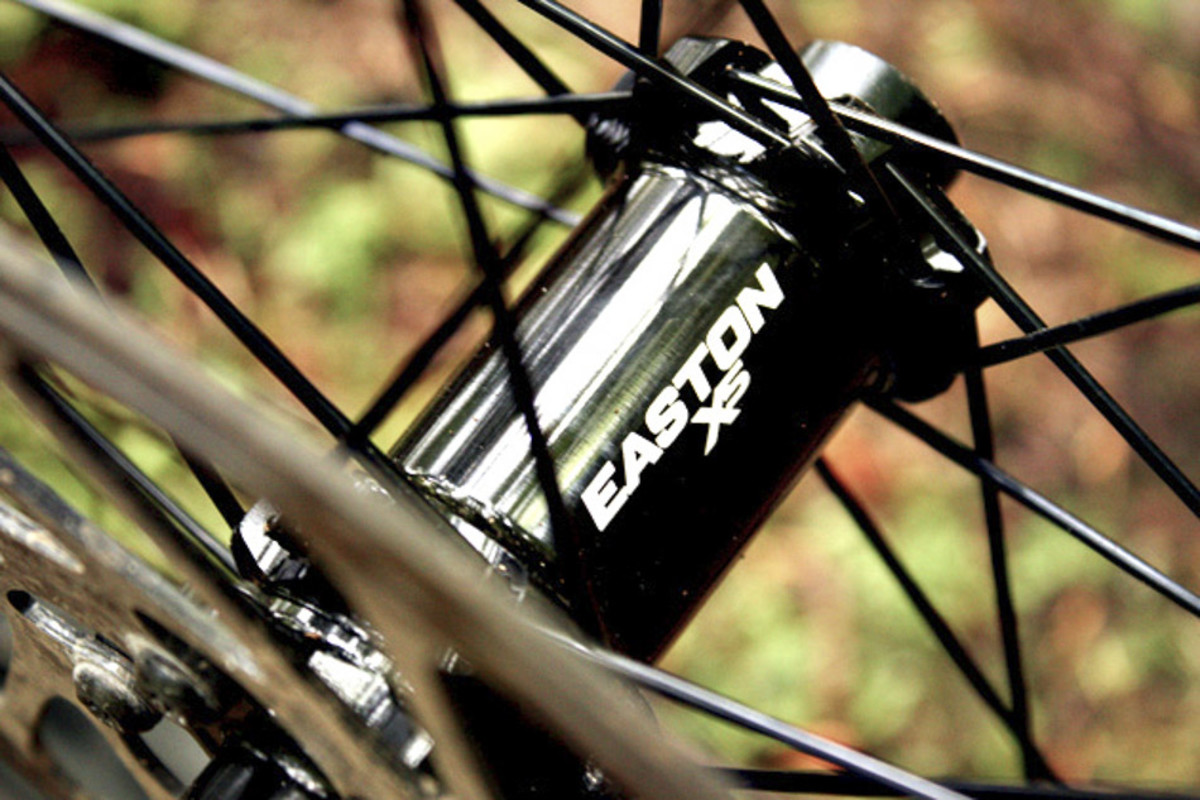 SIMPLE IS AS SIMPLE DOES
There are no fancy, proprietary, rocket-sauce-filled components on the Heist wheelsets. The formula isn't sexy, but it is reliable. The Heist rims, for instance, don't sport the fully-sealed design of the Havens. Easton went the less-expensive drill-through-the-rim bed approach. That said, the Heists are "tubeless ready" thanks to an excellent rim strip. I rarely say nice things about rim strips: I, frankly, prefer UST-style rims, but these are ridiculously easy to set up tubeless with a floor pump. By the time the needle on my pump's gauge had registered 40 psi, the tire beads on my Schwalbes had snapped into place.
When it comes to spokes, Easton went traditional: double-butted spokes, laced three cross and ending in brass nipples. Yes, they could have gone with a lighter design or equipped the wheels with aluminum nipples, but Easton is clearly going for the "brick shithouse" build here. If there's anything surprising about these hoops, it's that they don't weigh more. The Heists are dead simple--and that's not a bad thing at all. As a bonus, the wheels use the same-length spokes, front and rear, non-drive and drive side. Should you bungle something horribly out there on the trail (an inevitability), getting a replacement spoke or three is going to be a breeze. Easton makes it even easier by including five spare spokes with each Heist wheelset.
It's really the same story with the new X5 hubs at the center of the Heists: big bearings, no preload adjustment required, 3-pawls and a 21-tooth ratchet ring.
ON THE TRAIL
We went with the widest version possible. If you are all about reducing rotational weight, however, the 24-millimeter version is actually still pretty damn wide; wide enough to satisfy most hard-charging, all-mountain riders. And, at 1,650 grams, that 24-millimeter version actually weighs the same as the original 26″ aluminum Haven. Impressive.
I swapped some aluminum Havens for the Heists and the change was very noticeable. The Heists, equipped with the same Scwhalbe Super Gravity Hans Dampf tires, have a much more stable and planted feel to them. Cornering bite on the tires is more pronounced as well. I'm still in the process of dialing in tire pressure. I was previously running about 25 psi, but with the Heists the happy-point seems to be about 20.
Any issues thus far? I'm running a sorta-round tire, which squares up nicely on the Heist's rim. It'll be interesting to see how a more square-profiled tire, such as a Maxxis Minion, fares on this rim. Will it be overkill? We'll see. Additionally, there are some people who might want something quicker than the Heists' seventeen degrees of engagement, but I'm not picky in that regard.
The Heists took up residence on my bike a month ago, which means this is truly a preview. Wheels prove themselves over time-anything beyond what I've covered here would be drivel without putting more miles on these things. We'll wait until the end of the season to give you the final verdict. Stay tuned.