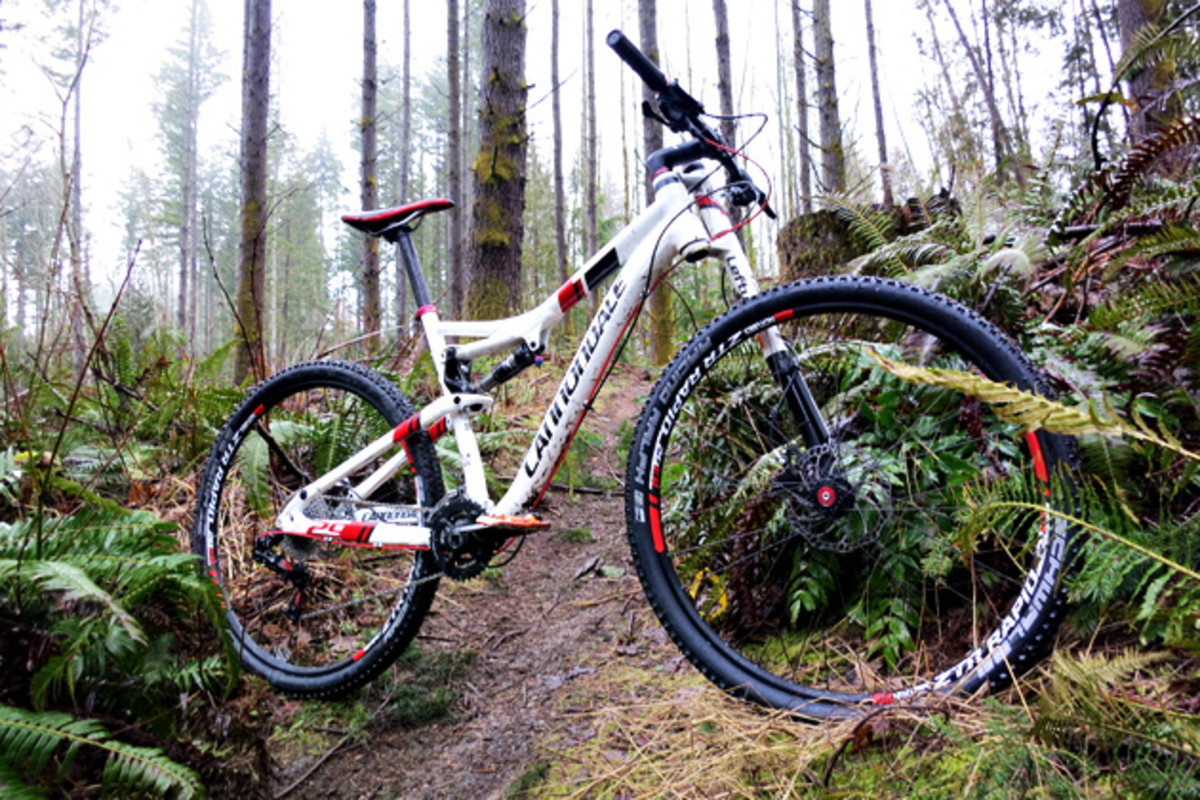 By Vernon Felton
Preview: Cannondale Scalpel 29 3
Price: $3,680
When it comes cross-country thoroughbreds, a few models always come to mind. There's Specialized's Epic, Giant's Anthem and the true OG of the cardio crowd: Cannondale's Scalpel. For the past dozen years, the Scalpel has lived up to its name—a razor-sharp tool that's all about finesse and accuracy. This was never a bike for the heavy-handed, meathead rider.
A few years back, Cannondale made the obvious choice to add 29er hoops to the Scalpel and bumped the travel up to 100-millimeters (four inches of travel). We reviewed that bike in our 2012 Bible of Bike Tests issue, in which it fairly clobbered the competition. The 23-pound race rocket was a blast to ride—blazingly quick under power and surprisingly playful. It also, however, came saddled with a $7,600 price tag.
Ouch.
So here I am, riding around on a much more affordable version of the Scalpel 29er. For 2014, Cannondale is offering two aluminum versions of their big-wheeled racer. The Scalpel 29 3 is the higher-end aluminum iteration. There are also three carbon models for 2014, with a top of the heap price of $10,830 for the Carbon Black version.
Comparatively speaking the Scalpel 29 3 you see here is a relative bargain. At least, it sure looks that way on paper. How'd it fare on the trail? Well, this is a preview—a tease, if you will—so I'm going to keep some of my cards close to my chest. There'll be a full review in an upcoming print issue of Bike, but I can say a few things.
HEAVIER, BUT STILL FAST AS HELL
The Scalpel 29 3 tips the scales at a bit more than 28 pounds (sans pedals). That's not bad, but certainly not mindblowing in the world of 21 and 23-pound XC race rigs. Having spent a lot of time on several lighter Scalpels in the past, I can say without hesitation, that the increase in weight is noticeable…but that doesn't mean this is some kind of plodding beast of burden.
The Scalpel 29 3 still moves out like it has a fire under its ass. Put a little muscle into the pedals and this thing just moves on out. In fact, it rides lighter than the scales would suggest it should. It's only when you're muscling the bike through tight corners and slow-speed, techy sections that the extra baggage becomes apparent.
FLEXY IT AIN'T
Willowy cross-country machines aren't exactly famous for their lateral stiffness. Once you start shaving material from a frame, you start inserting some noodle factor into the ride. Not so with the Scalpel 29er. Holy crap—the frame feels as stout as an all-mountain rig when your barreling through the chop and cornering hard. In fact, the frame was so stout that the flex in the Stan's ZTR Rapid 29'ER wheelset was more apparent than it might have been otherwise. At this price point, it's a good wheelset, but if I owned the bike, it would probably be the first major upgrade I 'd make a couple years down the road.
Want to know more about the Scalpel 29 3? Stay tuned for the full review.