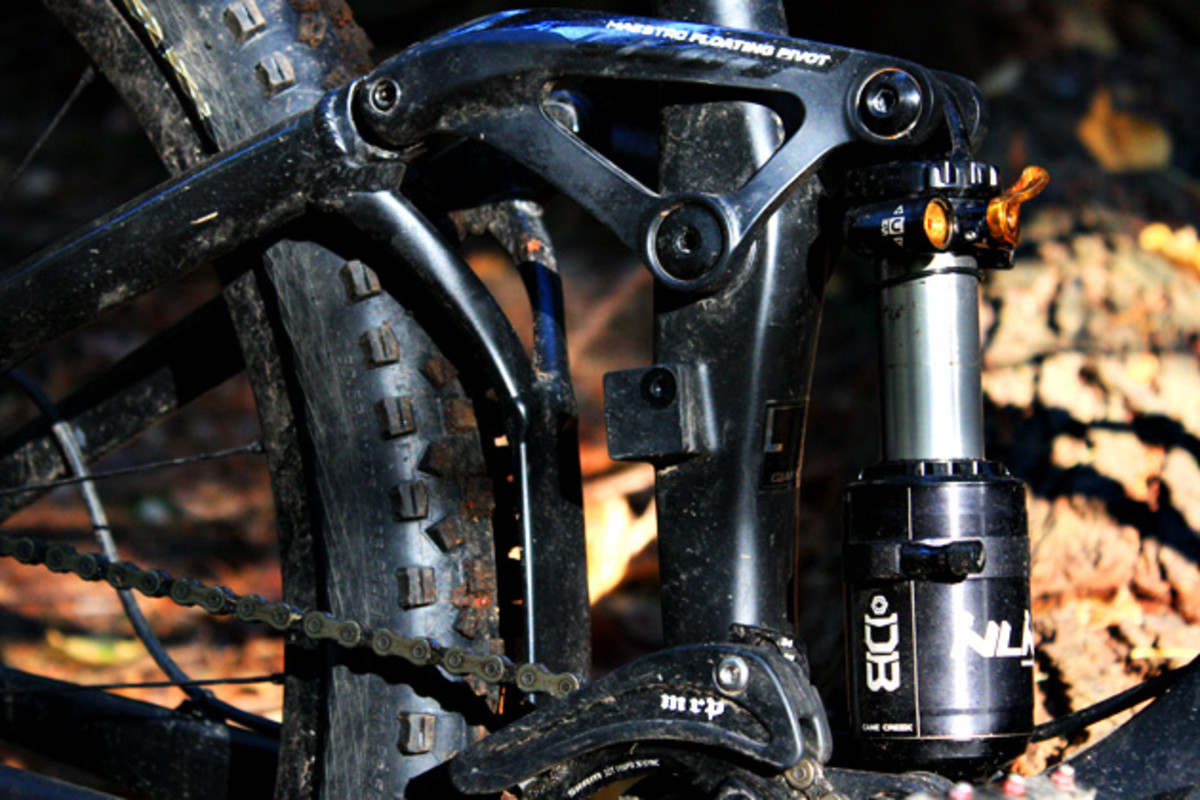 Preview: Cane Creek DB InLine || $495
By Vernon Felton
Boy, where do you start with this thing? For a little, in-line shock, there is a whole hell of a lot under the hood worth mumbling about. Let's start with the retrospective bit—Cane Creek kind of came out of nowhere a few years back with the Double Barrel—a shock that terrified luddites and set aspiring suspension-tuners into a tizzy because, well, there was no end to what you could wring out of one of those things with a wrench and some patience. In a nutshell, you've got the usual low-speed compression and rebound damping to play with. On most shocks, that's the end of the story right there. I mean, sure, you can always change spring rate and, in some cases, shock volume, but generally speaking, most people fiddle with the little red dial and the blue doo-hickey and they call it quits right there. Cane Creek's Double Barrel shocks, however, also gave you the chance to futz with the high-speed compression damping and the high-speed rebound—giving you more control of just how much control you have when your bike hits really big things at really high speeds.
Those first generation shocks, however, were a kind of set-it-and-forget it affair. You dialed in the four knobs to your liking (after some trial and error) and then you just rocked the party that way until you got bored or old. In other words, you weren't able to reach down during a climb and hit a lever that would firm things up a bit more by adding a ton of low-speed compression damping. For a lot of people, that lack of a climbing feature was a deal breaker—they wanted their bike to bob less on climbs and that required a bit more damping.
Cane Creek responded last season with the DB Air CS–which added a Climb Switch to the mix. The lever helped you get your efficient pedaling groove on, but it didn't do it by just adding a bunch of low-speed compression damping. Instead, the lever activated separate climbing circuits, specialized low-speed rebound and compression damping orifices. Cane Creek was adamant this approach added far more traction than simpler versions.
THE SLEEK VERSION RIGHT HERE
Of course, not everyone has room on their bike for a shock with a piggyback reservoir on it. Or maybe they just want to run a waterbottle. Hey, it takes all kinds. This is where the new InLine model here enters the picture. While the InLine lacks that cool piggyback, it still accommodates extra oil, which should help prevent the shock from overheating on extended descents. That, of course, is a great thing since an overheated shock is a shock that's soon to be bucking around beneath you (hot oil is less viscous and that plays hell with the damping).
The really amazing thing, however, is that this itty-bitty Cane Creek has all the same features as the full-grown versions. Have you seen the schematics for this shock? They look like a freaking M.C. Escher wet dream—the whole twin tube thing is just the tip of the iceberg. There are a ton of damping pathways squeezed into something the size of a walnut. The really crazy thing, however, is that it works.
I'm not going to go into great detail here because (1) this is a preview and (2) it's too early in the testing process, but….Twiddling about with your allen key changes this thing's behavior in all sorts of crazy ways. Of course, it makes a lot of sense to simply start with the base tune for your frame. I've used the InLine on a few 2015 Specialized Enduros and on my test rig—in both cases, the recommended base tune was damn close to what I eventually settled on. But if you get off on experimenting with your suspension, boy, this is the shock for you.
Then again… if you feel flustered by choosing between Climb, Trail and Descend (and let's be honest, a hell of a lot of riders don't even like to mess with that little, blue lever), the Cane Creek can be a lot to chew on.
But we're just getting started. There's a lot more ground to cover with this thing. Look for a review in the upcoming Bible of Bike Tests.