Editor's Note: This bike was originally published in the June 1014 issue of Bike.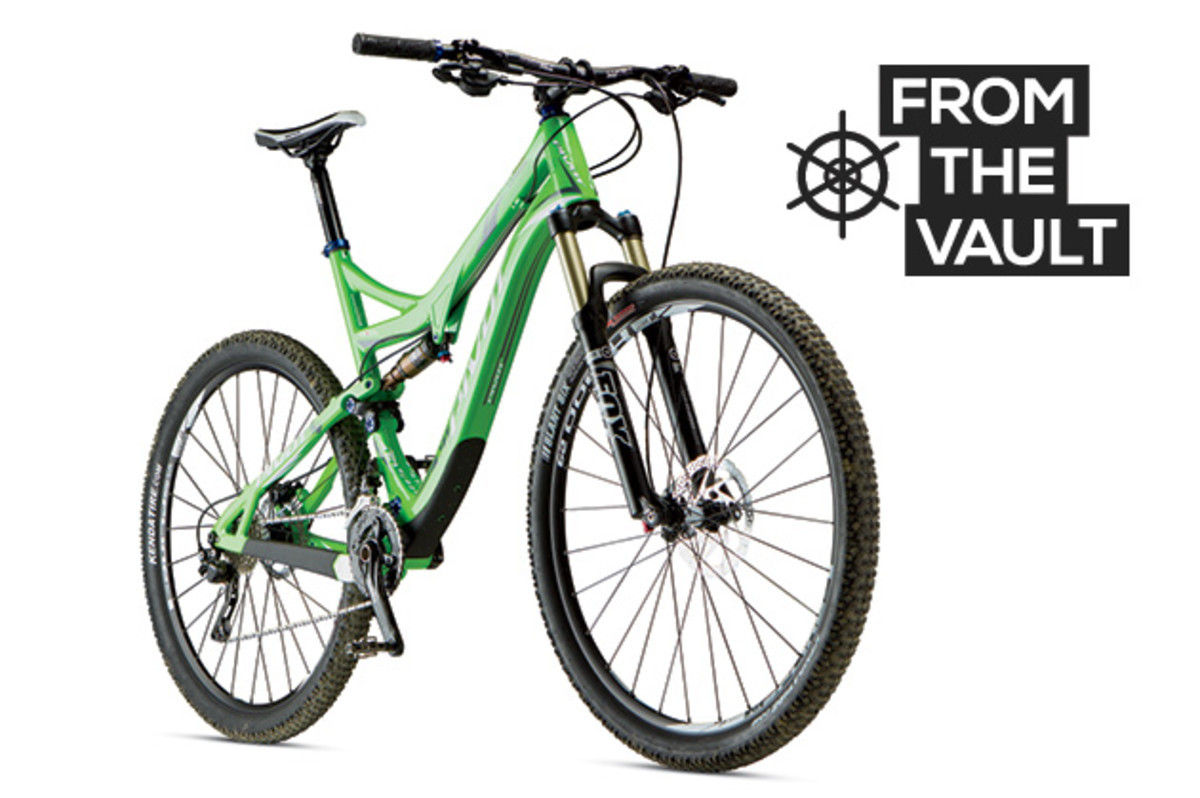 Pivot Cycles Mach 429 Carbon | $4,500 | pivotcycles.com
By Travis Engel
No bike nerd can resist scrutinizing a few things at first sight of any new frame. How's the tire clearance? Is there a bottle cage? What's the chainstay length? How beefy is it around the joints and pivots?
I got pretty excited about the Pivot Mach 429 when I first peeked around its linkage to ask that last question. The stout, snug links connect a front and rear triangle that didn't skimp on material. The rest of the bike was also applied liberally. The 120-millimeter fork settles the front end in with a speed-friendly 69.3-degree head angle, which leaves some room for those who may opt for a shorter, slightly steeper fork. Even the frame size was a little more ample than most, so new-schoolers who prefer stubby stems won't feel cramped.
Pivot offers seven kits for the 429 C, and the one I tested has a refreshing focus on value. But I wasn't too preoccupied with the bike's value the first time I lifted it out of my truck, which happened to be at the top of a descent. This particular descent was well suited for short travel, but its steep, twisty chutes are best enjoyed with the agility of smaller wheels. Its many natural and unnatural berms need to be trustingly leaned or slid into to carry speed. In these crucial moments, this bike delivered. The remarkably thick frame tubes offered a remarkably stiff, predictable feel.
And it was equally adept at getting back up to the truck. Regardless of torque or terrain, climbs were predictable and responsive, but you'd know that about this bike just by reading its ingredients–big wheels, short travel and the beloved DW link wrapped up in that stiff carbon frame make it easy to earn the name 'Mach.'
Excited by the bike's potential, I took it a few places where the sound barrier might be a little harder to break. It felt so resilient pumping through smooth turns, I chose somewhere a bit rougher. My first runs down my favorite crumpled ribbon of loose rock exposed some speed limits to be expected with the frame's relatively short travel. But after tuning in a little more sag, the rear end's natural bottom-out resistance kept me afloat through any reasonable rough section.
The 429 C has all the traits of the perfect marathon machine. It'll stack miles all day, and every one of them will be fun, especially if your favorite section of trail takes three hours to get to.