Photos by Anthony Smith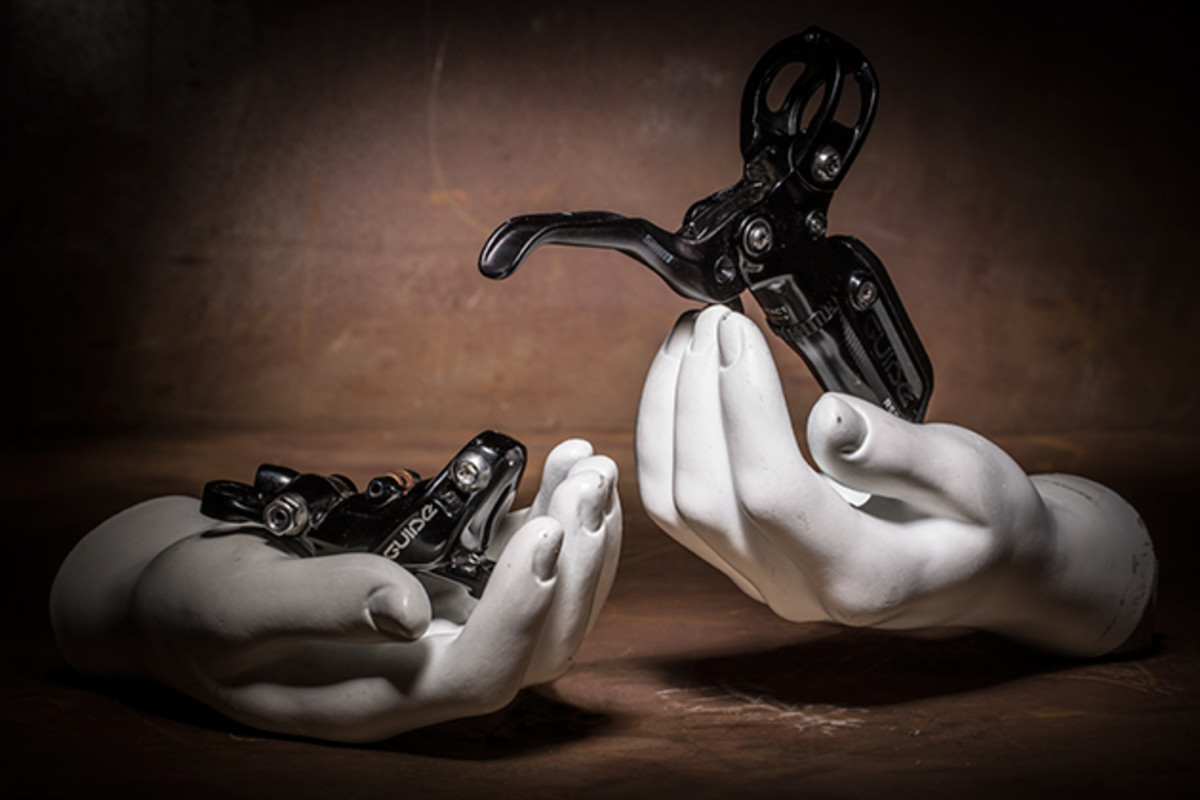 $200 Each | SRAM Guide RSC
You wouldn't think that a brake, a part whose sole job is to slow you down, could actually help you ride faster. But that's precisely what the new Guide brakes from SRAM do. The compact four piston caliper, borrowed from SRAM X0 Trail brakes, provides an incredible amount of total power. The real star of the show, however, is the new Guide lever. It does a brilliant job of modulating all that power. For all the nerdy tech talk though, check out my first impressions from the SRAM Trail House event last March where I talk about the mechanics of this amazing brake. To find out how they'll make you faster, keep on reading.
My praise for the Guide brakes came with some serious hesitation. While Avid/SRAM has made some brilliant stoppers in the past, troubles with the Elixir platform had everyone running for the reliability of Shimano. Still, as I write this, there's a little voice inside my head telling me to hold off. I don't want you, dear reader, to drop half a grand on a set of brakes just to have them fail. But I'm as sure as I can be. I've kept my lips tight for nearly a year while testing multiple sets, waiting for production bikes to roll out with Guide brakes, getting feedback from other testers, and riding the snot out of the ones on my personal test steeds. I think the Elixir blunder motivated engineers at SRAM to make the best, most reliable brake they could. After nine months on at least 15 sets of Guide brakes, our staff hasn't seen one single failure. We haven't even needed to bleed one yet. I'd say they've done it–and then some. Pad retraction is phenomenal, with less brake rub than ever before. Plus, the new Centerline rotors run quieter, and seem to resist heat warping better than previous rotor designs. The RSC model allows for tool-free reach and pad contact adjustments, which allow picky hands to fine tune lever position and throw quickly and precisely.
I'm sick of keeping my mouth shut. The Guide RSC is the best brake I've ever ridden. Period. When a set of brakes makes you a faster rider, that's a pair you want to hang on to. They noticeably increase traction by delivering crazy power with a gentle touch, allowing you to brake later into corners without skidding the tire. Have you ever tried that thing where you nose manual through a switchback? I've been practicing ever since I first saw the legendary Nicolas Vouilloz perfect the move over a decade ago. I'll never be able to do it like Nico, but the power and modulation of these brakes has me closer to nailing it every time. When a set of brakes gives you back so much traction that you consider digging out that pair of Hutchinson Python semi-slicks out from 2001, that's a pair you want to hang on to.
'Nuff said. For all the techy bits, check out this post: First Impressions: SRAM Guide Brake