This story originally ran in the June issue of Bike. To subscribe to the digital edition, click here.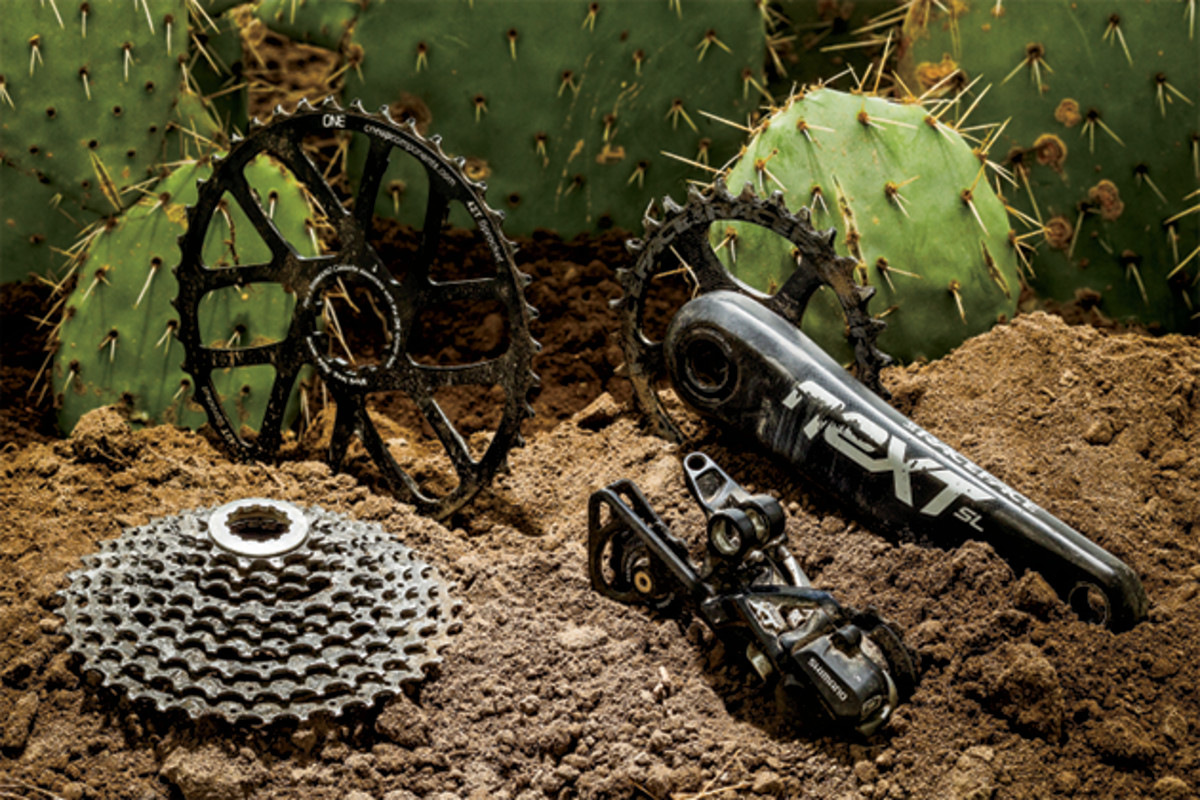 Oneup Components' 42-tooth cog one-by hack | $100
SRAM's 1 x 11 drivetrains have gained steady ground for their unprecedented gear range and simplicity, while practically eliminating dropped chains. The only fly in the ointment? Cost. At $1,250 for X01, a lot of riders haven't made the single-ring leap. Enter this gizmo from OneUp Components.
Ditch the 17-tooth cog on your 10-speed cassette, replace it with OneUp's 42-tooth cog ($100), pair it with one of the many "narrow-wide" chainrings on the market ($60 to $80) and–voilá–you now have a 10-speed, single-ring drivetrain with 90 percent of XX1 and X01's gear range, for about 12 percent of the cost.
We built ours with a Race Face Narrow Wide chainring, Shimano XT cassette, XT Shadow Plus rear derailleur and SLX shifters. Installation is a cinch, although I had to remove the washer on the derailleur's B-tension screw in order to get the pulley to clear the 42-tooth cog.
Still, I had my doubts–you're taking parts and demanding they do things they were never designed to do. Surprisingly, it still works pretty well. The XT derailleur consistently made clean jumps between first and second gears. OneUp machined 12 shift ramps into its cog to help up and downshifts. Shifting across the entire cluster, however, wasn't as fast; maxing the hell out of that B-tension screw is to blame.
The spacing between the first and sixth gears is identical on both systems. Removing the 17-tooth cog with the OneUp, however, creates an awkward gap between the 15- and 19-tooth cog, which is annoying on flat sections of trail. It's not a horrible tradeoff, but you get more evenly spaced gearing with SRAM's 11-speed 10×42 cassette.
The OneUp is made of 7075-T6 aluminum–not the most robust material in this application, but you don't need to saw away in the granny gear for miles on end, so wear is less of an issue than expected. It features wide spline tabs, which prevented gouging on my freehub body. My 10-speed XT chain held up fine, but I have greater confidence in the SRAM 11-speed chain, which is reinforced for one-by service. Speaking of chains, I never dropped mine. Credit here goes to the direct-mount Race Face ring, which is also available in a 104 BCD version.
The OneUp cog is no replacement for SRAM's drivetrains, which bang off faster and more solid shifts. It's a night and day difference. But most of us aren't made of dollar bills and gold dust, so if you're on a budget, you'd be crazy not to give the OneUp a go.
Other drivetrain reviews:
News: Shimano Announces XTR Di2