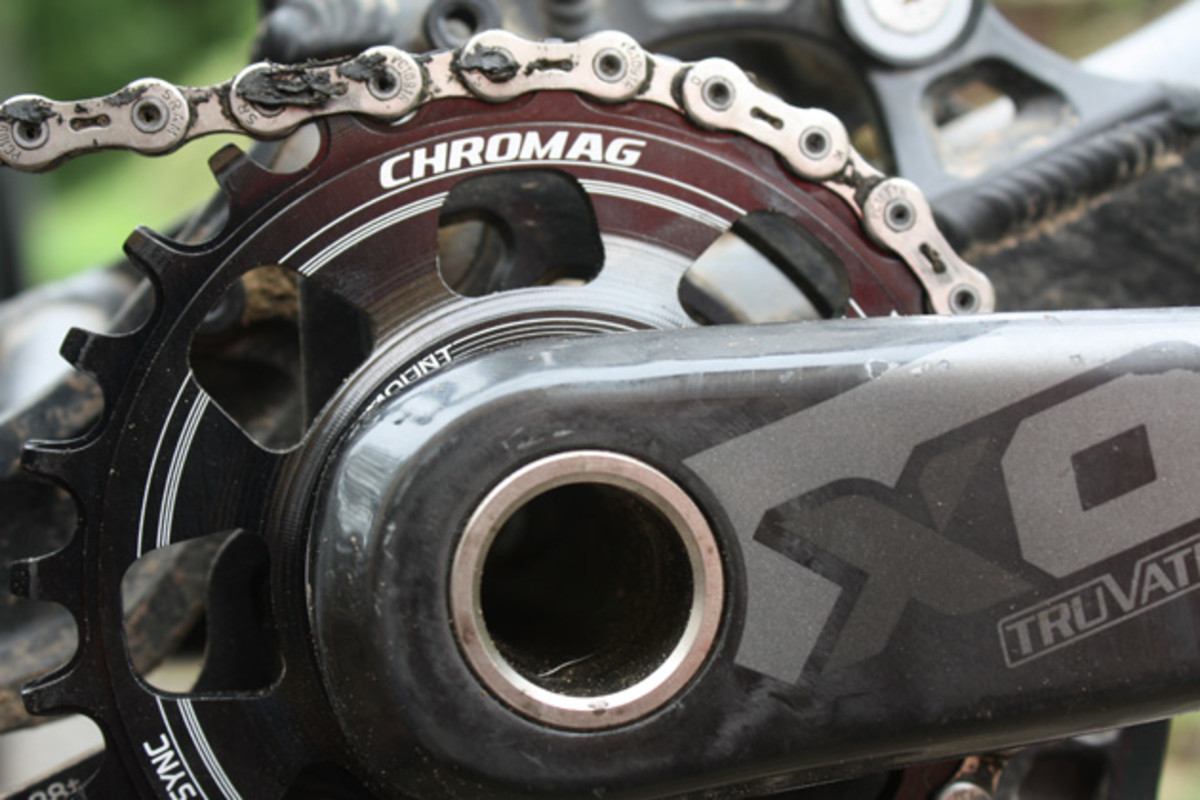 By Vernon Felton
Fire your front derailleur
For the past two years, we've been quacking on and on about how well SRAM's XX1 and X01 drivetrains work. After a couple of seasons on the stuff, I stand by that position: the shifts are incredibly precise and dropped chains have become a rarity. What's more, these single-ring drivetrain systems are enabling riders to ditch front derailleurs entirely. Maybe that doesn't sound like a big deal (or even a good idea) to you. Maybe you've been enjoying a lifetime love affair with that hunk of metal that hovers over your crankset. Me? I hate the f@cking things.
I readily admit that front derailleurs allow for an extremely wide gear range. I rarely, however, find myself actually needing that wide of a range. What's more, front derailleurs are the least precise component on most bikes … We've simply dealt with front derailleurs for so long that we've come to accept their limitations as inevitable. Examples? There's that annoying chain rub that most of us avoid by simply writing off certain gear combinations. And there's the fact that front derailleurs frequently fail to actually shift the chain while under heavy pedaling loads, which is why everyone quickly learns not to shift in the middle of a steep pitch.
Yes, I realize these are seemingly petty complaints and that anyone who has more than a single season of riding under the belts has adapted to these limitations by, well, not riding like a total kook. But is there another component on your bike that you'd accept this level of shittiness from? Are there, for instance, sections of a downhill on which your fork or disc brakes simply won't work? Of course not. That'd be crazy. But it's a kind of crazy we accept from front derailleurs.
But you aren't made of money
Well, screw front derailleurs. I've been slowly stripping them from my bike—losing weight, de-cluttering my cockpit and reducing mechanical complexity in the process. It is an awesome thing. It, however, also requires forking over cash for new parts.
If you want ultimate performance and as wide a gear range as possible from a single-ring drivetrain, the SRAM stuff is brilliant. I haven't had a chance to ride Shimano's latest 1X offering, but I'm willing to bet that Osaka didn't fall asleep on the job. You, however, probably are not reading this post whilst sitting atop a giant pile of gold bricks. In other words, you might be interested in a less-expensive option.
Here's what I propose: a series of reviews centered on budget single-ring drivetrains. To wit, how much performance can you wring out of an inexpensive set up as possible? What do you gain? What do you give up?
I'm taking my battered Slayer, removing the knackered two-by X9 front derailleur and crankset and replacing it with a variety of upgrades: one widget at a time. This month, we start with an old X0 crank and a new Chromag Sequence direct-mount ring. Total cost? Eighty-five bucks.
Why are you doing it that way?
There are people who steadfastedly argue that any ring that sports fewer than 32 teeth is appropriate only for little girls, the elderly and the infirm. I am clearly forgoing the ability to walk into a bar and brag about how studly my chainring is. Then again, a 28-tooth chainring paired to an 11-36 cassette (and 26 x 2.5 tires) gives me a low gear ratio of .78, which is actually a hair steeper than what you'd get with a 32-tooth ring and a 42-tooth SRAM granny gear.
As for how the gearing will compare with my old dual-ring set up, there's no getting around it, I'm losing a bit of both the high and the low range. I couldn't give a damn about the high gear range (my descents are not of the open, high-speed fireroad variety), but I will be moving from a .67 low gear to .78, which I may regret as I'm grunting up the next evil climb. Then again, as Morgan Taylor so succinctly put it in a recent NSMB post, sometimes you have to Harden the Fuck Up.
Last, but not least, I am initially running the Chromag ring with an older SRAM X0 derailleur. Common sense suggests that this is kind of, uh, stupid. Wouldn't chain retention be better with a clutch-equipped rear derailleur? Yes. Well, conventional thinking says it should. But how much better would chain retention actually be with a Type 2 derailleur? That's an interesting question that I wanted to answer. Besides, I'm low on cash and don't feel like pillaging my checking account for a new derailleur this week, so there.
As for the Chromag Sequence ring: Chromag bucked the trend and actually licensed SRAM's X-SYNC tooth-profiling technology. In fact, Chromag and the Accell Group are the only companies currently authorized to produce chainrings with the X-SYNC technology (RaceFace, Wolf Tooth and other companies are using their own narrow-wide tooth profiles).
Chromag machines the rings (in Whistler) out of 7075-T6 aluminum. Demand is running high for these things at present and some ring options may not be available as of press time, but here's what Chromag is cranking out:
• 30/32/34/36 tooth (104 BCD, the most common crank-arm spacing)
• 30/32/34/36 tooth (94 BCD, SRAM's XO1, X1 and XO1-DH crank-arm spacing)
• 28/30/32 tooth (74 BCD, SRAM's XX1 crank)
• 28/30 tooth (Direct mount GXP)
Pricing is $85 for direct mount rings and $80 for 104 BCD versions.
Bottom line
How will this most budget of one-by options fare? I'm getting out my lab coat, clipboard and chamois cream, and will be taking notes on how this low-cost option compares with more extensively-equipped set ups. In other words, I'll be adding a Type 2 derailleur to the mix, I'll bring a Shimano-centric OneUp XX1 hack back into play and I'll compare all of the above with SRAM's latest X1 group.
Stay tuned.