YETI ASR C | $5800 | YETICYCLES.COM
It's not every day you hop aboard a 'cross-country' bike and find yourself intentionally seeking out the chunkiest lines you can find. But during my time on the Yeti ASR C, that's all I could think about.
While the mostly buff singletrack of Central Oregon's Dutchman Flat trail system was excellent for testing XC bikes, after riding a few miles on the Yeti ASR C, I realized the 29-inch-wheeled bike was begging me to take it somewhere much rowdier. Elated, I heeded its call, inventing imaginative booters from even the smallest roots and frolicking through the forest like there was no tomorrow.
My euphoria was well founded: The Yeti ASR C is much more than just a cross-country bike, and its geometry hints at this. The 69.1-degree head angle of our test bike was steep enough to keep it obedient while climbing, but just slack enough to comfortably let loose on steep descents. So it was probably no coincidence that each of our testers said they'd like to try a beefier fork than the stock, 120-millimeter Fox Float 32 Factory in order to push the bike to its potential.
Our testers also were unanimous in noting a lack of pedaling support when climbing with the Fox Float CTD shock wide open. This tendency contrasts starkly with the ultra-supportive platform of Yeti's 'SB' line of bikes, all of which pedal beautifully with the shock completely open. But while this might be an issue for racers looking for unfettered pedaling efficiency, for us it was merely a matter of flipping the shock into 'Trail' mode and grinding it out in anticipation of the next descent.
On an aesthetic level, we admired the sheer beauty of the sculpted carbon frame, highlighted by the sexy signature curves of the chainstays (which Yeti calls 'loopstays'). The parts on this build left little to be desired, and we thought the fact that Yeti equipped the ASR C with 740-millimeter-wide Easton Haven Carbon bars revealed the company's feelings about this bike's nature.
The ASR C should appeal to a range of riders, especially considering that the extra-small and small versions come with 27.5-inch wheels, making the bike accessible to smaller riders. – Brice Minnigh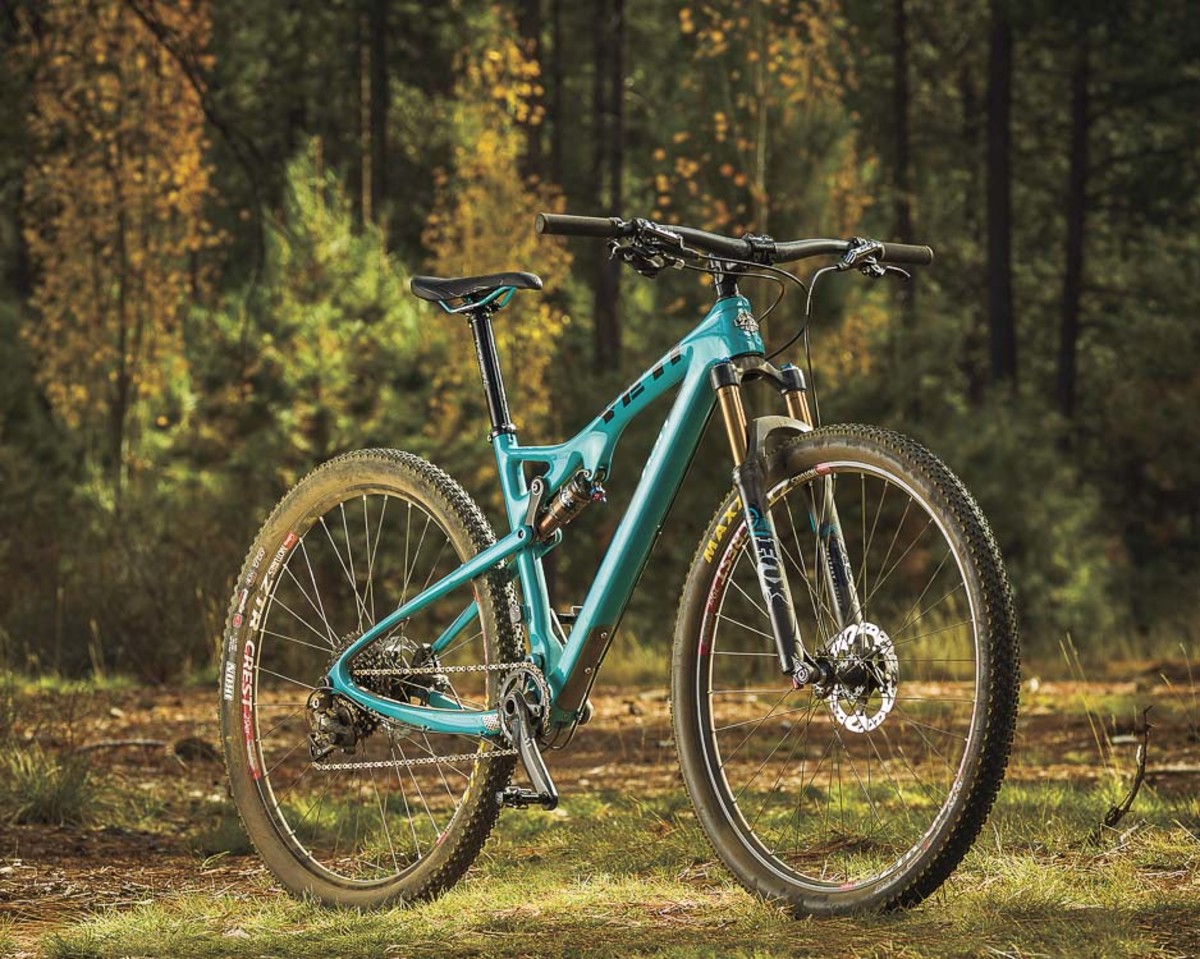 Q & A with Chris Conroy, President – Yeti Cycles
We had questions about the new bikes before we even got our test rigs, so we sent out a few queries—the kind of things we thought you might be asking yourself when you're looking at this bike. Then we sent out another round of asks if any major questions or issues came up during testing. Here's the feedback we received from Yeti's president, Chris Conroy.
Consider this a bonus feature—just a little something extra to chew on if you're still hungry for information after you've watched our video reviews and flipped through the Bible of Bike Tests.
—Vernon Felton, Bible of Bike Tests Moderator
VERNON FELTON: In recent years the focus at Yeti seems to have been on the SB bikes. How long was the new AS-Rc model in development?
CHRIS CONROY: The AS-Rc has been in development for about three years. We worked on it at the same time we were developing the Switch Infinity.
VF: Obviously, there have been AS-Rs in the Yeti line since the dawn of the millennium. What traits were you looking to improve upon with the re-design?
CC: It's been in our line since 2001 and was the first bike under the "new" Yeti management team. The original ASR has an interesting background. When we launched the AS-R it was a 3.7-inch travel bike and everything else in the category had about 2.7 inches of travel and very traditional geometry (73/71). We wanted it to climb like a World Cup cross-country bike, but descend like at Yeti, so we made the head angle 69 degrees, which was crazy at the time. It was well liked by the press and racers.
We wanted to make the bike very light but hold true to it's descending heritage, so we optimized everything and paired it down to the essential elements and then plugged in our long, slack and low geometry.
VF: What did you actually do to achieve the improvements you wanted in the AS-Rc this time around?
CC: To optimize the carbon lay-up we set strength and stiffness parameters and then kept whittling away at the lay-up until we got it right. We had already made and tested an aluminum test mule with the same suspension kinematics, so the suspension performance was already fully cooked.
VF: Was the decision to go with a single-pivot design based on a desire to pare the frame weight down as low as possible?
CC: Yes, it was the lightest way to make the bike. With shorter-travel bikes, the kinematics are less complicated, so we could make it very light and still perform well climbing and descending.
VF: What do you gain (performance wise) from going single pivot?
CC: We gain simplicity, stiffness and weight.
VF: What do you give up (performance wise) from going single pivot?
CC: In this case, not much, but it could be argued that it would ride better as a Switch Infinity bike.
VF: On your site it says that the AS-Rc frame weighs in at 4.2 pounds—is that without the shock?
CC: That's with the shock. The only qualifier is that weight is for the raw/black frame. The turquoise frame gains .2 pounds because of the paint.
VF: Why the two-wheel size route (27.5 for XS and SM, 29 for the M, L and XL sizes)? Do you feel that the ride quality in the smaller sizes is compromised with a 29er wheel?
CC: We do this on the ARCc as well. We feel it fits smaller riders better with 27.5" wheels on the smaller sizes.
VF: This isn't the typical XC bike. Who's the ideal rider for the ASR C?
CC: It's ideal for anyone who is looking for a lightweight bike to race xc, hammer long trail rides and even hit up an enduro or two. It's light enough to race and capable enough to shred down hills.
VF: Any plans to sell it as a frame only option in the future?
CC: Yes, it will be available as a frame in 2015.
More reviews from our 2015 Bible of Bike Tests:
Evil's The Following