If the names "Top Fuel" and "Procaliber" sound familiar, it's because they used to exist in one form or another. The last time Trek had a Top Fuel in its lineup was 2012, and the Gary Fisher Procaliber has been in retirement since 2009. Both names have been resurrected for the lineup of 2016 Trek XC bikes, and will replace the current Superfly and Superfly FS models in Trek's cross-country lineup. Trek also updated their Fuel EX 29 trail bike–check out our in-depth review.
Top Fuel
The Top Fuel replaces the Superfly FS as Trek's full-suspension race machine. Every size of the 100-millimeter-travel Top Fuel will roll on 29″ wheels, except for the 15.5-inch frame, which gets more proportional 27.5″ hoops. They key change with the Top Fuel is in the suspension, which uses Trek's EVO link and Full Floater chainstay mount as opposed to the swing link and fixed shock mount on the Superfly FS. The result, according to Trek, is a bike that's more capable in a wider variety of terrain. The Top Fuel also utilizes the Trek-pioneered Boost 148/110 hub spacing, which allowed engineers to shorten the Top Fuel's chainstays while opening up more tire clearance and enough room for a 36T 1x drivetrain or 2x setup.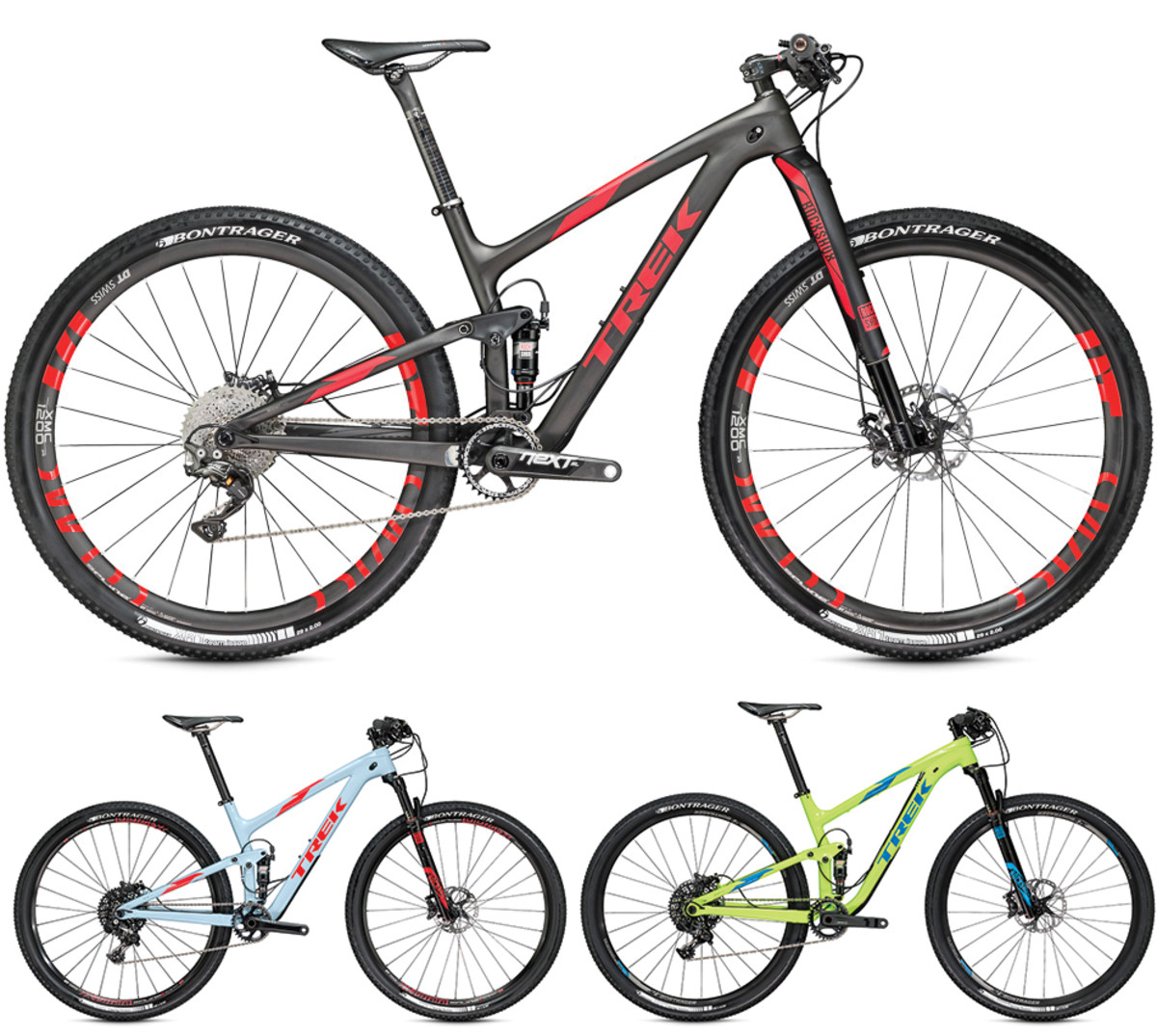 The Top Fuel frame gives riders control over their cable management with Trek's Control Freak cable management system, and is both dropper-post and Di2-compatible. Trek has been offering adjustable geometry on their longer-travel bikes for awhile, and now offers XC riders the same customizability via Mino Link nuts where the seatstay meets the EVO link. Rotating the nuts adjusts the headtube angle by a 1/2 degree and raises or lowers the bottom bracket by 8mm. The carbon Top Fuel will be customizable through Trek's Project One program, and will also be available frame-only.
Top Fuel Geometry (click to enlarge)


Procaliber SL
The Procaliber SL is sort of a hardtail. The IsoSpeed decoupler that Trek originally designed for their Domane endurance road bike has found a new home on the Procaliber, allowing the seat tube to pivot and flex independent of the chainstays, making the bike more comfortable to ride on increasingly technical XC race courses. So how much travel does the frame have? Well, according to Trek, the Procaliber SL (super light) is a hardtail, and hardtails don't have rear travel. Trek is also quick to separate the Procaliber from soft tail designs, which gain compliance through the seatstays. But depending on all the variables related to rider weight and impact, the Procaliber could provide up to 11mm of compliance as measured from saddle to rear axle. Trek claims that this makes the Procaliber SL 30% more vertically compliant in the rear end compared to the bike it replaces, the Superfly.
Procaliber Geometry (click to enlarge)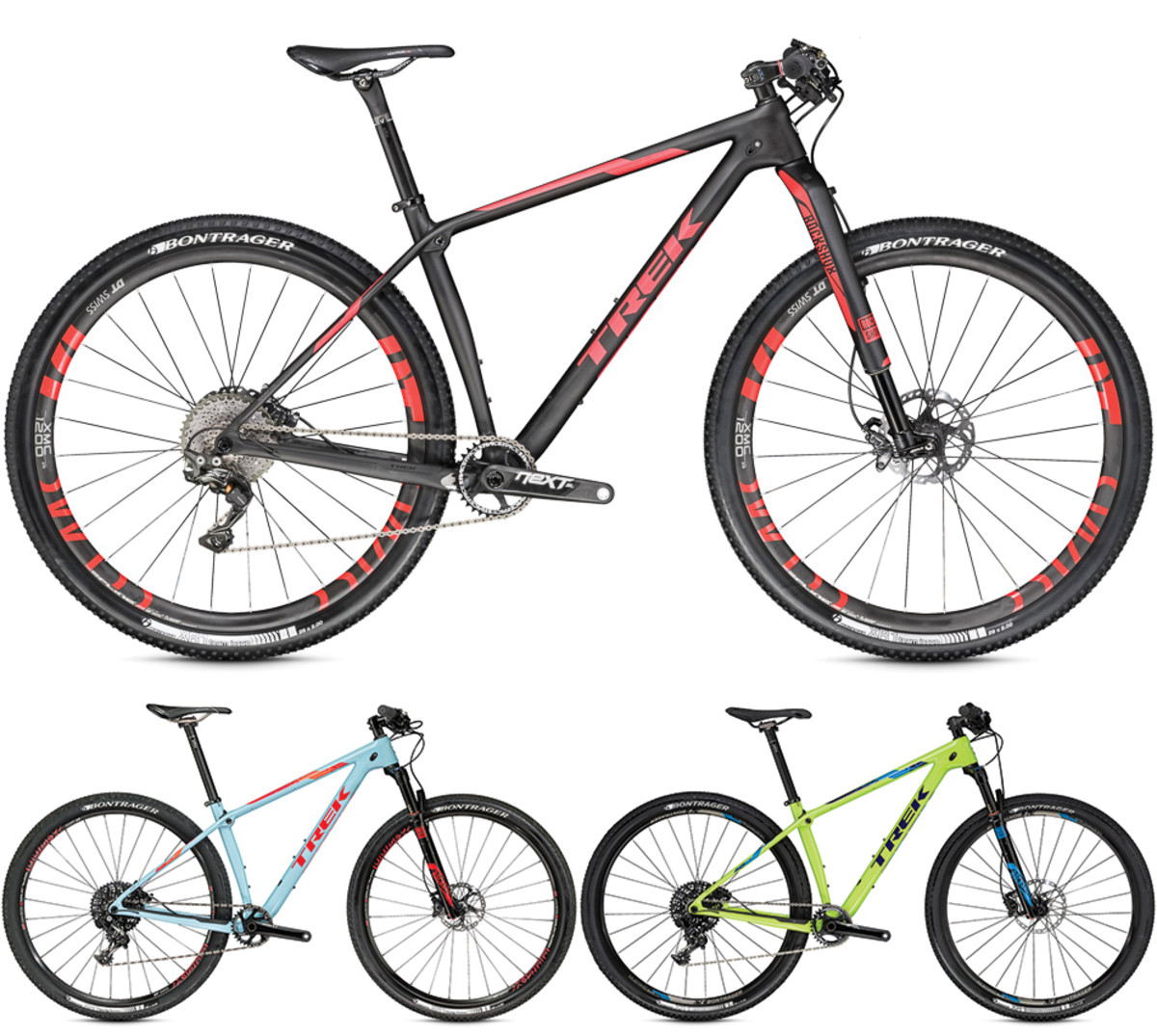 A 17.5″ Procaliber frame weighs in at 1012 grams (2.23 lbs) with paint and hardware, and comes with Boost 110/148 spacing front and rear. It will come stock with a 100-mil fork, can accept up to a 36-tooth chainring and features Trek's Control Freak cable management system for a clean setup with Di2, an internally routed dropper post, or whatever. As with the Top Fuel, the Procaliber SL will be available through Project One and as a frame.


We've gotten some rides in on both the Procaliber SL and Top Fuel, and we'll be releasing Roundtable Reel review videos next week. For now, check out our in-depth look at Trek's new Fuel EX 29.